Denis Villeneuve's impressive, long-awaited space opera dwarfs most contemporary sci-fi in its scope and execution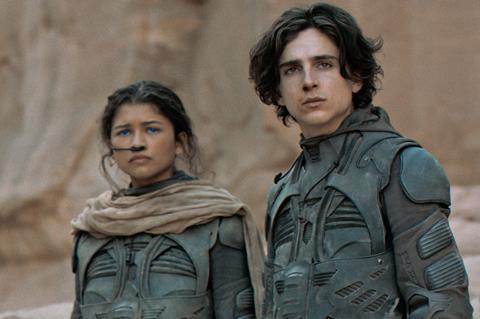 Dir: Denis Villeneuve. US. 2021. 155 mins
Adapting Frank Herbert's decorated, imposing novel – the first in a series of 14 – Denis Villeneuve delivers a Dune that rumbles with epic grandeur. Replete with stunning visuals, the film, which is the first of two planned instalments, makes no apologies about its swaggering ambitions – or its grimly brooding tenor. And while there are certainly limitations to Villeneuve's self-important style, it's hard not to be swayed by the bravura sweep of the proceedings – as well as his utter assurance that the book's cosmic tale of war and destiny is worth treating with this level of seriousness and craft.
Villeneuve has conceived Herbert's saga on a massive scale, which more than justifies seeing Dune in a theatre
Premiering in Venice, Dune opens in the UK and US in October, representing a commercial risk considering the box-office failure of David Lynch's woeful 1984 adaptation. Much like Villeneuve's last picture, Blade Runner 2049, this is brainy sci-fi that, despite some terrific action set-pieces, resists crowd-pleasing genre trappings. But expectations should be high for a film whose release was delayed nearly a year because of Covid – and a cast that includes Timothee Chalamet, Rebecca Ferguson and Oscar Isaac will only further stoke interest.
In the year 10,191, House Atreides, led by wise Duke Leto (Isaac), has been appointed to oversee Arrakis, a hostile desert world that contains a rare, valuable spice that, among other attributes, powers space travel. Leto accepts the assignment from the Emperor, although he fears he is being set up to fail – and worries that his young son Paul (Chalamet) isn't prepared for the dangers Arrakis presents. But Paul, who has visions of a mysterious woman with blue-tinted eyes (Zendaya), must grow up fast once his father's army is attacked by the rival House Harkonnen, the previous stewards of Arrakis.
Villeneuve has conceived Herbert's saga on a massive scale, which more than justifies seeing Dune in a theatre. And that's not simply because of Patrice Vermette's bold, minimalist production design or cinematographer Greig Fraser's operatic images – viewers will want to appreciate the grandiose electronic score cooked up by Hans Zimmer on as sophisticated a sound system as possible. Villeneuve's collaborators give the film a legitimately otherworldly feel, although his insistence on treating the story's sci-fi/fantasy elements in a realistic manner helps ground the narrative.
On its surface, the book tells a fairly simple story of a young man growing into a leader during a time of war, but like Herbert, Villeneuve invests that tale with an almost mythic importance. Not surprisingly, the performances tend toward the dour, each character's pronouncements about duty, nobility and fate rippling with significance. The picture can sometimes be almost suffocatingly solemn – the only thing rarer in this cosmos than spice is a joke – but the severity of its design quickly becomes seductive. This Dune dwarfs most contemporary sci-fi in its scope and execution, ably juggling multiple characters and settings so that its matches the sprawling drama of the original tome.
Interestingly, while Chalamet ably conveys Paul's boyish restlessness, he can come across as a bit too moody and recessive to fully suggest, at least in this instalment, the complicated man he will become. What the Oscar-nominated actor does have, however, is a sensitivity that's a striking contrast to so many macho action heroes. With his slight build and dreamy eyes, he looks more like a poet than a warrior, but as this first chapter reaches its finale, he'll demonstrate his mettle while protecting his beloved mother, Lady Jessica (an excellent Ferguson).
Those who have read the book or seen Lynch's campier film will no doubt be anticipating key moments in this remake, and Villeneuve doesn't disappoint – especially when he reveals the gigantic sandworms that burrow underneath the deserts of Arrakis. Both awe-inspiring and terrifying, these sequences serve as an electric change of pace after the absorbing but slower-paced buildup that introduces us to Paul, House Atreides and the political machinations at play. While Villeneuve could hardly be described as a breezy filmmaker, he knows how to stage dynamic action scenes that envelop viewers, as opposed to pummelling them with shapeless spectacle.
In a cast filled with choice actors, Isaac is suitably regal as Leto, while Jason Momoa is all muscular energy playing Paul's loyal protector Duncan Idaho. Stellan Skarsgard makes no attempt to hide the cheeky Marlon Brando impression he's doing as the Kurtz-like Baron, the rotund, villainous head of House Harkonnen, and Javier Bardem exudes wiry menace playing Stilgar, the leader of the Fremen, the impoverished indigenous people of Arrakis who resent these interplanetary interlopers stealing their resources. Villeneuve has brought them all together for this often-visionary first chapter, promising even higher stakes and more action for the finale. His world may be a dire one, but it's also undeniable.
Production company: Legendary Pictures
Worldwide distribution: Warner Bros.
Producers: Denis Villeneuve, Mary Parent, Cale Boyter, Joe Caracciolo, Jr.
Screenplay: Jon Spaihts and Denis Villeneuve and Eric Roth, based on the novel Dune written by Frank Herbert
Production design: Patrice Vermette
Editing: Joe Walker
Cinematography: Greig Fraser
Music: Hans Zimmer
Main cast: Timothee Chalamet, Rebecca Ferguson, Oscar Isaac, Josh Brolin, Stellan Skarsgard, Dave Bautista, Sharon Duncan-Brewster, Stephen McKinley Henderson, Zendaya, Chang Chen, Charlotte Rampling, Jason Momoa, Javier Bardem