Rúnar Rúnarsson's doc/fiction hybrid examines life around the Icelandic festival season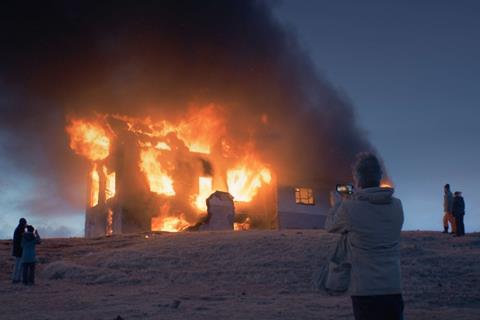 Dir/scr Rúnar Rúnarsson. Iceland, France. 2019. 79 mins
Taking its cue from time capsule documentaries like Life In A Day and Christmas In A Day, Rúnar Rúnarsson's kaleidoscopic Echo constructs a tenderly observed mosaic around a festive season in Iceland. Stretching from the first twinkling tree light to the last spent firework of a New Year's dawn, it captures a sense of the way we live now. The collection of quirks, emotional connections, whimsy and humanity makes for poignant viewing suggesting a healthy Festival future and enduring ancillary potential.
The great circle of life is acknowledged and respected
The season to be jolly provides the structure for a thoughtful documentary/fiction hybrid composed of 56 scenes. Non-professional actors are used in scripted scenes that sit alongside closely observed moments from real life. Rúnarsson initially described Echo as a film " where reality will be captured, initiated and staged". Several scenes focus on the familiar rituals of a modern Christmas. A family bicker as they try to choose just the right tree, excited children pass in an assembly line as they wait for a brief photo opportunity with a merry Santa and a school Nativity play is virtually obscured by the sea of phones held high by parents intent on capturing a cherished child's contribution.
The risk for such a venture is that it can appear random and unfocused, but a number of clear themes emerge. Rúnarsson (Volcano, Sparrows) is deeply engaged by the ties that bind, observing those who are far from home and those in the contented embrace of their loved ones. Christmas can be a solitary microwave meal with a glass of wine, a session on a call centre emergency hotline or a boisterous celebration in the company of those we consider family. Elderly residents in a care home huddle around the television, a woman gives birth, relatives visit a grandfather's grave, undertakers prepare the open coffin of a young boy. The great circle of life is acknowledged and respected.
Rúnarsson also reveals a fascination with technology and the way it brings people together, from a Skype call on Christmas Day to a grandmother's first experience of the giddy delights of VR.
Ultimately, the film is about inequalities as it embraces contrasting vignettes of the privileged and the vulnerable. We witness two refugees evicted from the supposed sanctuary of a church, meet a weary drug addict hoping to make it through another year and see the charitable work of the Red Cross Food Bank.
Tightly edited and condensed into 79 minutes, Echo offers a reflection of modern times in a dozen different human stories and in images that capture a moment in time from a busy gym to a city square Carol service to a swimming pool full of parents and bouncing, happy babies. There is even room for moments of gentle humour and whimsy as butchers surrounded by animal carcasses dance along to 'Jingle Bells' or three inebriated men untangle the complexities of the board game Monopoly.
The most popular reality television shows draw us in by finding unguarded moments of human emotion that we recognise and share. Echo achieves something similar as it reflects on life and death, rich and poor, love and pain, teasing out universal truths from fleeting moments and building individual concerns into a sense of a society's bigger picture.
Production company: Nimbus Iceland, Pegasus Pictures
International sales: Jour2Fete sales@jour2fete.com
Producers: Live Hide, Lilja Osk Snorradottir, Rúnar Rúnarsson
Production design: Gus Olafson
Editing:Jacob Secher Schulsinger
Cinematography: Sophia Olsson
Music: Kjartan Sveinsson