Dir: Martin Campbell. US. 2009. 117 mins.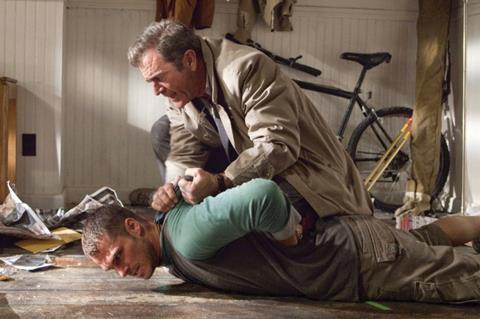 Director Martin Campbell updates his classic six-part 1985 UK miniseries to a two-hour, US-set feature, and, even with plot and structure pared down, manages to remain faithful to the somber mood and dense conspiracy of the original some 25 years down the line.
It's a deadly serious film, lacking some of the wit and droll characterisations which made the original miniseries more palatable
Although its paranoid trappings about nuclear weapons and radiation are more fitting to the eighties than today, Campbell's new Edge Of Darkness is a taut adult thriller which should be a mid-size early-year performer for Warner Bros in the domestic market when it opens on Jan 29 and for independent distributors who bought it outside the US who are releasing in the first quarter.
The film has been styled as a starring vehicle for 54-year-old Mel Gibson and will be a test for his star power as he looks to restore some luster to his market value after several well-publicised incidents in his personal life. He's still got charisma in spades, and plays the lead character, a tough Boston cop investigating the murder of his daughter, with haunted conviction. It's up to the audience to decide whether they believe in him.
As co-written by William Monahan, who won an Oscar for adapting Infernal Affairs into The Departed, Edge Of Darkness is a masculine affair bearing some similarities in tone to the Scorsese picture for its all-pervasive violence and high body count. But Campbell and Gibson work hard to sustain the emotional core of a parent grieving for a child even as the bullets fly.
Homicide detective Thomas Craven (Gibson) welcomes his daughter Emma (Novakovic) home to Boston for a vist; although she appears unwell, he prepares dinner. Just as they are about to sit down, however, the doorbell rings and she is gunned down on the steps of the house.
While Craven's police colleagues assume he was the intended target of the killing and she got in the way, Craven himself becomes suspicious when he finds a gun amongst Emma's possessions. He visits her boyfriend, who appears to fear for his life, and her employer Jack Bennett (Huston), the head of a private research facility called Northmoor which has various government weapons contracts.
As Craven investigates further, it becomes clear that Emma discovered shady goings-on at Northmoor and was trying to expose them. But Bennet and his associates – including high-ranking government officials and a mysterious fixer called Jedburgh (Winstone) – will do everything in their power to stop Craven from uncovering the truth.
It's a deadly serious film, lacking some of the wit and droll characterisations which made the original miniseries more palatable. Winstone's character especially – an Englishman in the US – has been darkened from Joe Don Baker's colourful Yank in London. And Gibson rarely cracks a smile as Craven, whereas Bob Peck managed some mordant humour that leavened the mood in 1985.
The writers have contemporised the conspiracy recipe to include a dash of Halliburton and a soupcon of terrorist warfare, but the villains from the eighties are the same – crooked government officials and private weapons manufacturers peddling mass destruction for profit. Plus ca change…
To sign up for Screen's weekly Reviews Newsletter with all the week's new releases, international openings and full festival reviews delivered free to your mailbox every Friday, please click HERE
Production companies
GK Films
BBC Films
North American distribution
Warner Bros Pictures
International sales
GK Films
+ 310 315 1722
Producers
Graham King
Tim Headington
Michael Wearing
Screenplay
William Monahan
Andrew Bovell
Based on the BBC TV series written by Troy Kennedy Martin
Cinematography
Phil Meheux
Production designer
Tom Sanders
Editor
Stuart Baird
Music
Howard Shore
Main cast
Mel Gibson
Ray Winstone
Danny Huston
Bojana Novakovic
Shawn Roberts