Documentary tracks the Amazon shoot of 'La Forteleza', bringing to mind Kinski and Herzog's adventures of yore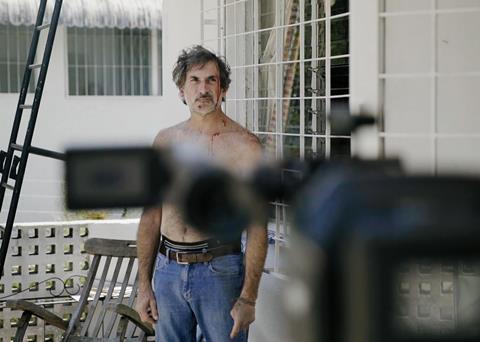 Dir. Mo Scarpelli. Venezuela/UK/Italy/ US. 2020. 105 mins.
You could describe El Father Plays Himself as an extreme 'making-of' in the tradition of Les Blank's Burden of Dreams­ (1982) -­ and not only because of the Amazon setting. Just as Blank followed Werner Herzog struggling with both nature and the intractably difficult Klaus Kinski while shooting Fitzcarraldo, so Mo Scarpelli's documentary follows Venezuelan director Jorge Thielen Armand (La Soledad) as he tries to make a fiction feature both starring and inspired by his own father. Tensions emerge not just from the complex nature of the project but from the temperament of 'El Father' himself – as Thielen calls him – who may not be a hellraiser quite in the Kinski league, but is a force of nature nonetheless.
…an old-school macho with a mile-wide streak of exhibitionist narcissism.
While editing shapes the account artfully, the narrative never feels too artificially contrived, the film generally conveying the impression that US documentarist Scarpelli (2019's Anbessa) is simply standing back and recording the drama in front of her. Screening online in Visions du Réel's feature competition, the film doesn't overstate its thematic content, but offers compelling on-set drama with incidental insights into masculinity on the rails. Intriguing in its own right, it will also be essential watching alongside the Thielen film in question - La Fortaleza, premiered to much praise at Rotterdam in January.
Having left Venezuela at 15, Thielen returns to film a script based on the life of his father Jorge Roque Thielen – generally known as 'Roque' - in which Roque will play himself. But it's clear from the start that El Father won't be an easy collaborator, and that being the focus of attention may go to his head: even before the shoot starts, he's yelling at the crew that he needs 72 hours' notice before he'll do anything. Heavy drinking – in particular, fondness for a brand of rum that happens to be called Herencia ('heritage') – gives an edge to his already abrasive personality.
Thielen, Roque and the crew – including his DoP/producer Rodrigo Michelangeli – head off on a shoot punctuated by Roque's tantrums and outbursts of angry-bull bellowing. The shoot takes in six weeks in the Amazon, where Roque worked in illegal gold mines in the 1990s, and reunites him with old friends, some of whom intermittently have a calming influence on him.
Not least, El Father makes an intriguing dual character study, highlighting the contrast between sensitive, thoughtful Thielen, who shows psychological toughness of altogether zen dimensions, and Roque, an old-school macho with a mile-wide streak of exhibitionist narcissism. Occasional home movie inserts poignantly show Thielen as a small boy and Roque as an elegant young man with matinee idol looks. Today, the grizzled, saturnine El Father is still imposing, with an aura of picaresque grandeur, whether or not – as is the implication – he lost control of his life years ago.
Even so, the film doesn't offer that much psychological insight, possibly on the understanding that it would have been forced, even intrusive, to tell too neat a story about its subjects. We never entirely understand exactly what Thielen is searching for in his film, and Scarpelli certainly offers no facile narrative of father-son reconciliation. More frustratingly, her detached approach leaves Roque a somewhat elusive figure, the film never quite getting beneath his thorny surface, so that he ultimately comes across less as a character than a presence, a bulky mass covered in bushes of grey hair.
However, the viewer has to take it on trust that Roque is simply being himself in the film. Whether or not he has been prompted to perform for Scarpelli (to whose presence he explicitly refers), it is clear that he is acutely self-aware as an actor, especially since his son is asking him to play a fictional version of himself. References to Roque being "in character" make El Father Plays Himself every bit as indeterminate an affair as the title suggests.
In some ways, all this makes El Father somewhat frustrating as well as tantalisingly provocative too. Visually, however, Scarpelli's own photography makes for a richly textured experience, as the crew moves through a variety of terrains – river, plain, forest, mountain. Vivid attention is paid to landscape, with intensely striking images including Roque's silhouette against a blue night sky. Adding to the overall atmosphere, Roberta Ainstein contributes densely textured sound design.
Part of the festival's International Competition, 'El Father Plays Himself' plays online in www.visionsdureel.ch between April 25 and May 2
Production companies: La Faena Films, Ardimages UK, Rake Films
International sales: Ardimages UK, manon@ardimages.com
Producers: Manon Ardisson, Rodrigo Michelangeli
Cinematography: Mo Scarpelli
Editor: Juan Soto
Main cast: Jorge Thielen Armand, Jorge Roque Thielen, Rodrigo Michelangeli, Carlos Luis Betancourt