Dir/scr: Alejandro Jodorowsky. Chile. 2016. 128 mins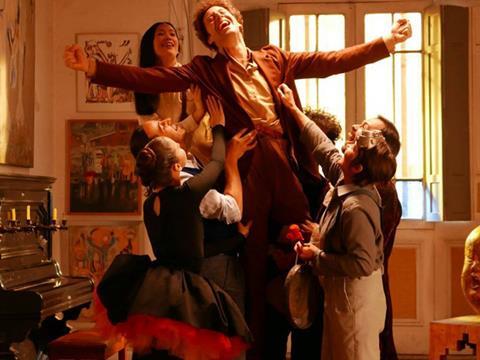 Alejandro Jodorowsky's late career decision to embrace filmmaking as a form of family therapy continues to pay dividends in Endless Poetry. The follow-up to his 2013 'comeback' The Dance Of Reality continues the story of the young Alejandro as he dives into the febrile artistic life of 1940s Santiago and pursues a dream of devoting himself body and soul to becoming a poet. Inevitably, this is far from conventional autobiography and more like a chaotic three-ring circus, with Jodorowsky as the ringmaster orchestrating a succession of memories, impressions, reconstructions and reimaginings of the past.
The colour-drenched palette employed by cinematographer Christopher Doyle underlines the fairytale quality and magic realist instincts of Jodorowsky.
If the film exasperates and exhausts, which it does, there is also the knowledge that before too long there will also be moments of surreal comedy, freewheeling invention and genuine tenderness. Endless Poetry will not win new recruits to the cult of Jodorowsky but it will attract those who have kept the faith and anyone who took pleasure in The Dance Of Reality.
As the film begins, the young Alejandro (Jeremias Herskovits) is still under the yoke of his fiercely macho, penny-pinching father Jaime (Brontis Jodorowsky) who wants him to study hard, become a doctor and start behaving like a man. His mother Sara (Pamela Flores) still only communicates in song. When Alejandro dares to confess his love of poetry, Jaime fears that if he continues reading "filth" by the likes of Federico Garcia Lorca, he will surely wind up as degenerate as him. Alejandro finally defies his father, and the film charts his giddy intoxication at joining the bohemian world of Santiago's artistic scene and finding a muse in flame-haired, beer-guzzling, two-fisted punk poetess Stella (also Pamela Flores).
In essence, Endless Poetry is a coming of age tale in which the older Alejandro (now played by Adan Jodorowsky) finds the courage to be true to himself. His creative and sexual awakening climaxes when he is stripped naked in front of large circus audience and celebrated as a poet.
The colour-drenched palette employed by cinematographer Christopher Doyle adds to the heightened feel of the whole piece, underling the fairytale quality and magic realist instincts of Jodorowsky, who remains endlessly inventive in bringing his vision to the screen on a modest budget. The film was partly crowdfunded but looks lush and inviting, with black-garbed ninjas moving stealthily into a scene to remove unwanted items or unfurl painted backdrops and cardboard trains to establish the period. Jodorowsky has also lost none of his ability to outrage, with one scene here involving Alejandro having sex with a menstruating midget as we hear the dulcet tones of Fred Astaire singing 'Cheek To Cheek'.
There are times when the larger than life exuberance of Endless Poetry leaves the viewer feeling like the only sober person in a room full of drunken exhibitionists, but there are real feelings beneath all the bawdy burlesque. When the 87 year-old Jodorowsky appears on screen to stage a different version of the last goodbye between Alejandro and his bullying father, he achieves a resolution that has been hard won and deeply felt.
Production companies: Satori Films, Le Soleil Films, Le Pacte

International sales: Le Pacte, a.lesort@le-pacte.com

Producers: Alejandro Jodorowsky, Moises Cosio, Abbas Nokhasten, Takashi Asai

Cinematography: Christopher Doyle

Editor: Maryline Monthieux

Production design: Alejandro Jodorowsky

Music: Adan Jodorowsky

Main cast: Adan Jodorowsky, Pamela Flores, Brontis Jodorowsky, Leandro Taub