Dir:Tran Anh Hung. 2016. France. 115 mins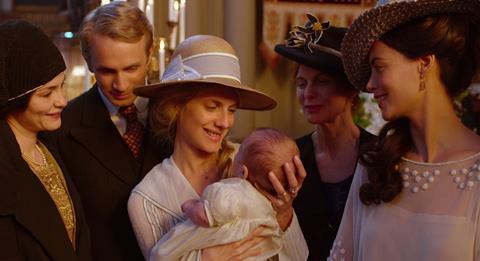 The top tier cast of photogenic French acting talent, a Venice Golden Lion-winning director and a best-selling source novel should all work to generate interest in this gorgeous but somewhat inert family saga. Yet this highly decorative mood piece pays more attention to getting the wafting drapery and soft furnishings just so than it does to the meat of the drama, and audiences may come away feeling a little undernourished.
There is a hypnotic, almost dreamlike quality to the film, with its languorous, luxuriant pacing
The first French language feature by Vietnamese director Tran Anh Hung (Cyclo, The Scent Of Green Papaya), Eternity is adapted by Tran from the historical romance L'Elegance des Veuves (The Elegance of Widows) by Alice Ferney. Tran's name, and a cast list which includes Audrey Tautou, Mélanie Laurent and Bérénice Bejo, should ensure some festival interest, although it's likely that the picture, which opened the Black Nights Film Festival, is nearing the end of its festival run. Theatrical prospects will be strongest in territories where Ferney's lyrical, languid romance novels have an existing audience.
The story focuses on three women in a well-heeled French family, and spans a period from the beginning of the twentieth century until the present day. Audrey Tautou plays Valentine, one of five daughters born to the appropriately named Arthur and Julie Bourgeois. Hers is an opulent fin de siecle world which is filled with impeccable white linen and flowers, and filmed in leisurely slow motion. Valentine marries Jules, whose main talents include wearing a beard, strumming soulfully on the guitar and and fathering a seemingly endless supply of impossibly beautiful and immaculate children.
Since the main voice we hear is that of an ever-present narrator, it's hard to get much of a sense of any of the characters, although, through the sheer force of Tautou's performance, and the fact that, unlike many of her children, she doesn't die until the end of the film, Valentine makes something of an impression.
Valentine's son Henri (Jeremie Renier) marries Mathilde (Mélanie Laurent), who carries on the family tradition of self-sacrificing but gorgeously styled motherhood. Add to this the winsome brood of Mathilde's cousin and beloved confidante Gabrielle (Bérénice Bejo) and the whole thing starts to look a insufferably perfect instagram feed.
Although it is handsome to look at - Tran gives the film a saturated, almost tropical colour palette which is refreshingly rich in a period drama - it's all very one note. There is little variation in the tone or dramatic pitch whether the film is detailing marriage, birth or one of the many tragedies that befall the three women. Even the use of colour is a little too on the nose - the wash of blue which tints each scene that follows a death, for example. That said, there is a hypnotic, almost dreamlike quality to the film, with its languorous, luxuriant pacing and copious use of a sweeping classical score.
While women take centre stage in this saga, the vision of femininity here is perhaps an outmoded one. The copious use of flower imagery speaks volumes about the film's attitudes to women: they are exquisite, fragile things which wither and perish in order to bear the fruit of the next generation.
Production company: Nord-Ouest Productions, Pathé, Artémis, France 2 Cinéma, Chaocorp
International sales: Pathé International benoit.SAUVAGE@pathe.com
Producers: Christophe Rossignon, Philip Boëffard
Screenplay: Tran Anh Hung
Cinematography: Lee Ping Bin
Editor: Mario Battistel
Production design: Veronique Sacrez
Costume designer: Olivier Beriot
Main cast: Audrey Tautou, Bérénice Bejo, Mélanie Laurent, Jeremie Renier, Pierre Deladonchamps, Arieh Worthalter