Dir. Pablo Aguero. France/Argentina/Spain. 2015. 85mins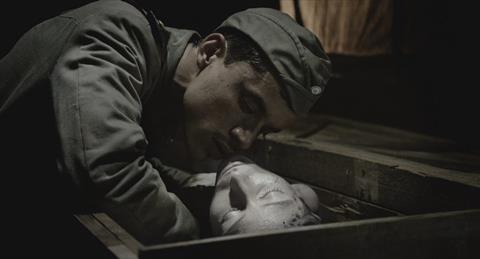 "It isn't a corpse. It's her," an Argentinian soldier declares about halfway through Eva Doesn't Sleep (Eva No Duerme) with regards to the dead body of Eva Perón, and it's a key line in this meditative, sometimes poetic drama about the magnetic power of leaders, even after their death. Spanning more than 20 years, director Pablo Agüero's film looks at the strange history of Perón's body after she died in 1952, and what's uncovered is a nation haunted by her legacy and her message. Heavily symbolic and contemplative, Eva Doesn't Sleep rewards patience on the viewer's part, its episodic segments collectively speaking to universal themes of female beauty, masculine pride and the messy paths taken by revolutions.
The characters seem to be sleepwalking through a strange landscape of their own making
Screening as part of Toronto's Wavelengths section, Eva Doesn't Sleep features Gael García Bernal and Denis Lavant, but because of the triptych structure of the film, those actors are only small pieces in the overall narrative. Consequently, this drama may be a tough sell commercially, more likely a staple of the festival world.
Connected by narration from an Argentinian commander (Bernal) who despised Perón, the film kicks off with the First Lady's passing and is roughly divided into three chapters. In the first, an embalmer (Imanol Arias) prepares her body. The second follows a colonel (Lavant) and a younger soldier (Nicolas Goldschmidt) as they prepare to transport the body by truck in secret. And the final segment concerns a general (Daniel Fanego) arrested by revolutionaries, who plan to assassinate him for his crimes against the Argentine people.
Agüero (77 Doronship) does a deft job creating realistic, deceptively mundane scenes that have a flash of surrealism or a dreamlike quality to them. Though based on actual events — Perón's body went missing for a time after her death, and the government wanted to dispose of it in the hopes it would crush her political movement — Eva Doesn't Sleep feels like an existential ghost story, the living characters in their individual ways affected by this dead woman's memory. As a result, the absent Perón seems more alive and vibrant than the haunted individuals we see on screen.
The three segments don't necessarily connect tightly together, but Agüero (who also wrote the screenplay) uses each chapter to explore different aspects of her legacy. The respectful, mournful treatment the embalmer shows Perón's body, for instance, is juxtaposed with the indifference the colonel projects in the second segment, although a later masterful long take between him and his younger colleague hints at the country's generational tension that's ready to explode after Perón's passing.
Fans of Bernal will be disappointed to know how little he figures into the story, mostly serving as a xenophobic misogynist whose disgust with Perón's and her supporters symbolises the government's blindness to the unrest in the streets. Running at 85 minutes, Eva Doesn't Sleep is practically a collection of short stories charting Argentina in the aftermath of Perón's death. No one cast member stands out, but that's by design: Uniformly strong but muted, the actors are all under the spell of Agüero's beautifully but unfussy compositions, just as the characters seem to be sleepwalking through a strange landscape of their own making.
Director: Pablo Agüero
Production companies: JBA Production, Haddock Films, Pyramide, INCAA, Aide aux Cinémas du Monde, CNC Ministère des Affaires Étrangères et du Développement International, Institut Français, Tornasol, Tita B Productions, Breizh Film Fund, Aleph Ciné
International sales: Pyramide International, sales@pyramidefilms.com
Producers: Jacques Bidou, Marianne Dumoulin, Vanessa Ragone
Screenplay: Pablo Agüero
Cinematography: Ivan Gierasinchuk
Editor: Stéphane Elmadjian
Production design: Mariela Ripodas
Music: Valentin Portron
Main cast: Gael García Bernal, Denis Lavant, Daniel Fanego, Imanol Arias, Sofia Brito, Nicolas Goldschmidt