Hungary's political divisions are manifested by a teenage student facing unrest both at home and school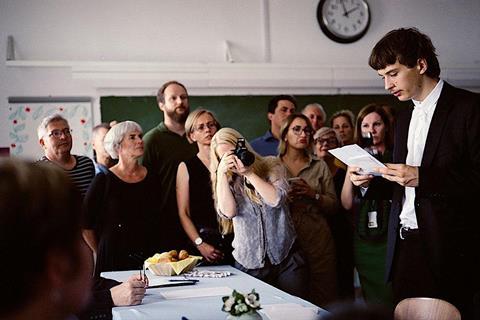 Dir. Gabor Reisz. Hungary, 2023. 151mins
For his third feature, Hungarian director and co-screenwriter Gabor Reisz takes a long, leisurely dive into his country's political divisions as manifested by a student who wears a pin of the national flag to an exam. Nudging itself into the hot zone where academia meets red-meat nationalism in Viktor Orban's Budapest, Explanation For Everything has a pleasurably tangled set-up and maintains a deceptively comfortable tone as it revisits key moments for emphasis. Its length is a commercial red flag but, with Kornel Mundruczo as one of its backers, this accomplished, sophisticated and surprisingly even-handed drama should be lure in festival programmers after its Venice Horizons bow.
Accomplished, sophisticated and surprisingly even-handed
Reisz and co-screenwriter Eva Schulze are confident authors of this textbook case, so much so that they disguise it for almost half the running time. Scenes are set without the audience knowing who the protagonists are. They eventually turn out to be 18 year-old history student Abel (a terrific performance from young Gaspar Adonyi-Walsh), who may be crippled by anxiety but who also could be a 'sneaky shithead'; his hair-trigger father Gyorgy (Istvan Znamenak) who says things like 'you've ruined your entire life' when Abel fails an exam; and his man-bun-wearing history teacher Jakab (Andras Rusznak) who neglects his wife and children for his work in the fraught field of Romania's modern history.
In between them flits Janka (Eliza Sodro), in love with her teacher Jakab, who shuts down her professions of admiration. She's also the shifty Abel's best friend, and he harbours romantic desires for her. Not to mention Erika, a journalist on the make, who overhears gossip through the stairwell. It's all going to get messy by the end, but Explanation For Everything starts out small – literally, with a postage-sized image eventually enlarging to fill Academy Ratio as teenagers bounce around their city singing songs and having fun. Choral music will prove germane to the entire piece, providing a contrapuntal note of spirituality as the behaviour of the principals denigrates.
At first, it's easy to be sympathetic to Abel Trem. His parents are heavily on his case as he patters around his apartment doing nothing the day before his exam. He seems crippled by anxiety but, then again, this is a boy whose pastimes include throwing stones at seagulls. His dad Gyorgy is an impatient and often angry architect whose assistant Ballazs wants to leave the country for Denmark: Gyorgy knows Hungary has been left behind, but clings on to his homeland, even when that brings a whiff of anti-semitism with it. He has already had a run-in with Jakab over the latter's attitude to the country's history. He's a Fidesz voter, meaning he has helped bring Orban to power.
With inter-titles like 'Tuesday: Abel in the Wilderness', and 'Gyorgy's Tuesday Turns to Shit', Explanation takes on its country's current-day woes with an easy grace that does not give Jakab a smooth ride either. His politics may be more digestible to the non-Orban voter, but he's also a self-righteous prig and a piteously self-involved husband. When Gyorgy and Abel finally come together — in the film's climatic screen – Reisz and Schulze resist the temptation to squander the cautious set-up by taking it over the top. These are people who talk at and over each other while Abel, meantime, has to find his own morality – or not.
It's almost defiantly long, and that's a good thing — as if Reisz wants to emphasise that short hot takes are what has got society where it is now – but Explanation For Everything could still do with some trims at its front and back ends to gain the wider exposure it deserves. Although there is a defiant sense of Hungarian isolation fuelling some of the debate – a character bemoans how 'we are the Nazis' to the rest of the world – there are few countries these days that cannot sympathise with the issues this film exposes and the personalities who cause it.
Using inter-titles, randomly re-visiting key sequences, and cleverly editing what we see of scenes, Reisz makes sure his film is always intriguing, as if the audience is lways waiting for a final part of the puzzle which, like the must-referenced Liberty Bridge, is never fully seen. Shot in only 20 days, but surely edited for longer by Reisz and Banda Goracz, this film can be a joy to watch on a technical level – as fresh as the generation bubbling up whose classrooms are the setting for this humming drama.
Production companies: Proton Cinema, MPhilms
International sales: Films Boutique contact@filmsboutique.com
Producer: Julia Berkes
Screenplay: Gabor Reisz, Eva Schulze
Cinematography: Kristof Becsey
Production design: Zsofia Tasnadi
Editing: Vanda Goracz, Gabor Reisz
Music: Andras Kalman
Main cast: Gaspar Adonyi-Walsh, Istvan Znamenak, Andras Rusznak, Rebeka Hathazi, Eliza Sodro