Dir: David Yates. UK-US. 2016. 133mins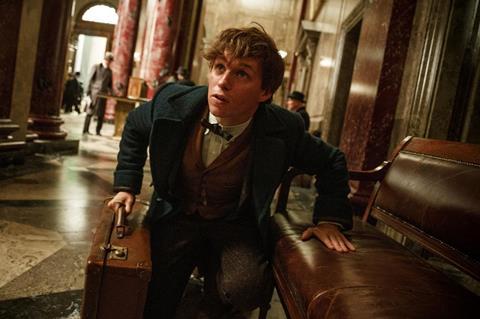 Solidly extending the Harry Potter franchise to a different era with new characters, Fantastic Beasts And Where To Find Them starts slowly before finding its groove, delivering sufficient spectacle alongside a little emotion.
Fantastic Beasts is better the darker it gets, especially in a robust final reel where the film fully hits its stride.
There's a bit of a placeholder feel to this fantasy-adventure – a sense of keeping the risks to a minimum so as to ensure as wide an audience as possible comes out to support a new series of films. But like the wizarding movies to which it's connected, Fantastic Beasts is better the darker it gets, especially in a robust final reel where the film fully hits its stride.
Opening across most of the globe by November 18, this Warner Bros. release will do major business, even with an entirely new cast separate from the Harry Potter series. Eddie Redmayne and Colin Farrell bring star power, and advance buzz ought to convince viewers to take one more plunge into JK Rowling's world.
Set in New York in 1926, the film kicks off with Newt Scamander (Redmayne), a Magizoologist (someone who studies magical creatures), visiting the metropolis to complete a worldwide expedition for these fantastical beings. But after Newt crosses paths with Jacob (Dan Fogler), an ordinary human who longs to be a baker, some of the creatures in Newt's suitcase get loose, forcing the two men to go on a citywide chase to retrieve them before the No-Majs (people without magical powers) realise there are powerful beings in their midst.
Directed by David Yates, who helmed the final four Harry Potter movies, Fantastic Beasts shares a visual palette with that earlier series. The film is impeccably crafted, and production designer Stuart Craig has been given free rein to create a dazzling turn-of-the-century Manhattan, complete with terrific Art Deco touches throughout.
Notably, this is the first time that Rowling (whose bestselling books launched the franchise) has written the screenplay, and she not only must introduce several central characters but also establish the reality of 1920s wizarding in America. Perhaps predictably, then, Fantastic Beasts sputters a bit at the beginning as we get our bearings and ascertain the different power structures in play. For instance, when Newt's beasts escape, he draws the attention of Tina (Katherine Waterston), a disgraced former Dark Arts investigator who wants to turn him in. However, solemn Director of Magical Security Percival Graves (a severely muted Farrell) accuses her of being in cahoots with Newt, sending them and Jacob on the run – where they will soon team up with Tina's mind-reading sister Queenie (Alison Sudol) to retrieve Newt's creatures.
Even that description leaves out characters who will impact the proceedings, especially once a mysterious rampaging force of pure energy starts laying waste to parts of the city. Clearly, Yates isn't just weaving a tale but also directing traffic, explaining this new universe so we can feel acclimated for future sequels.
Fantastic Beasts' early sections take too much time chronicling Newt and his friends' attempts to track down the creatures, leading to sequences rich with superb visual-effects work but low on dramatic stakes. The film can feel frustratingly episodic, Yates focusing on each beast's unique look and powers at the expense of our main characters. But once Yates turns his attention to this mysterious killing force – and Percival's shadowy reasons for finding its source – Fantastic Beasts morphs into a muscular Potter-style adventure in which the participants' astounding powers, juxtaposed with the handsome period architecture, build to a rousing finale.
Amidst the action and light humour – the latter mostly provided by Jacob's disbelieving shock at these magical people – Fantastic Beasts also manages some nifty social commentary. Our heroes aren't just battling dark forces but also bigotry – there's a great fear of what No-Majs will do once they uncover this other realm of beings – and, for some characters, the lingering trauma of childhood abuse. Rowling may not always deftly interlace all the different characters and plot strands, but she successfully pinpoints her story's emotional core.
The performances are solid if not stellar. Redmayne has a geeky charm that's perfect for Newt's bookishness, but he drifts into cutesiness too often. Fogler is a bit broad as the film's comic relief, while Waterston is a calm, measured presence as a detective haunted by past failures. But Fantastic Beasts' spark comes from Sudol as the fetching, flirty Queenie, who's smitten by the sweetly timid Jacob. A budding attraction between these two characters ends up forming the film's delicate heart, serving as a touching counterpoint to the impressive pyrotechnics.
Production company: Heyday Films
Worldwide distribution: Warner Bros. Pictures, www.warnerbros.com
Producers: David Heyman, JK Rowling, Steve Kloves, Lionel Wigram
Executive producers: Tim Lewis, Neil Blair, Rick Senat
Screenplay: JK Rowling
Cinematography: Philippe Rousselot
Production design: Stuart Craig
Editor: Mark Day
Music: James Newton Howard
Website: www.fantasticbeasts.com
Main Cast: Eddie Redmayne, Katherine Waterston, Dan Fogler, Alison Sudol, Ezra Miller, Samantha Morton, Jon Voight, Carmen Ejogo, Ron Perlman, Colin Farrell