Third instalment of 'Harry Potter' prequel subs Mads Mikkelsen for Johnny Depp but still struggles to land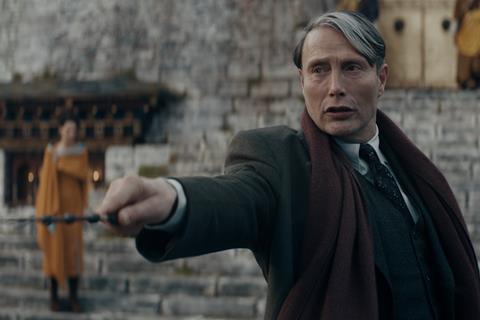 Dir: David Yates. US. 2022. 142 mins.
Impeccably crafted but only intermittently gripping, the third instalment in the Fantastic Beasts franchise has the scope and sweep of an epic while suffering from some of the same weaknesses as the first two chapters. The darkness that pervaded 2018's The Crimes Of Grindelwald still engulfs our heroes as they battle that wicked wizard, who wants to declare war on the Muggles in order to eradicate them. But despite its moving moments and expert set pieces, The Secrets Of Dumbledore feels oddly underwhelming — as well as serving as further proof of how much more compelling JK Rowling's Harry Potter adventures were.
Redmayne's halting turn as the meek, loyal Newt has long been a liability, his reluctant hero rarely given the chance to be especially dynamic
All eyes will be on the commercial performance of this latest addition to the Wizarding World series: Fantastic Beasts And Where To Find Them pulled in $814 million worldwide, while Fantastic Beasts: The Crimes Of Grindelwald collected only $655 million. The Secrets Of Dumbledore arrives in the UK on April 8, with the US release taking place the following week, and while there remains a massive fan base for these pictures, controversies involving Rowling and former Grindelwald actor Johnny Depp may have cast a pall over this prequel franchise. Mads Mikkelsen has replaced Depp in the role, but the inability of these to recapture Potter's box-office magic remains a concern for Warner Bros.
Set in the 1930s, The Secrets Of Dumbledore stars Eddie Redmayne as 'magizoologist' Newt, who must work with (among others) the Muggle Jacob (Dan Fogler) and Dumbledore (Jude Law) to defeat Grindelwald (Mikkelsen) and his lieutenants, including the dour Credence (Ezra Miller). Seeking to bolster his political power, Grindelwald throws his hat into the ring for the forthcoming election for President of International Confederation of Wizards, which Newt must ensure he does not win.
The Crimes Of Grindelwald introduced an intriguingly despairing political undercurrent, positioning Grindelwald as a fascist whose animosity toward Muggles reflected real-world xenophobia. No matter one's feelings about Depp's personal behaviour, his Grindelwald was appropriately loathsome, and although Mikkelsen can capably portray villainy, the character comes across a little blander in this instalment.
Redmayne's halting turn as the meek, loyal Newt has long been a liability, his reluctant hero rarely given the chance to be especially dynamic. But to be fair, outside of Law's warm, funny performance as Dumbledore, the cast is largely saddled with likeable but not especially memorable roles. Fogler's self-depreciating Jacob and Jessica Williams' resourceful Lally lack the richness of Harry Potter's vivid classmates, although when the film does allow for an unguarded moment — such as during Jacob's brief reunion with his beloved Queenie (Alison Sudol) — The Secrets Of Dumbledore tenderly chronicles the human toll of this battle between good and evil.
In fact, thwarted romance is a theme across this sequel. It is tempting to speculate that screenwriter Steve Kloves — who penned the vast majority of the Harry Potter pictures and has been brought back into the fold for this instalment, sharing script credit with Rowling — might have had something to do with beefing up the characters' emotional connection. From a long-abandoned courtship involving an iconic individual to separated lovers who barely see each other over the course of the film, The Secrets Of Dumbledore exudes a melancholy air, the desires of its protagonists put aside to focus on preventing a seemingly imminent war.
David Yates, who directed four Potter pictures and all three Fantastic Beasts films, continues to provide this series with its marvellously foreboding atmosphere, backed by impeccable production design from franchise veterans Stuart Craig and Neil Lamont. Every realm in which Newt and his friends enter is wondrous, and the action sequences can be stirring, including one involving a gargantuan insect and another making superb use of slow-motion. At just under two-and-a-half hours, The Secrets Of Dumbledore is not especially breezy, but there is confidence to the pacing as Yates once again delivers a grownup entertainment that mostly eschews cutesy comic relief or slavish fan service.
And yet, three instalments in, Fantastic Beasts can't shake the impression that it is merely a footnote in comparison to Harry Potter's coming-of-age saga. In The Secrets Of Dumbledore, there is no shortage of spectacle or weighty proclamations. And the film arrives at an unexpectedly understated finale, the full impact of which may take a moment to register — an indication that Yates appreciates the fine art of subtlety. But it is also a reminder that this sequel largely feels like well-made busywork, preparing us for potential dramatic riches down the line — which may or may not ever be fully conjured up.
Production company: Heyday Films
Worldwide distribution: Warner Bros.
Producers: David Heyman, J. K. Rowling, Steve Kloves, Lionel Wigram, Tim Lewis
Screenplay: J.K. Rowling & Steve Kloves, based upon a screenplay by J.K. Rowling
Production design: Stuart Craig, Neil Lamont
Editing: Mark Day
Cinematography: George Richmond
Music: James Newton Howard
Main cast: Eddie Redmayne, Jude Law, Ezra Miller, Dan Fogler, Alison Sudol, William Nadylam, Callum Turner, Jessica Williams, Victoria Yeates, Poppy Corby-Tuech, Fiona Glascott, Katherine Waterston, Mads Mikkelsen