Dir: Wes Anderson. US, 2009. 87 mins.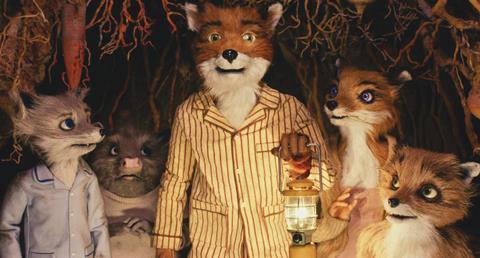 The spirit of Roald Dahl is writ large across this distinctively dry Wes Anderson adaptation of Fantastic Mr Fox. The result is a laconic, terribly old-fashioned but fantastically fun stop-motion animation which is an instant high-water benchmark for Dahl fans.
Anderson's wit proves to be a fizzing match with Dahl's subversive spirit, but George Clooney, as the titular Foxy, and Meryl Streep as his wife are a vital part of the fusion as well. Enchanted adults, particularly those who warmed to Anderson's The Royal Tenenbaums or Rushmore, will certainly deliver the director/co-screenwriter (with The Squid and the Whale's Noah Baumbach) his biggest hit to date.
Childrens' reactions are less secure and this could work better at the younger and older ends of the spectrum. The jerky stop-motion is challenging eye candy for the mainstream Disney crowd, but Anderson's inspired nuttiness should find eager young takers.
Results in the UK, where Dahl is required reading, look to be particularly strong, and other European markets should also react warmly, with Asia a slightly more challenging prospect.
If Anderson has a spiritual affinity with Dahl's written word, he also has a vision of Foxy's world which recalls Quentin Blake's illustrations but goes much further; it's this sustained creativeness that sets Fox apart in a similar way to Nick Park's Wallace & Gromit. As for the puppets, Fox himself is indeed fantastic; long and lean, standing on tiptoes in his cut-off-trouser-suit and slightly threadbare, he could come from a toy cupboard yet is the perfect incarnation of the Vulpes vulpes who called everyone "darling" in Dahl's book. When he bares his teeth or shreds his toast it's worth the price of admission alone.
Anderson and Baumbach have nicely punched out Dahl's slim tome, effectively completing the adaptation in 50 minutes and moving on to new ground.
They've given Fox, first seen listening to The Ballad of Davy Crockett in a set which could easily have come from a 1970s BBC kids TV show, a backstory and taken away three of his Small Foxes: he has sworn off chickens as the movie starts, working instead as a columnist for the local newspaper. But Fox is a wild animal at heart, and soon goes back to his old tricks ("one last big job" which becomes "a triple-header"). His beady – literally – eyes are fixed on the produce of three local farmers: Boggis, Bunce, and chief villain Bean (Michael Gambon).
Fox may have lost three of his litter, but he has one very interesting and "different" son left – Ash (Jason Schwartzman), who wants to be an athlete but is evidently inferior in that respect to his yoga-practicing, kung fu-expert cousin Kristofferson (Eric Anderson). Fox also has a sidekick in opossum Kylie (Wally Wolodarsky), while Rat's (Willem Dafoe) role has been expanded and Badger (Murray) is given more to do.
Overall, though, Anderson has crammed his film with memorable asides, from the rabid beagles, Fox's trademark whistle and click, a little bit of Latin, to a crazy game called Whack Bat which has more rules than quidditch, dancing interludes, a fight sequence which is delightfully Dali-meets-Hitchcock and the director's signature srolling minstrel, this time called Petey and played by Jarvis Cocker.
Fox's dry humour ("my suicide plan is cancelled") doesn't completely gloss over Dahl's darkness, either, and the director is at pains to point out these are potentially dangerous animals – in a memorable moment for a children's animation, Mrs Fox leaves her imprint on her husband's face.
Technically, this hits all the marks. Lighting, strong on indigos and oranges, is lovely and the French-influenced score is a delight.
To sign up for Screen's weekly Reviews Newsletter with all the week's new releases, international openings and full festival reviews delivered free to your mailbox every Friday, please click HERE
Production companies
American Empirical
Indian Paintbrush
Indian Enterprises
Worldwide distribution
20th Century Fox
Producers
Allison Abbate
Scott Rudin
Wes Anderson
Jeremy Dawson
Screenplay
Wes Anderson and Noah Baumbach, based on the book by Roald Dahl
Animation direction
Mark Gustafson
Cinematography
Tristan Oliver
Production design
Nelson Lowry
Music
Alexandre Desplat
Puppets
MacKinnon and Saunders
Main cast (voice)
George Clooney
Meryl Streep
Bill Murray
Jason Schwartzman
Owen Wilson
Willem Dafoe
Wally Wolodarsky
Eric Anderson