Body positivity comes under the lens in this all-Nordic doc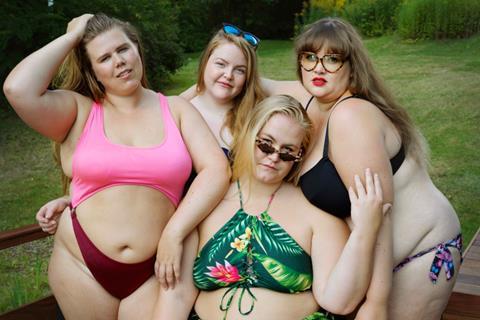 Dir. Louise Unmack Kjeldsen, Louise Detlefsen. Denmark/Sweden/Norway. 2019. 87 mins
Danish directors Louise Detlefsen and Louise Kjeldsen draw on the upbeat attitude of their quartet of contributors for Fat Front. The result is a high-energy if structurally messy and socially narrow consideration of body positivity, which has its international premiere at IDFA. Through observation of and frank interviews with Dane Helene, 33, Norwegians Wilde, 29, and Marte, 31, and 21-year-old Pauline, from Sweden, the documentarians - who are regular collaborators - examine the pressures faced by young women and how social networks, in particular, are helping those who have struggled with image issues to find kindred spirits and support.
The film works well on an emotional level
Fat Front opened in Denmark earlier this month and is due for release in Sweden and Norway early next year. It could also prove attractive for festivals looking for films to appeal to a younger demographic.
"There are no better alternatives to the word fat," one of the women says early in the film, as they consider synonyms like "hefty, "heavy set" and "curvy". There's no shame in the name for them these days as they make a point of taking glamour shots or candid photos of themselves naked or in swimwear - a freedom that the directors also embrace, capturing them naked as well as in day-to-day situations. We learn that their confidence is newly found, as they talk about previously feeling so unhappy with their bodies that it held them back. "I've postponed so many things," says Helene, but now she just goes for it - and it's evident from the response she gets over social networks that there are plenty of other women who take strength from her example.
Detlefsen and Kjeldsen watch the women go about their business, interspersing general observations with interviews where their subjects talk about current emotions and also about their childhoods. Complexities emerge as one or two of the women start to discuss problems in the past and another says, "I struggle every day not to hate myself". While its good that the directors don't gloss over these issues, they don't interrogate them much either, flitting on to the next person rather than pausing for thought. Despite the quartet's likeability, there's also no denying they are all from a similar demographic - it would be interesting to know whether or not their experience differs from that of non-caucasian women or those who don't have the benefit of a college education.
It would also have been great to discover more about Pauline's second-hand clothes stall for plus sizes or to be told more about what happened when Helene's Instagram profile was shut down for allegedly breaking the photo-sharing website's terms and conditions. The implication - quite possibly true - is that similar snaps from slim women wouldn't be treated in the same way, but there's no concrete evidence of this or right of reply from Instagram. References to the diet industry - backed up with footage from the 1970s of women talking about the right to be whatever weight they want - are also interesting but cry out for further analysis.
The film works well on an emotional level, however, thanks to the frankness of those contributing. Moments including when Helene is faced with a complimentary robe that is far too small for her or when a stylist, who was previously told her size, still brings clothing to a photo shoot that doesn't fit, speak volumes. More broadly, the film raises issues concerning societal pressures on women in general - and whatever weight these women are or will be, many will find their willingness to challenge these expectations inspirational.
Production company: Hansen & Pedersen Film og Fjernsyn
International sales: Level K, lauren@levelk.dk
Producer: Malene Flindt Pedersen
Cinematography: Sine Vadstrup Brooker
Editing: Steen Johannessen, Marie-Louise Bordingaard
Music: Jenny Wilson