Mae Martin's semi-autobiographical comedy could be as good as it gets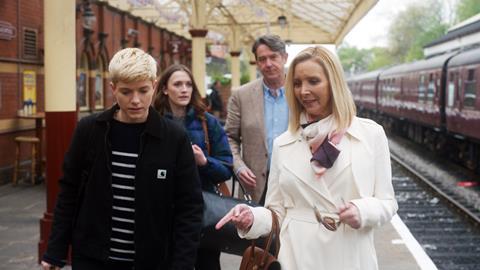 There's a sweet grace to Feel Good, a spotless 6x30 minute Channel 4 comedy which, as it ventures forth internationally on Netflix, could make a household name of its creator and star, Canadian comedian Mae Martin who goes far beyond her standup routine here. Light and airy, it comes from somewhere deep and painful: it's funny and honest and awkward and raw and deals with love and sexuality and addiction with a vulnerability that has a universal resonance. Amid the strident landscape of sexual and identity politics, it tries for love and wins our hearts, if not quite an easy resolution for its star-crossed leads.
Feel Good is the name of the show and the experience of watching it
Two women meet-cute in Feel Good, one the transplanted Canadian stand-up comedian Mae (Martin), the other her British 'Princess Diana', the previously-straight Georgina, or George (Charlotte Ritchie, from Call The Midwife). (Nudging the Netflix algorhythm, Mae's mother is played by Lisa Kudrow in an offbeat role that feels like a charming if occasionally chilling progression for Phoebe from Friends. Teacher George's social group, meanwhile, seems to have come straight out of a millennial Four Weddings And A Funeral, with Ophelia Lovibond as her ghastly BFF Binky.)
Lightning strikes after one of Mae's shows and they fall hard for each other. It's easy to see why: George is adorable – a "fit spaniel". The androgynous Mae sees herself as Bart Simpson to George's "dangerous Mary Poppins". They have a lot of sex, and the show is frank about it. But there are problems, naturally, and Martin, with co-writer and co-creator Joe Hampson, quickly sets to laying obstacles around the suburban love nest they both immediately cohabit. Mae is anxious and needy – we witness that in her comedy act - and while these traits are endearing and funny to begin with, they also come from a place of an addiction which is far from being under control. And her compulsions may also extend to "turning" straight girlfriends. George, meanwhile, despite her hazy fantasises of proposing to Mae, refuses steadfastly to even admit her girlfriend exists to her friends and family.
Part of the low-key charm of Feel Good is how it surrounds its central couple in their simple setting – mostly teacher George's apartment – with a cast of archetypes who don't quite break the fourth wall, but you feel they could, at any moment, give a broad wink to the camera. Kudrow steals the show as the offbeat Linda, of course ("she's….iconic," gasps George). But there's also George's flatmate Phil (Phil Burgers), depressed and, rather randomly, from Hollywood; her damaged, divorced mother (Pippa Hayward); and Binky with her awful fiancé Hugh (Tom Durant Pritchard). Mae, while battling temptation nightly at the comedy club run by coke tooting Nick (Tobi Bamtefa), finds a circle of recovering addicts/misfits at her NA meeting, including wayward sponsor Maggie (Sophie Thompson) whose estranged daughter Lava (Ritu Arya) will add some complications later on in the piece. Barry Ward as a coked-out comic superstar is a late-series highlight. Strap-ons also have an important part to play.
Mae and George are in their early thirties, so there's baggage to move in and out of their shared abode. Via Skype phonecalls with Mae's parents – and, eventually, a hilarious cat burial in Brighton – the extent of the comedian's deep-seated issues soon come to light. This series is based on Martin's own life, naturally – dialogue this astute doesn't come from sheer fantasy – and it's heartbreaking to see this fleet-footed, funny girl struggle with her insecurity. Yet even when Mae starts to tear her own world down, she still brings the viewer with her. Actually, the strength of the writing obliges you to stay tuned.
Feel Good is the name of the show and, yes, the experience of watching it. It is a small series which targets big emotions and hits the bullseye with pretty much the same ringing effect that Mae experiences at key moments of crisis throughout.
Production company: Objective Fiction (Objective Media Group, Scotland)
UK distribution: Channel 4. International: Netflix.
Written and created by: Mae Martin, Joe Hampson
Executive producers: Ben Farrell, Ally Pankiw, Hannah Mackay, Toby Stevens
Director: Ally Pankiw
Producer: Kelly McGolpin
Main cast: Mael Martin, Charlotte Ritchie, Lisa Kudrow, Sophie Thompson, Tom Andrews, Tobi Bamtefa, Phil Burgers, Ophelia Lovibond, Barry Ward