Adaptation of Dalene Matthee's about the plight of an abandoned black child in South Africa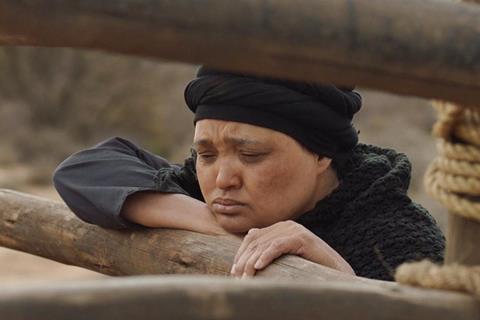 Dir: Brett Michael Innes. South Africa. 2019. 125mins
The second film adaptation of South African author Dalene Matthee's celebrated novel Fiele se kind (the first was directed by Katinka Heyns in 1988) about a family tragically separated by lies and racial discrimination in 19th century South Africa retains the story's emotion and sense of injustice, though falls a little short of its powerful potential.
The film bristles with moral outrage
Acted in Afrikaans, this is solid rather than spectacular storytelling. As such, writer/director Brett Michael Innes's second film (after the well-received Sink in 2015) is most likely to prosper on the festival circuit and at events themed around politics and social justice.
The Western Cape, 1865. When a white toddler is left outside the rural home of black couple Fiela (Zenobia Kloppers) and Selling Komoetie (Wayne van Rooyen), Fiele decides to raise the boy as her own. Nine years later Benjamin (Luca Bornman) is very much part of the family, which includes four siblings. But when government census takers discover the boy, they take him away to Knysna, the nearest town, where a magistrate decides that Benjamin is in fact Lukas, a child lost years before, albeit many miles away. Against his wishes, he's returned to his supposedly real family' poor woodcutters in the forest.
And so, at nine years old, Benjamin is transferred from a happy family to one presided over by the violent Elias van Rooyen (Drikus Vorschenk), a despot who drives his wife, two sons and daughter to constant labour, and is soon beating the newcomer. After a horribly failed attempt to retrieve her son, Fiela returns home a broken woman.
Innes has pared down Matthee's narrative, retaining Fiele and Benjamin's points of view while discarding Elias's. He's also created a two-part structure; the first charting the boy's relocation and depressing first experience of his new family, the second several years later when, as a young man, he spies an opportunity to return home. The screenplay also gives ample weight to the friendship, blossoming into love, between Benjamin (played as a man by Wayne Smith) and the van Rooyen's daughter, Nina (Melissa Willering).
There's no question that the van Rooyens have lied about the boy being theirs, for whatever reason. But in many ways, their deceit is less shocking than the behaviour of the chief censor, who is driven by racial disgust that a white boy should be living with a black family, and the magistrate, who refuses to understand the obvious injustice of his actions. In this pre-Apartheid period, the segregation is nevertheless as clear as day, with the black characters timidly addressing every white person as "master" and Fiela fearful that her land will eventually be taken from her.
The film bristles with moral outrage, expressed most dynamically by Kloppers' dignified performance as both capable matriarch (her husband is a decent, but inactive man) and doughty protector of her "throwaway child". With the aid of cinematographer Tom Marais's painterly compositions, Innes creates a strong visual contrast between the brightness of the plains of the Komoetie's home and the gloom of the forest, between cleanliness and dirt, joy and misery.
It's unfortunate, then, that in the company of the dour van Rooyens much of the life starts to drain from the film. And there's generally too much passivity amongst the supporting characters – Fiela's husband and daughters, Van Rooyan's wife and sons spend much of the time standing voiceless in the wings. Had Innes given Fiele's family more personality, the tragedy of her growing emotional detachment from them would have been far more effective.
Production company: KykNET Films, The Film Factory, Nostalgia Productions
International sales: The Film Factory danie@thefilmfactory.co.za
Producers: Danie Bester, Brett Michael Innes
Screenplay: Brett Michael Innes
Production design: Chantel Carter
Editing: C.A. van Aswegen
Cinematography: Tom Marais
Music: Kyle Shepherd
Main cast: Zenobia Kloppers, Drikus Vorschenk, Cindy Swanepoel, Wayne Smith, Melissa Willering, Wayne van Rooyen, Luca Bornman, Chiara Roodt