Chinese stars Zhao Dongyu and Liu Haoran take centre stage in Zhang Ji's debut detective drama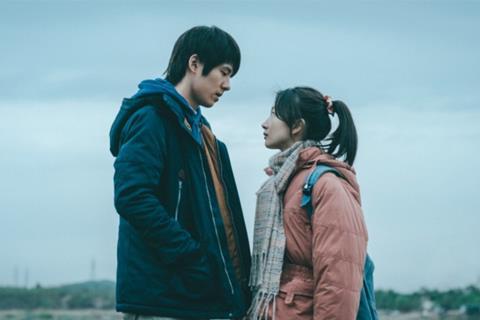 Dir. Zhang Ji. China. 2021. 113mins
Two of China's most popular young actors – Better Days star Zhao Dongyu and Detective Chinatown's Liu Haoran – team up for this noir-tinged debut from cinematographer Zhang Ji (executive produced by the king of modern Chinese noir, Dao Yinan). Adapted from a popular novel by Shuang Xuetao, Fire On The Plain is a detective drama cum romance which is boosted greatly by its initial 1997 setting, just as the soul of China's socialist living finally collapsed under Deng Xiaoping's modernisations and factory workers set their hearts on moving South. Structurally, though, the film stumbles, straining to avoid the flashbacks of the source material but feeling abruptly bifurcated as a result.
A much welcome addition to the Chinese independent cinema scene
Zhao and Liu will make an irresistible pairing when the film opens in China on Christmas Eve, the same date on which the crucial action is set. The industrialised Northern setting and near-past of that timeframe – Deng had just died, to be replaced by his acolyte Jiang Zemin – is vividly conveyed, helped, undoubtedly, by the novelist Shuang working as art director. There's a real sense of the factory microcosm, its school and compounds and the rigidly 'egalitarian' social structure of life at that time. The story itself, about an ill-defined serial killer of taxi drivers and two detectives who pursue him over two separate timeframes, doesn't always gel quite so well. San Sebastian programmed Fire On The Plain in its main Competition, and some small scale international interest may result.
Zhao Dongyu, a substantial box office draw and decorated actor despite her youthful demeanour, gets plenty of opportunity to show her range, although more in the second half of the film than the first. Here she plays Li Fei, a smart young student desperate to escape to Shenzhen or Guangzhou and the opportunities of the South's special economic zones. The factory is shutting down, and a way of life is going with it; even her model employee father, a decent man who has worked there as a security guard, is being let go with nowhere to turn for work.
She takes tuition from a neighbouring family where teenage son Shu (Liu Haoran) glowers at her – and his parents. His coiffed and corrupt father has already purchased the factory machinery on the cheap as well as an apartment away from the communal life. Shu is drifting aimlessly around town, in with a bad crowd, and he comes to the attention of undercover officer Jiang. Taxi drivers are being murdered in Fentung province, and Jiang is posing as one in order to snag the killer. He enlists Shu's help, before a series of false moves lead to the pivotal Christmas Eve denouement.
The action then shifts to eight years later, when Fei and Shu have taken radically different paths in life, albeit in the same town.
At this point, Fire On The Plain starts to make very heavy weather of what is essentially a noir police procedural. There's an undeniable sense that the film could have ended on Christmas Eve with a quick coda, but it drifts on like the snow of that evening to catch up with all the principals and again look back in time to solve the murder mystery, which has now expanded somewhat. Drug addiction, disability, disaffection, and a sudden bloodthirstiness descend on the picture, to diminishing returns.
Undeniably, Zhao and Liu have both chemistry together and a strong screen presence individually, which is why the film wants to tilt towards their frustrated romance. In reality, though, Fire On The Plain is actually a more interesting affair when it deals with the broader issue of lives disrupted by political change and the paths people choose for themselves as a result. Thus, literally, it's a film of two halves of differing tone and quality.
For a debut feature, though, Zhang Ji proves himself more than capable technically, and an exciting directorial talent to boot. Given his long record as a DoP, including North By Northeast, the high quality of the image here might have been expected, but is nonetheless a much welcome addition to the Chinese independent cinema scene which exports very little internationally at the moment.
Production companies: Beijing Wishart Media, Shanghai Turan Movie Co Ltd,
International sales: Memento Distribution, distribution@memento-films.com
Producers: Peter Zheng, Sibin Gu, Isabella Yin, Yang Shen, Weijie Zhu, Yijun Liu, He Dun
Screenplay: Liu Cao, from the book 'Moses On The Plain' by Shuang Xuetao.
Production design: Shuang Xuetao
Cinematography: Zhiyuan Chengma
Editing: Matthieu Laclau
Music: Evgueni Galperine, Sacha Galperine
Main cast: Zhao Dongyu, Liu Haoran