Dir/scr: Matthew Ross. US. 2015. 87mins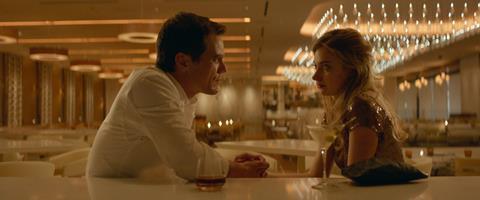 A suspicious lover discovers he has good reason to distrust his enigmatic girlfriend in Frank & Lola, a romantic drama that gets increasingly less assured the further it ventures into mystery/thriller territory. Bolstered significantly by Michael Shannon's quietly anxious performance as a Las Vegas chef who's been burned by love before, the feature debut of writer-director Matthew Ross has a twitchy, moody unpredictability that keeps the viewer intrigued as to where the story may go next. Still, the destination isn't nearly as satisfying as the opening leg of the journey.
Ross and his two leads set the stage for a provocatively unsteady romance that's initially entrancing
Debuting in Sundance's Premieres section, Frank & Lola will lure indie distributors thanks to Shannon's critical cachet. (Imogen Poots, Michael Nyqvist and Justin Long join him in the ensemble, which should boost the film's marquee value.) But mixed reviews and a muddled plotline may keep this from being a major commercial enterprise, with VOD looking just as attractive as theatrical.
As the film begins, chef Frank (Shannon) and recent college grad Lola (Poots) have been dating for about a year, and although he thinks he's in love with her, he's nervous about her commitment to their relationship. (She enjoys the occasional flirtation at a bar — especially when she meets a rich man, played by Long, who offers her a job — and Frank is all too aware that he's much older than she is.)
But Frank's worst fears are finally confirmed when Lola comes to him late one night in tears, admitting to a random fling with a stranger. Begging for a second chance, Lola tells him that her inability to be faithful stems from the fact that she was once raped by an older acquaintance named Alan (Nyqvist) she knew in Paris, provoking Frank to track the man down.
A journalist and short filmmaker — not to be confused with Matt Ross, whose Captain Fantastic is also screening at Sundance — Ross proves himself to be adept at conjuring an enveloping, grownup romantic mood that allows Frank and Lola's love affair to burn with a palpable, volatile passion. Incorporating a lush score from composers Daniel Bensi and Saunder Jurriaans, and utilising occasionally elliptical editing from Rebecca Rodriguez and Jennifer Lilly, Frank & Lola weaves a spell in its early stretches as we sense the sexual chemistry but also an odd tension between the main characters.
Adding to the film's offhand unease, Shannon plays Frank as a guarded man who expresses most of his emotions through his jittery eye movements, watching Lola with a constant nervousness that suggests he's half-expecting her to leave him at any moment. (As Frank explains to Lola, he was once married to a woman he believed to be his soul mate, which has left him gun-shy when it comes to relationships.)
Lola's carefree playfulness complements Frank's weariness, but Poots keeps us on edge, the actress's seductive eyes and evasive responses hinting at a past Frank may not want to know. Ross and his two leads set the stage for a provocatively unsteady romance that's initially entrancing, honouring all the uncertainty inherent in new love.
But eventually, Frank & Lola succumbs to a series of progressively more implausible twists that run counter to the carefully constructed everyman that Shannon has essayed. Unconvincingly, the movie lurches from a modest character-driven romance to a noir-ish thriller in which Frank decides to right the wrongs in Lola's earlier life, only to open a Pandora's box of unexpected consequences.
Nyqvist provides just the right amount of vaguely sinister veneer to Alan, but like Shannon he has to sell plot turns that come across as ludicrous rather than shocking. No doubt Ross's bold exploration of his characters' darker sexual nature is meant to dramatise the unspoken insecurities many of us have as lovers. But along the way, Frank and Lola get lost in Frank & Lola's thick atmosphere.
Production companies: Parts & Labor, The Supply Company, Arclight Films, Great Point Media, Winant Productions, Full Dawa Films, Killer Films, Preferred Content, Lola Pictures
US sales: CAA, filmsales@caa.com
International sales: Arclight Films, clay@arclightfilms.com
Producers: Christopher Ramirez, Jay Van Hoy, Lars Knudsen, John Baker
Executive producers: Kevin Iwashina, Arnaldo Gomez III, Christine Vachon, David Hinojosa, Robert Halmi Jr., Jim Reeve
Cinematography: Eric Koretz
Production design: Gerald Sullivan
Editors: Rebecca Rodriguez, Jennifer Lilly
Music: Danny Bensi, Saunder Jurriaans
Website: www.frankandlolamovie.com
Main cast: Michael Shannon, Imogen Poots, Michael Nyqvist, Justin Long, Stella Schnabel, Rosanna Arquette, Emmanuelle Devos