A young girl discovers that her father had good reasons for keeping her locked in the house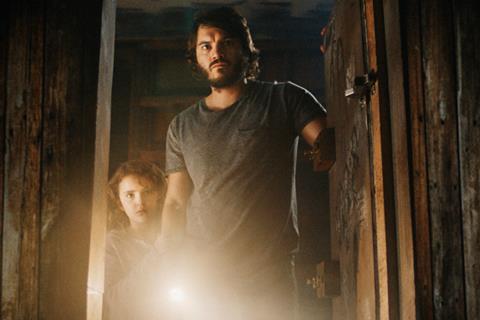 Dirs/scrs: Zach Lipovsky & Adam B. Stein. Canada. 2018. 104mins
Freaks is an oddity — a supernatural drama that cannibalizes plenty of well-worn genre elements while trying to say something impassioned about childhood, trauma, abandonment and grief. The film doesn't earn many points for originality, but writer- directors Zach Lipovsky and Adam B. Stein show just enough low-budget gusto to suggest that they might have a future as B-movie mavens. But first, they'll have to address the spotty performances and pedestrian plotting that hold back this look at a father and daughter hiding out from society for mysterious reasons.
Kolker is required to give a physically and emotionally demanding performance
Premiering in Toronto's Discovery section, the film boasts some star power thanks to Emile Hirsch and Bruce Dern. But although Freaks will remind viewers of several popular franchises — to reveal more would ruin the surprises — this modest offering seems as likely to land on SVOD as secure theatrical distribution.
Freaks gives us very little information at first, focusing on seven-year-old Chloe (Lexy Kolker), who is hiding out in her boarded-up house alongside her protective father (Hirsch). He doesn't permit her to leave, only warning her that they could be killed if they tried to do so, but she's drawn to a kindly ice cream man (Dern) whose truck is parked outside their home.
Borrowing from the dystopian drama and horror film — not to mention comic books and Stephen King — Freaks judiciously doles out clues about what precisely is going on. But suffice it to say that the unnamed father has good reason to be cautious — and that Lipovsky and Stein's revelations tend to be in the neighbourhood of what you'd expect from a movie like this.
The film's early stretches are noticeably draggy, as it drably teases its secrets. But whereas many sci-fi movies lose their momentum once they've completed their world-building, this actually gets more interesting once it stops being coy about why the father and daughter live like recluses. Only then do the filmmakers start delivering some pulpy suspense sequences and unpacking their story's underlying themes.
Even so, Lipovsky and Stein's first feature as collaborators exudes a grungy, second-hand feel, and the movie doesn't have the confidence or vision to breathe new life into its narrative clichés. Instead, the pair lean on the sincerity of their storytelling, crafting a paean to broken families and exploring how children process unspeakable loss.
While Hirsch gets top billing, and is somewhat convincing as an anguished patriarch who may be losing his grip on reality, Freaks' spiritual centre is Chloe, who comes to understand just what her dad is trying to shield her from. The film's metaphors are obvious — this father is afraid of letting his little girl leave the nest — and Kolker is required to give a physically and emotionally demanding performance. Even here, though, the acting mostly recalls other fantasy and horror films, leaving the viewer feeling déjà vu rather than devastated.
The effects work isn't very impressive, but the movie's final stretches have a muscular oomph, helping to end Freaks on a high note. Unfortunately, that's not that difficult considering how low-energy everything is that precedes it.
Production companies: Wise Daughter Films, My Way Productions, Storyboard Capital Group, Amazing Incorporated
International sales: CAA, filmsales@caa.com, and The Gersh Agency, gcrochet@gersh.com
Producers: Adam Stein, Zach Lipovsky, Jordan Barber, Mitchell Waxman
Production design: Moe Curtin
Editing: Sabrina Pitre
Cinematography: Stirling Bancroft
Music: Timothy Michael Wynn
Main cast: Emile Hirsch, Bruce Dern, Grace Park, Amanda Crew, Lexy Kolker