Anthony Hopkins and Matthew Goode star in this imagined wartime meeting of minds between Sigmund Freud and C.S. Lewis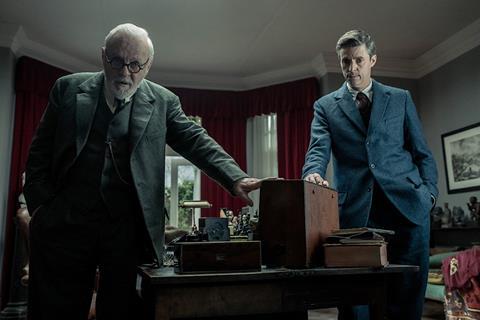 Dir: Matthew Brown. US/UK. 2023. 122mins
How best to navigate life: through reason or faith? Freud's Last Session features two worthy combatants facing off on the issue in 1939 but, despite its thoughtful ruminations and supple performances, this period drama fails to produce the expected intellectual fireworks. Anthony Hopkins and Matthew Goode are commendable in their roles as, respectively, psychoanalyst Sigmund Freud and author C.S. Lewis, their imagined debate over the existence of God juxtaposed with Germany's invasion of Poland and Britain's declaration of war. Unfortunately, the tasteful approach ends up being a hindrance: director and co-writer Matthew Brown allows the story to be so stately and reserved that the two men's passion for their competing worldviews doesn't fully register.
A tidy prestige drama that refuses to go very deep or take many chances
Set for release in the US on December 22 through Sony Pictures Classics, Freud's Last Session is aiming for awards-season consideration following its AFI Fest premiere. The film, based on Mark St. Germain's 2009 play, posits the possibility of a meeting between the famed neurologist and the acclaimed author that may have never occurred, a premise that should intrigue older arthouse crowds. But tempered reviews may impact long-term prospects.
In September 1939 in London as the so-called 'phoney war' plays out, the aged, ailing Freud (Hopkins) welcomes Lewis (Goode) to his home, curious to discover why this Oxford professor believes in God. A former atheist turned Christian whose heralded Chronicles Of Narnia novels would not be published until about a decade later, Lewis is excited for the opportunity to show Freud that true believers are not, as Freud puts it, imbeciles. But as the two men spend the day arguing their case, they learn more about each other, with flashbacks offering insights into their past.
Brown (The Man Who Knew Infinity) co-wrote the screenplay with St. Germain, collaborating with production designer Luciana Arrighi and cinematographer Ben Smithard to craft a handsome, inviting film. Hopkins has the right weathered look for Freud, who is battling oral cancer, the Oscar-winner giving the iconic doctor a feisty, belittling attitude as he toys with the slightly intimidated younger man. Modest but refusing to back down, Lewis is soft-spoken and unguarded – although Goode relishes the moments his character effectively counter-punches, temporarily knocking the arrogant Freud back on his heels.
But Freud's Last Session is more than a showdown between the neurologist and the professor. Both men are struggling with complicated relationships with women close to them. For Freud, it's with his beloved daughter Anna (Liv Lisa Fries), a brilliant psychoanalyst who is closeted, afraid of what her father might think of her sexuality — even though she happily caters to his every whim, constantly seeking his approval. Meanwhile, Lewis has for years been involved with Janie (Orla Brady), the mother of his best friend who died beside him on the battlefield during the Great War. There is a gentle irony that, for all of Freud and Lewis's deeply-considered philosophical positions, they experience the same difficulties in their personal life as anyone else.
That gentleness hints at the picture's larger problem, however, with Brown crafting a tidy prestige drama that refuses to go very deep or take many chances. A smattering of flashbacks triggered by Freud and Lewis' conversation help open up the story beyond the doctor's cosy cottage, but these key glimpses inside their lives are not especially revealing. Likewise, for as much as the two men talk, the dialogue rarely crackles, which is surprising as they are arguing about one of humanity's core questions. Hopkins' playful surliness and Goode's debonair wit make for some fun sparring, but anyone invested in the issues Freud's Last Session purports to explore will come away disappointed, and the characters rarely draw blood.
As the protagonists debate, the drumbeat of war grows louder in the distance: Germany has moved into Poland, with England fearful of what may come next. Freud and his family are Jewish, and fled Vienna because of Hitler – but this real and present danger feels oddly muted, presented as a harrowing backdrop yet unsatisfyingly dramatised. Whether it's the encroaching Nazis or this imagined showdown between two towering minds, Freud's Last Session has the potential to be explosive but, not unlike Lewis, it's a little too polite, a little too reticent. The film ends on a nicely ambiguous note, suggesting that existence cannot be fully understood through either belief in God or surety in logic. But by not engaging with either position with much vigour, Brown leaves both sides of the argument wanting.
Production companies: Last Session, Subotica
International sales: WestEnd Films, info@westendfilms.com
Producers: Alan Greisman, Hannah Leader, Tristan Orpen Lynch, Rick Nicita, Robert Stillman, Meg Thomson
Screenplay: Mark St. Germain and Matthew Brown, based on the play by Mark St. Germain
Cinematography: Ben Smithard
Production design: Luciana Arrighi
Editing: Paul Tothill
Music: Coby Brown
Main cast: Anthony Hopkins, Matthew Goode, Liv Lisa Fries, Jodi Balfour, Jeremy Northam, Orla Brady, Stephen Campbell Moore, Padraic Delaney, Tarek Bishara