Dir. Lorenzo Vigas. Venezuela-Mexico 2015. 93 mins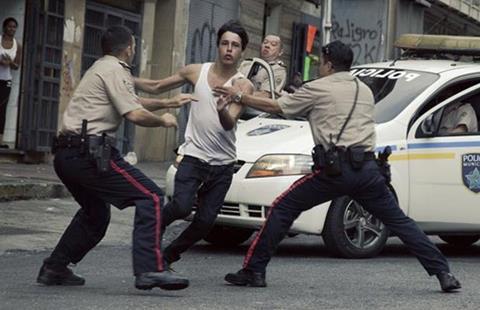 Whatever he goes on to do next, Venezuelan director Lorenzo Vigas has already made history. His From Afar is not only the first feature from his country to play in Venice's main competition, it also thrashed all comers – including much-liked titles by the likes of Alexander Sokurov and Amos Gitai – to win the festival's coveted Golden Lion. This was a hardcore cinephile choice from a jury heavily laden with serious auteurs (including Hou Hsiao-Hsien, Lynne Ramsay, Nuri Bilge Ceylan and president Alfonso Cuaron). It's hard to begrudge Vigas his laurels, as gay drama From Afar is accomplished and compelling; even so, this is arguably a premature award for a talent whose best work, one suspects, lies ahead of him. At any rate, the Lion – and an imposing lead by art-house hero Alfredo Castro – will boost exports for this tough, downbeat psychological study. Among other festival prospects, it's a must for LGBT events, where its equation of gay desire and violence may stir controversy.
Vigas – even if he hadn't won in Venice – would still have made his mark as one of 2015's directorial shooting stars.
Former documentarist Vigas scripted From Afar from a story he wrote with Mexican novelist, director and Amores Perros screenwriter Guillermo Arriaga – one of several luminaries on board as producers and execs, including Venezuelan actor Edgar Ramirez and Mexican directors Michel Franco and Gabriel Ripstein. It is set in Caracas, where a middle-aged gay man, dental prosthetics technician Armando (Castro), cruises the streets and buses for young working-class men.
He pays them to accompany home, but gets his kicks simply by watching them pose half-naked. One such pick-up turns nasty, as street tough Elder (Silva) gives Armando a brutal thrashing. Even so, Armando – his glacial exterior obscuring motives that the film doesn't spell out – tracks the boy down, and they begin a prickly rapprochement. Armando eventually becomes a sort of surrogate uncle to Elder when the latter falls foul of his girlfriend's brothers: the film is graphic about the volatile nature of Caracas street life.
The point comes when From Afar appears to promise some traditional emotional rewards; but when Elder invites Armando to accompany him to a family birthday, and introduces him to his mother (Jerico Montilla), the boy falls foul of the homophobic worldview that, till now, he's subscribed to. Meanwhile, a subplot involves the return to Caracas of an elderly businessman, the estranged father of Armando and his sister (Catherina Cardozo). Armando's troubled relationship with his parent – again, with little spelled out – hints at the origins of his detached attitude to life and relationships.
The film's title can be taken on more than one level: as a voyeur, Armando likes to track his potential 'models' from a distance, and prefers intimacy from across the room, recoiling when Elder offers him direct physical contact. But the film also examines an existential distanciation in Armando's psyche, and suggests that perhaps economic differences cause differences in emotional capability: while Armando's emotions exist in cool suspension, Elder has immediate access to his feelings, whether tenderness or violent anger.
But the film shouldn't be taken primarily as proposing a social thesis. It's above all a character study, as well as an elegant technical achievement that puts a distinctive stylistic slant on its realist subject matter. The photography by Sergio Armstrong – the regular collaborator of Chile's Pablo Larrain – uses soft focus to unsettling effect, as well as an unusual palette including olive tints and a queasy set of off-pastels. And the acting is extraordinary, with 21-year-old newcomer Silva making a strong impression as the unpredictable, aggressive but increasingly vulnerable Elder. As for Castro, it's an extremely imposing performance, but perhaps not a surprising one: while it doesn't have the Gothic eccentricity he brought to Pablo Larrain's early films Tony Manero and Post Mortem, his enigmatic taciturnity here suggests an actor whose strengths could easily tip over into mannerism (or anti-mannerism, as his Armando is introverted to the point of minimalism).
Still, Castro is on the right side of the divide here, and his reserve pays off superbly in a surprise ending. From Afar is a cogent achievement, though it's hard, partly because of Armstrong and Castro, not to feel that its affinity with Larrain's films suggests a director still finding his own voice. Be that as it may, Vigas – even if he hadn't won in Venice – would still have made his mark as one of 2015's directorial shooting stars.
Production companies: Factor RH, Malandro Films,
International sales: Celluloid Dreams, info@celluloiddreams.com
Producers: Rodolfo Cova, Guillermo Arriaga, Michel Franco, Lorenzo Vigas
Executive producers: Edgar Ramirez, Gabriel Ripstein
Screenplay: Lorenzo Vigas from a story by Guillermo Arriaga, Lorenzo Vigas
Cinematography: Sergio Armstrong
Editor: Isabela Monteiro de Castro
Main cast: Alfredo Castro, Luis Silva, Jerico Montilla, Catherina Cardozo