Dir: Adam Green. US. 2009. 94 mins.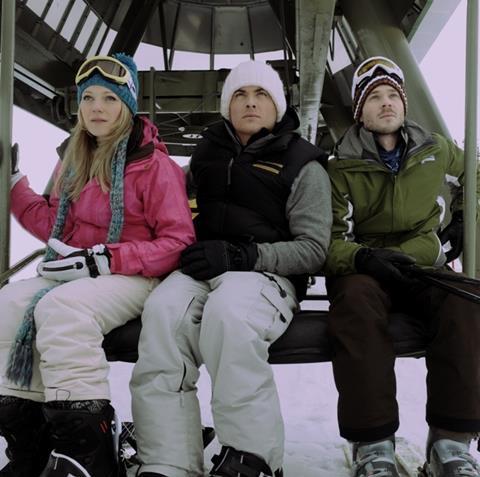 Writer-director Adam Green's thriller Frozen traps three characters on a perilously high chairlift in a ski resort which has closed for the night, but it's the audience which may be left feeing stranded by the film's wobbly characterizations and drawn-out drama.
Opening domestically on Feb 5, this Anchor Bay release will hit the marketplace one week before The Wolfman, hoping to be a low-budget, word-of-mouth success along the lines of The Blair Witch Project or Paranormal Activity. More likely, though, Frozen will quickly cool off theatrically before moving to ancillaries.
Best friends Dan (Kevin Zegers) and Lynch (Shawn Ashmore) take Dan's girlfriend Parker (Emma Bell) on a skiing trip. But they wind up stranded on a chairlift high above the resort late at night. With the power shut off and the resort not reopening for several days, they must find a way to brave starvation, frostbite and hungry wolves.
Frozen clearly draws inspiration from indie-minded horror-thrillers such as Open Water in which ordinary people are thrust into the middle of nature and forced to survive. But while suspense is always a crucial component of such films, well-drawn characters can be vital as well, especially during those moments when the scares aren't occurring. And this is where Frozen falters.
Although Green sets up an interesting dynamic between the characters – Lynch is resentful that his best friend has brought along his girlfriend on what was supposed to be a guys-only trip – the performances and dialogue tend toward the cheesy, diminishing the emotional stakes.
While Frozen does deliver a few clever suspense sequences, Green's stalled-chairlift concept doesn't provide a consistently nerve-wracking experience, which leaves too much room for drab discussions about how to get help.
To sign up for Screen's weekly Reviews Newsletter with all the week's new releases, international openings and full festival reviews delivered free to your mailbox every Friday, please click HERE
Production companies
A Bigger Boat
ArieScope Pictures
Domestic distribution
Anchor Bay Films
International Sales
FilmNation
+ 1 917 484 8900
Producers
Peter Block
Cory Neal
Screenplay
Adam Green
Cinematography
Will Barratt
Production design
Bryan A. McBrien
Editor
Ed Marx
Music
Andy Garfield
Main cast:
Kevin Zegers
Shawn Ashmore
Emma Bell