Maxine Peake is defiantly good as a Northern comic working the sexist circuit of the 1970s and 80s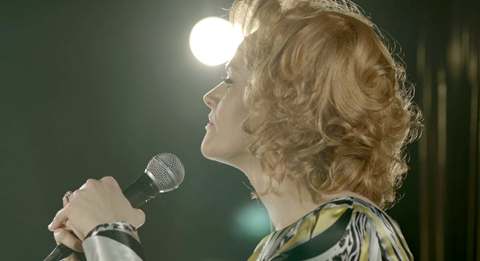 Dir: Adrian Shergold. UK. 2017. 103 mins
A flinty portrait of a female stand-up comic who rises to fame on the Northern club circuit during the 1970s and 80s, Funny Cow is powered by a crackling anger and a forceful performance from Maxine Peake. The film owns the casual misogyny of the era and rises above it: the central character isn't given a name, she's 'Funny Cow', 'love' or frequently worse. But by acknowledging the racism and homophobia that tainted the humour of that period, the film finds itself in uncomfortable territory.
At times, it feels as though no grim Northern stereotype is left unturned
It's a formally playful picture which weaves drunkenly through timelines, like a meandering bar-room anecdote. And as a character study, it gives a real sense of what forged the ruthlessly tough bird who is prepared to take on the blokes at their own game and beat them with their own weapons – usually sexism and bigotry. Like much of the work of director Adrian Shergold, it's a picture which could work well on television or perhaps VOD platforms. Whether the film connects with the kind of audience who might attend further festival screenings or showings in the art house theatrical circuit depends on whether the provincial British milieu translates to a broader market; and whether viewers are able to distinguish between the character and the offensive jokes that she makes.
Segments of a life story are cut around a scenes in which Funny Cow, on stage, recalls her troubled past. With her apricot hair, scarlet sequined dress and a cigarette dangling from the corner of mouth, she talks to camera; we take the place of the club audience whose laughter fades as the grim realities of growing up poor with a drunken mother and a violent father unfold.
Flashbacks dip haphazardly into various periods, before settling into her childhood. 'Funny Calf' (Macy Shackleton), as she is referred to in the credits, is a spirited kid who refuses to be bullied. She stands up the other kids, who scent something different about her. And she turns to the father who has just beaten her with his belt with the deadpan question, "Are you angry Dad? You seem angry." When Dad pops his clogs, she breaks the fourth wall and grins at the camera.
A relationship which starts on the dancefloor of a bar is consummated in a Ford Anglia, against the backdrop of a row of damp terrace houses. At times, it feels as though no grim Northern stereotype is left unturned. In the next scene she moves in with Bob (Tony Pitts, who also wrote the screenplay), whose gruff humour soon hardens into a sour-faced disapproval. When he hits her, she turns on him with the same defiantly impassive stare she deployed on her Dad.
Of the men in her life, the two most positive figures are Angus (Paddy Considine), the bookstore owner who longs to be her white knight, and Lenny (Alun Armstrong), the failing comedian who grudgingly serves as her mentor. But the cycle of abuse is so deeply ingrained that she dismisses kindness and consideration in a man as weakness.
Production design goes all out on strident wallpaper and sullen soft-furnishings, a contrast to the clean mid-century lines of Angus's palace of middle class good taste. But perhaps most evocative is the lovely bruised beauty of score by Richard Hawley (who also makes two cameo appearances in the film). Hawley's crushed velvet vocals soften the jagged edges of this hard-edged, abrasive character.
Production companies: Laughing Girl Ltd, POW Films and Moviehouse Entertainment
International Sales: Moviehouse Entertainment info@moviehouseent.com
Producers: Kevin Proctor, Mark Vennis
Screenplay: Tony Pitts
Cinematographer: Tony Slater Ling
Editor: Tania Reddin
Production design: Candida Otton
Music: Richard Hawley
Starring: Maxine Peake, Paddy Considine, Alun Armstrong, Stephen Graham, Kevin Eldon, Tony Pitts