Arthouse gem from Belguim's Baz Devos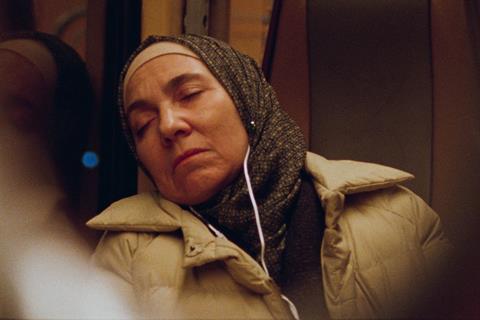 Dir/scr: Bas Devos. Belgium. 2019. 85mins.
A woman walks home alone at night in Ghost Tropic, the absorbing, minimalist third film from writer-director Bas Devos. Shot on 16mm and keenly attuned to the nocturnal rhythms of a city during those quiet hours when most of its denizens are asleep, this meditative piece sidesteps ponderousness thanks to its modesty and inquisitiveness, happily following its middle-aged protagonist wherever she goes. Saadia Bentaïeb's performance is a gem of minute gradations — every look, pause and reaction matters.
A slender but lovely examination of a mostly nondescript character navigating unknown terrain.
Screening in Directors' Fortnight, this Belgian drama should be a favourite for adventurous festivalgoers who will appreciate the film's gentle air and reflective mindset. Radiant reviews will be crucial for raising Ghost Tropic's profile, with commercial prospects relying on art-house interest.
Bentaïeb plays Khadija, a cleaning woman in Brussels. As usual, she takes the train home late in the evening, but she falls asleep, missing her stop and reaching the end of the line. Without sufficient money and no other way to get back to her apartment, the fiftysomething Khadija has no choice but to walk, encountering homeless men, security guards and convenience store workers along the way.
Devos (Violet, Hellhole) lightly challenges his audience from Ghost Tropic's opening scene, a prolonged static shot of a living room as the sun sets outside. Clearly, the filmmaker wants us to adjust to its measured, contemplative pace, and for those willing to acquiesce, Devis has crafted a slender but lovely examination of a mostly nondescript character navigating unknown terrain.
We learn precious little about Khadija, and so the very few clues we get into her life serve as compelling signposts for who she is. That said, Ghost Tropic doesn't spring cheap plot twists or try to suggest that Khadija is in any way a stand-in for any larger community. Bentaïeb's grounded, simple portrayal ensures that the character never becomes a mere symbol — either for the plight of women or the sanctity of the working class — and that lack of condescension is but one indication of this movie's gracious, unassuming manner.
Ghost Tropic is presented in the boxy 1:33 aspect ratio, which helps to undercut any pretence of widescreen grandeur. Nonetheless, Grimm Vandekerckhove's cinematography is glorious without being showy. If Khadija is meant to be on some sort of odyssey, the filmmaking keeps the story intimate, letting the nighttime exteriors glow but never overwhelm the character's episodic run-ins, each of which is intentionally minor.
And yet, Ghost Tropic does slowly begin to hint at a narrative thrust, which emanates organically from Khadija's seemingly random encounters. On her journey home, she will run into someone she knows, and the scene is delicately understated, affording the character that rarest of gifts: the ability to observe someone you love in a way in which they are unaware of your presence. The offhandedly beautiful moment speaks to Ghost Tropic's overriding sentiment, which is that in our modern, heavily-interconnected age we so rarely have the opportunity to be truly introspective and solitary.
Much of this film is hushed — Brecht Ameel's spare score consists of either light keyboard tones or fetching guitar strumming — as we watch Khadija silently walk or interact with a fellow midnight traveller. Devos never strains for greater significance, but he arrives at an ending in which we internalise precisely what the Khadijas of the world are meant to represent. As a result, the final shot makes perfect sense — or, at least, what we think will be the final shot. Ghost Tropic has one final surprise in store.
Production companies: Quetzalcoatl, 10.80 Films, Minds Meet
International sales: Rediance, meng@rediancefilms.com
Producers: Marc Goyens, Bas Devos, Nabil Ben Yadir, Benoit Roland, Tomas Leyers
Production design: Quinten & Jonathan Van Essche
Editing: Dieter Diependaele & Bas Devos
Cinematography: Grimm Vandekerckhove
Music: Brecht Ameel
Main cast: Saadia Bentaïeb, Maaike Neuville, Stefan Gota, Cedric Luvuezo, Willy Thomas, Nora Dari