Tyler Riggs goes behind the camera and co-stars in this story of three lives intersecting in a muggy Florida summer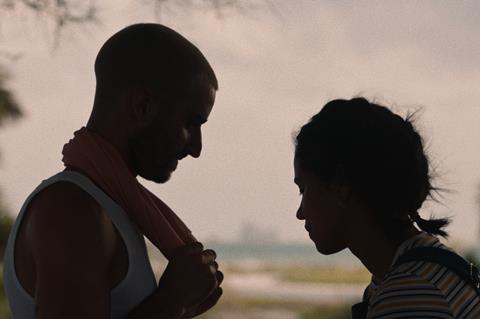 Dir/scr: Tyler Riggs. US. 2021. 98 mins.
This feature debut by US actor Tyler Riggs is a sensuous portrait of three restless spirits each confronting their own crossroads. God's Waiting Room makes good use of its sweltering Florida locales as it follows an aspiring songwriter, a cocky hustler and a recently released inmate, their lives intersecting unexpectedly over the course of one muggy summer in Tampa. The drama's rich atmospherics vividly embody the melancholy mindset of its characters, although it does comes at a price, especially as the plotting grows increasingly convoluted near the finale.
Ultimately, the film works best as an immersive experience, inviting us to inhabit these characters' lives for a little while
Premiering at the Tribeca Festival, God's Waiting Room will provoke comparisons to other Florida-set indies such as The Florida Project and Moonlight due to its similarly vibrant colours and marginalised individuals. There aren't any marquee names among the cast, so the picture will need strong reviews to help drive sales, with arthouses and on-demand video the most likely landing spots.
Nisalda Gonzalez plays Rosie, who recently graduated from high school but has little desire to go to college, more interested in pursing a music career. Courted by the smooth-talking drug dealer Jules (Matthew Leone), she's reluctant to enter into a relationship with him — she's heard tales of his womanising — but soon succumbs to his charms.
Meanwhile, a loner named Brandon (Riggs) gets out of prison after serving a 12-year sentence, finding it difficult to reenter civilian life. But although his narrative thread seems completely separate from that of Rosie and Jules, audiences can safely assume that, eventually, a link will be made between the two stories.
Riggs, who also wrote the screenplay, lets the picture wander in a languid haze, dropping in on the characters and their struggles. For example, Rosie must contend with Nino (Ray Benitez), her widowed immigrant father who works a backbreaking job in order to give her a better life, furious that she's chasing a far-flung dream rather than an education. (He also doesn't take too kindly to Jules hanging around the house, suspicious of his intentions with Rosie.) Mack Fisher's cinematography captures the sticky humidity of a Tampa summer, and his floating camera creates a dreamlike state, although the economic hardships facing Rosie and the others cruelly undercut the paradise-like landscape of swimming pools and plentiful sunlight.
There's a casual intimacy to the proceedings, especially in the scenes in which Rosie cautiously draws closer to Jules, and occasionally the offhand naturalism of the performances suggests an element of improvisation between the actors. Gonzalez is touching as a young woman trying to find her artistic voice while dealing with the two very different men in her life. And Leone compellingly conveys Jules' bad-boy charisma, displaying an edgy intensity that hints at the danger lurking beneath his smiling exterior.
God's Waiting Room circles some thought-provoking ideas — the tension of America's melting-pot culture, the stigmas surrounding former inmates — and exudes compassion for those who believe they have little chance to improve their circumstance. Ultimately, the film works best as an immersive experience, inviting us to inhabit these characters' lives for a little while.
But the spell that Riggs weaves, aided by Chris Dudley's despondent electronic score, starts to dissipate once he introduces the twist that brings Brandon into the orbit of Rosie and Jules. Part of the problem is that, despite Riggs' sympathetic portrayal of this ex-felon who is unable to cope in a world without bars, Brandon ends up feeling too much like a construction and not enough like a flesh-and-blood person. And when he becomes more important to the overall plot, the payoff starts to feel contrived, moving away from what was so lifelike and effortless about the picture's earlier stretches.
Nevertheless, God's Waiting Room gives us an environment so seeped in small details that it's as evocative as the characters. Not surprisingly, Riggs hails from the Tampa area, and he has an eye for the collision of different cultures and generations as they try to coexist. As opposed to the strained dramatic fireworks that occur near the end, the picture is stronger when it's quieter, such as in one scene where Rosie performs to a group of white senior citizens, singing 'America The Beautiful' softly while strumming her acoustic guitar, inspiring them to join along in the patriotic tune. Here, the filmmaker makes his story's underlying notions of connection, hope and inequality resonate loud and clear.
Production company: Partner John

International sales: Paradigm, cmccary@paradigmagency.com
Producers: Tyler Riggs, Suvi Riggs, Benjamin Eck, Aaron Hurley
Editing: Tyler Riggs, Benjamin Eck
Cinematography: Mack Fisher
Music: Chris Dudley
Main cast: Nisalda Gonzalez, Matthew Leone, Tyler Riggs, Ray Benitez