Doc set in the Texas borderlands hits the right notes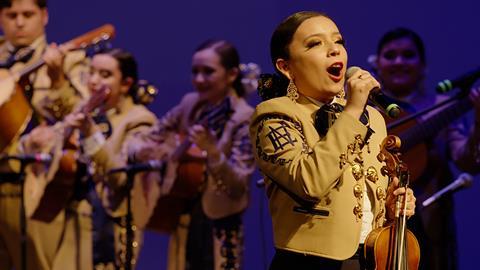 Dirs. Sam Osborn, Alejandra Vasquez. US. 2022. 104mins
You can be a mariachi, play mariachi, and perform in a mariachi band. The young lower-income students at Edinburg North High School in the South Texas borderlands region are aiming to hit all those right notes in the school's varsity band, but they're a discordant bunch to start with in Sam Osborn and Alejandra Vasquez's warm-hearted documentary which adheres to the Cheer template as the kids train to compete at the highest level against some impressive competition, guided by their caring coach, Abel Acuna. (The genre, really, dates back to 2015's Mad Hot Ballroom and has been adapted for several disciplines by documentarians: after all, who can resist following young people as they give it everything?)
The extravagant mariachi outfits are bliss to watch being assembled, the trajes, the colourful cowboy boots, the jingle-jangle of the buttons
The stakes are high for these teenagers. There's no chance that their parents can send them to college, so they need the lift of the mariachi programme to win support and scholarships which will make an enormous difference to their lives. Otherwise, there's only low-paid hourly work on offer in a deprived region. Osborn and Vasquez don't really dwell on the socio-political circumstances of these first-generation Americans (we assume), so the interest here for viewers is the children themselves and the music they make. Anyone who hasn't seen a full mariachi band in swing (there are 15 musicians on stage here) will be intrigued, and the kids are completely charming, although there's always a feeling that this might be better suited to a small screen after its premiere in the Sundance US Documentary Competition.
The film was shot during and after Covid-19, when the documentarians stumbled onto a publicly-funded mariachi programme that culminates in a Texas state festival in which 100 bands compete, and found Abel Acuna at Edinburg North High School (and his better-funded rivals, up the road at Rona High School). They introduce, in turn, the band's key musicians: Abby, on violin, part of a pig-farming family; Bella, who wants to be a pharmacist; and Drake, too large to join the army and newly-recruited to the guitarron. Unfortunately, he can't keep to the rhythm and is too distracted by his new girlfriend to manage Coach Acuna's strict timing policies, just some of many stumbles on the band's way to the state finals.
The film treads gently around social issues, leaving two Mexican-American musicians who want to be teachers in Texas and happen to be lesbians to their dreams. A small glimpse of a sign points to the border patrol, which isn't ever mentioned. Going Varsity In Mariachi is very centred, instead, on the music being such a significant part of the new culture that's building up on the border and how it carries with it the hopes and dreams of generations. The extravagant mariachi outfits are bliss to watch being assembled, the trajes, the boots, the jingle-jangle of the buttons as the kids go on stage all lead to a mounting sense of excitement as the team finally starts to find their harmony.
Despite that, Going Varsity In Mariachi maintains a gentle pace, with editor Daniela A Quiroz finding her rhythm in the music. As the band starts to belt out the classics, starting with El Son De Mi Tierra', a score by Camilla Lara takes keys and themes and plays with them to deliver a really lovely modern score. At times, though, there just isn't enough footage from outside the music rooms or the theatres where the competitions take place to get enough of a sense of the real world these hopeful children inhabit.
Production companies: Fifth Season, Osmosis Films, Embelico Unlimited
International sales: Fifth Season, ARichter@FIFTHSEASON.com
Producers: James Lawler, Luis A Miranda, Jr, Julia Pontecorvo
Cinematography: Michael Crommett
Editing: Daniela A. Quiroz
Music: Camilo Lara