Pull up to the bumper for a tour of Jamaica and the career of the fabulous Grace Jones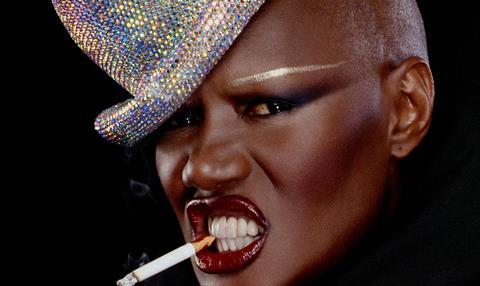 Dir/ed. Sophie Fiennes. UK/Ireland. 2017. 115 mins.
At almost 70, Grace Jones inhabits that space in the musical Venn diagram where disco, performance art, and cinema intersect. Sophie Fiennes' intuitive, full-throated documentary is a meditation on a singular performer, if the shock of Jones in full-flight can be described as such. Jones' tough Jamaican roots lash around her remarkable career and bind her to a troubled home and past. The ghost of an abusive step-father stalks the stage with this unapologetic, defiantly unreconstituted performer: Fiennes' camera follows her, entranced, but never pulls ahead into the lead. This is Grace Jones, after all: it's her show.
Fiennes delivers a documentary which captures Grace Jones' spirit in a way that's cinematic and rousing
Jones has appeared in film before, most notably as May Day in the Bond film A View To A Kill, as well as Conan The Destroyer. That was 30 years ago, however, and she's much better with age. Fiennes' interweaving of Jones's hypnotic stage show – shot in Dublin – with off-the-cuff footage results in a seductive performance piece which should play strongly on the festival circuit after its Venice launch.
Fiennes' obstinate refusal to follow bio-doc convention and present old footage, despite Jones's legendary status as a 1970s and 80s icon, makes Bloodlight And Bami all the more intriguing, but perhaps a harder sell in the commercial market-place, where it may work best as an event item. Much like Jones herself, this doc goes its own way, even in terms of its 115 minute length.
With hats designed by Irish milliner Philip Treacy, Jones takes her film hostage from the get-go. Fiennes drops the "money song" as an intro – Slave To The Rhythm. "Never stop the action….keep it up," exhorts the statuesque Jones, as she prowls across the stage, and it proves to be a motif for her life. Whether strutting like a peacock on her famously elongated pins, or swirling a hula hoop clad simply in a form-fitting basque; wheedling, cajoling and threatening in the recording studio; clutching an ever-present glass of champagne; or visiting her church-going mum in Jamaica, Jones is always on the move.
Bloodlight And Bami - Jamaican patois for the red light of the recording studio and bread, the manna of life - is shaped around Grace's road trip across Jamaica with her son Paulo and niece Chantel, which is interweaved with footage of both Jones' stage show and her private life as she roams around the world. She seems to have an accent for every place in her life, more sophisticated in Paris, where she has lived for long periods, yet back to broad Jamaican slang when it comes to getting drum and bass duo Sly and Robbie back into the studio, where she's financing her next album.
Jones is shown here to be both tough and vulnerable. She won't perform unless you pay her in advance, and some of the corporate gigs she plays - to earn the money to record, she points out - are depressingly cheesy for an icon of her age and stature. She's more badly behaved than her son, as nightclub footage clearly demonstrates, yet she's incredibly vulnerable and open when it comes to French photographer Jean Paul Goude, Paolo's father and the man who helped create her iconic image.
Jones recalls a traumatic childhood, when her parents left for New York, and she was beaten and humiliated by 'Mas P', her minister step-grandfather. He comes to the fore still, she admits, and his controlled rages have informed her strict stage persona since the start. Now, back in Jamaica, she attends church with her mother but she's never been a believer. "Serious disco was like going to church," she observes.
In concert footage, Jones mesmerises with performances of Nipple To The Bottle, Pull Up To The Bumper, and more personal tracks including Williams' Blood, This Is and Hurricane. She comes across as spirited, still wild, and just as intimidating as when she smacked British chat show host Russell Harty live on air. Yet Jones is a marvel, really, all the more so now that time has refined and enhanced her unflagging lust for life. Fiennes delivers a documentary which captures that spirit in a way that's cinematic and rousing.
Production companies: Sligoville, Amoeba Films, Blinderville.
International sales: WestEnd Films, info@westendfilms.com
Producers: Sophie Fiennes, Beverly Jones, Shari Hinton, Kate Holly
Executive producers: Christine Langan, Joe Oppenheimer, Lizzie Francke, Keith Potter, Francesca von Habsburg, Danielle Ryan, Alan Maher, James Wilson, Emilie Blezat
Cinematography: Remko Schnorr
Musical director: Ivor Guest
Featuring: Grace Jones, Jean-Paul Goude, Sly Dunbar, Robbie Shakespeare, Ivor Guest