Dir/scr: Josh Radnor. US. 2009. 99 mins.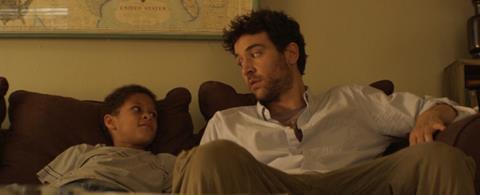 An overly cute portrayal of twentysomethings struggling with life and love in New York City, happythankyoumoreplease has its humorous and heartfelt moments, but this ensemble comedy-drama's manic self-absorption ultimately proves too much to overcome.
With its examination of young love and the angst of early adulthood, happythankyoumoreplease should appeal to college crowds who are presumably experiencing similar dilemmas as the characters. Without major stars, though, the film will need to rely on word-of-mouth from date audiences to garner commercial momentum.
Frustrated writer Sam (writer-director Josh Radnor) encounters a runaway young black boy named Rasheen (Michael Algieri) on the subway and reluctantly takes him in. Meanwhile, Sam's confidante Annie (Malin Akerman) is being courted by a geeky but lovable co-worker (Tony Hale), and his friend Mary Catherine (Zoe Kazan) has reached an impasse with her long-term boyfriend about their future.
Investigating a group of creative, literate friends whose personal lives are a mess, first-time filmmaker Radnor (best known for his role on the sitcom How I Met Your Mother) attempts to capture the essence of being young in New York with a breezy nonchalance. However, even though his characters' romantic troubles bedevil them, Radnor fails to make their plight empathetic, unintentionally turning them into whiny and self-involved individuals who don't always seem worthy of the happiness they seek.
On the whole, the cast is likable, although a few of the performers overdo their characters' existential anguish and studied hipness. The notable exception is Hale, who makes Annie's would-be boyfriend a sensitive, romantic adult who is, unfortunately, surrounded by overgrown adolescents.
To sign up for Screen's weekly Reviews Newsletter with all the week's new releases, international openings and full festival reviews delivered free to your mailbox every Friday, please click HERE
Production companies
Paper Street Films
Tom Sawyer Entertainment
US Sales
Schreck Rose Dapello Adams & Hurwitz, LLP
+ 1 212 832 1977
Producers
Jesse Hara
Austin Stark
Chris Papavasiliou
Benji Kohn
Cinematography
Seamus Tierney
Production designer
Jade Healy
Editor
Michael R. Miller
Music
Jaymay
Main cast:
Josh Radnor
Malin Akerman
Kate Mara
Zoe Kazan
Pablo Schreiber
Michael Algieri
Tony Hale