A young pickpocket develops a conscience after meeting the beautiful daughter of one of his victims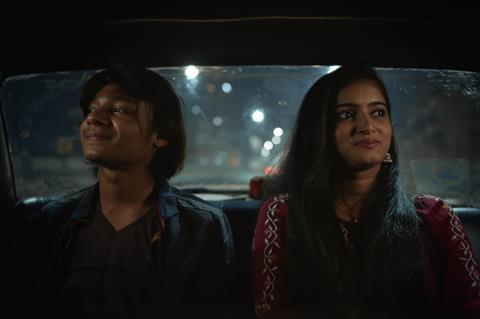 Dir: Shyam Madiraju. US/India. 2020. 100mins.
A modern Oliver Twist set in bustling Mumbai, Harami tells the story of a teenage pickpocket who develops a conscience after one of his targets commits suicide. Newcomer Rizwan Shaikh charms as a humble urchin who discovers that just because he's a thief doesn't mean he can ignore the pain that others are experiencing. Yet despite some heartfelt performances and the lively energy emanating from the Indian metropolis, this romantic drama can be little too slick and formulaic to be as affecting as one might hope.
That tendency toward big dramatic flourishes ultimately hinders Harami
Harami receives its world premiere at the Busan Film Festival and is the second feature from Indian-born commercial and film director Shyam Madiraju, whose debut was the 2015 English-language survival drama Eden. Most of Harami's cast are first-timers, but popular screen presence Emraan Hashmi (playing a vicious crime boss) will help entice viewers. And with American filmmaker Paul Feig credited as an executive producer, it's clear Madiraju has his sights set on worldwide distribution, which will start with a US release on December 11, currently set for theatres.
When we first meet Pachpan (Shaikh), we discover that he, like all the child pickpockets who work for mobster Sagar (Hashmi), is identified by a number, not a name. (Sagar's rationale is that it makes it easier to tell all his thieves apart, although it also serves to dehumanise these "haramis," or "bastards," who have been abandoned by their families and forced to live a criminal life.)
Pachpan may be Sagar's prized pickpocket — he's stealthier and more agile than his cohorts — but the boy known as 55 has recently started feeling guilty about the innocent victims of his crimes, quietly following them back to their residences to spy on them and learn more about their lives. One day, though, he gets more intimately involved after a widowed father jumps in front of a train, bereft that the money he had borrowed to pay for his daughter Uma's (Dhanshree Patil) wedding has been stolen. Without revealing his connection to the dead man, Pachpan befriends Uma, and a romantic spark slowly begins to grow.
In its early stretches, Harami exudes the same electricity as Sagar's scrappy urchins when they work in tandem to swipe wallets from commuters and tourists at Mumbai's crowded train stations. But Shaikh's unguarded sincerity hints at Pachpan's soulfulness — he may be an excellent thief, but he has no love for this dirty work, especially when he starts spending time with Uma, who now must take care of her younger sister all on her own.
Madiraju's background in commercials shines through in the sweeping transitions his film makes between locations and time periods. (At one point, Pachpan seems to walk from one scene to another without even moving in the frame. Elsewhere, night switches to day through a dynamic cut.) Working with cinematographers Lasse Ulvedal Tolboll and Matt Batchelor, Madiraju has an eye for the striking image, whether it's dangerous gangsters standing on the roof of a skyscraper or a pack of desperate urchins in silhouette looking out at the silent, unforgiving city of Mumbai in the distance.
But that tendency toward big dramatic flourishes ultimately hinders Harami, reducing its narrative to simplistic characterisations and familiar twists. The closer Pachpan and Uma become, the more inevitable it will be that his secret will emerge, creating predictable obstacles between them. And when he starts stealing on the side to support Uma, it's only a matter of time until he runs afoul of Sagar, who earlier in Harami demonstrated the cruel violence he'll mete out when his child thieves disobey him. (Adding to the film's exaggerated operatics, Hashmi brings a slightly cartoonish quality to his portrayal of Sagar, turning him into a Bollywood caricature of a crime lord.)
Like Shaikh, Patil makes her screen debut, and she capably conveys the exhaustion and anxiety of a wise-beyond-her-years young adult who may have to consider prostitution in order to pay off her deceased father's debts. But although the film laments the harrowing choices facing so many of its impoverished characters, the conventional plotting saps Pachpan and Uma's plight of some of its pathos. Harami's colourful, hectic Mumbai locales end up being more vibrant than the people (and their dilemma) in the foreground.
Production company: Germ Collective
International sales: Wild Bunch International, edevos@wildbunch.eu
Producers: Shyam Madiraju, Brent Maddock, Dori Zuckerman, Gavin Lurie, Mohit Rastogi, Pravesh Kumar Singh
Screenplay: Shyam Madiraju, Shahin Khosravan
Production design: Parichit Paralkar
Editing: Naveen Reddy
Cinematography: Lasse Ulvedal Tolboll, Matt Batchelor
Music: Antonio Sanchez
Main cast: Emraan Hashmi, Rizwan Shaikh, Dhanshree Patil, Harsh Rajendra Rane