Visceral coming-of-age horror from Finland will appeal to fans of Scandi-genre fare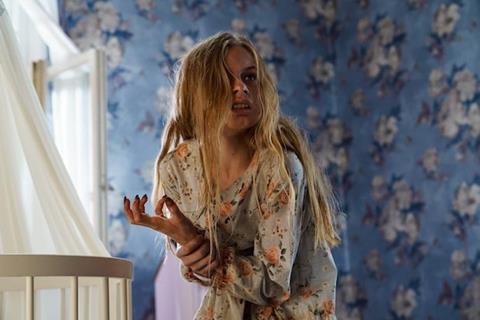 Dir: Hanna Bergholm. Finland. 2021. 86mins
Probing issues of motherhood, adolescence and identity with a delicate dramatic touch while expertly harnessing some outre genre elements, Hatching is a bold, arresting feature debut from Finnish director Hanna Bergholm. It also marks another astonishing debut; that of newcomer Siiri Solalinna, playing a troubled young gymnast whose decision to care for a mysterious egg leads to a journey of nightmarish self-discovery.
Päivi Kettunen's exquisite production design is at delicious odds with the story's dark themes
Making its debut in Sundance's Midnight strand, Hatching should easily catch the attention of other festivals; particularly those with a genre bent. Set to release theatrically in its native Finland in February, Hatching could also do well further afield, particularly with fans of Scandi-genre fare like Tomas Alfredson's Let The Right One In (2008), Joachim Trier's Thelma (2017)— with which it shares themes of powerful pubescent emotion — and Ali Abbasi's Border (2018), which won Cannes Un Certain Regard in 2018.
Fittingly for a film which both celebrates and subverts the human form, our first glimpse of Tinja (Solalinna) is of her arched back, her spine uncomfortably visible through her skin as she contorts herself in gymnastic stretches. Her efforts are interrupted by her glamorous, fame-hungry mother (Sophia Heikkilä, wonderfully monstrous), who wants to film her daughter for the saccharine video blog she obsessively uses to document the family's carefully-curated life. Later, as they watch the footage, Tinja complains that her toes are not pointed as they should be; her mother tells her that she will crop them out.
Yet the ugly realities of everyday existence are not so easily removed from the frame. Early on, a bird becomes trapped in the house, its panicked thrashing resulting in breakages and mayhem for which Tinja's mother breaks its neck. Tinja's response to this moment of violence is in line with her response to anything she finds distasteful, such as her inability to nail her gymnastic routine or her mother's inappropriate admission that she is having an affair; swallow it down, paint on a smile, hide the scars. Later, she finds herself drawn to the woods in the middle of the night, where she finds an abandoned egg. Overcome by maternal instinct, and perhaps driven by abject loneliness, she takes it home.
That the egg grows in size every time Tinja is forced to mask her true feelings is a strong indication that the two share an emotional link, yet what eventually hatches, in a flurry of gore and feathers, is entirely unexpected. The large bird-like creature — an animatronic puppet designed by Gustav Hoegen — looks like a mash-up of Jim Henson and Tim Burton, all huge Disney-esque eyes and razor-sharp beak. It's fearsome and grotesque, yet somehow vulnerable and Tinja, who names it Alli, can't help but care for it. And while it would be a major spoiler to explain how the creature grows, neither Tinja nor the audience is prepared for the form it will take and the behaviour it will exhibit.
There is never any suggestion that the creature only exists inside Tinja's head — it is witnessed and interacted with by many others — but an intense bond exists between the two. Their relationship is both real and, clearly, allegorical; Tinja's unspoken issues of self-loathing, jealousy, and anxiety manifesting in increasingly erratic ways ways.
Indeed, the screenplay by Ilja Rautsi (also making his feature debut) is sensitive and authentic in its often-painful explorations of the transition from girl- to womanhood, the fragility of family bonds and the particular pressures of maternal responsibility. This rock-solid grounding in recognisable truths means the often-shocking visual effects weave seamlessly into the narrative to underscore its themes, rather than being distracting set-pieces.
Päivi Kettunen's exquisite production design is at delicious odds with the story's dark themes; the family home is an Insta-friendly showcase of colourful wallpaper, sumptuous linens and beautiful decor against which the vulgarities of human nature cast ferocious shadows. Cinematography, from Jarkko T. Laine, retains a cool detachment at key moments, indulges in intimate close-up in others.
At the centre of this increasing maelstrom, Solalinna is exceptional in a challenging role which requires her to both wear a veneer of icy coolness and plumb the most animalistic of human instincts. As the artifice of Tinja's life is stripped away — despite her desperate efforts to hold it all together — Hatching is a visceral reminder that, despite what social media might suggest, the notion of perfection is a fallacy and, beneath the surface, we're all fighting like hell.
Production companies: Silva Mysterium Oy, Film i Vast info@filmivast.se; Hobab
International sales: Wild Bunch International sales@wildbunch.eu
Producers: Mika Ritalahti, Nico Ritalahti, Nima Yousefi
Screenplay: Ilja Rautsi
Production design: Päivi Kettunen
Editing: Linda Jildmalm
Cinematography: Jarkko T. Laine
Music: Stein Berge Svendsen
Main cast: Siiri Solalinna, Jani Volanen, Sophia Heikkilä, Saija Lentonen, Reino Nordin, Oiva Ollila