Billy Crystal returns to the director's chair after a long absence for a film starring himself and Tiffany Haddish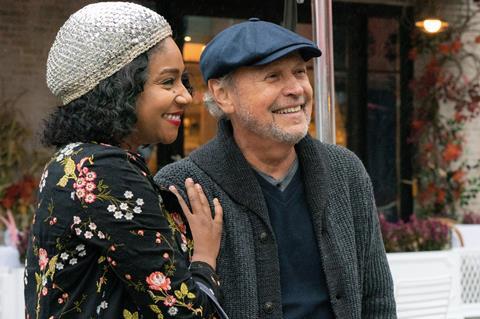 Dir: Billy Crystal. US. 2021. 117 mins
The first feature Billy Crystal has directed in more than 25 years is a sentimental tale in which he plays an ageing comic named Charlie who knows that his battle with dementia will be a losing one. This gentle comedy has some touching moments between Crystal and Tiffany Haddish, playing a struggling singer who befriends his character, but Here Today ultimately proves too saccharine and manipulative to elicit the tearjerking reaction it so strenuously strives to achieve.
Crystal's penchant for mawkishness is especially aggressive here
Set to release in US theatres on May 7 via Sony, the film makes for an interesting companion piece to Crystal's 1992 directorial debut, Mr. Saturday Night, which also focused on a driven comic legend looking back at his life's regrets. In the wake of The Father's awards-season success, there may be an opening for another story about the perils of a deteriorating mind, and Haddish's involvement could spark interest in younger viewers. But underwhelming reviews may dissuade most from checking out this mostly forgettable film.
Charlie Burnz is a New York comedy icon who has been a hit writer for film, television and theatre. Living alone and grappling with memory issues, which he has kept hidden from everyone except his doctor, Charlie goes to lunch with Emma Payge (Haddish), who won a charity auction for the honour of dining with him — except, she doesn't actually know who he is. (As she explains when they meet, her ex-boyfriend was the big Charlie Burnz fan.) But once he saves her life after a nearly fatal reaction to shellfish, they form an unlikely bond that intensifies as his dementia worsens.
Inspired by co-writer Alan Zweibel's short story The Prize, Here Today sports the same mixture of pathos and laughs that have defined much of Crystal's work. Unfortunately, his penchant for mawkishness is especially aggressive here, resulting in a picture that's not especially funny but is shamelessly sentimental.
Charlie's melancholy circumstance is so tidily heartbreaking that it comes across as trite: his two adult children (Penn Badgley, Laura Benanti) harbour resentments because he chose his career over them, and his beloved late wife Carrie's (Louisa Krause) death occurred in such a (predictably) tragic way that he can't bring himself to discuss it. (A series of vague flashbacks hint at what happened — eventually we'll learn the painful details.) Although Crystal can be a charming onscreen presence, he overdoes Charlie's cuteness, and as Here Today reaches its three-hankie finale, he's not enough of a dramatic actor to give us the sense of an older man reckoning with the disappointments and guilt he has long harboured.
Crystal is helped by being paired with Haddish, who is less of a dynamo than in previous work, although her sweetly sarcastic Emma exudes such kindness towards Charlie that she almost makes you forget how farfetched their friendship seems. (That said, it's enormously frustrating that is the sort of picture in which the female character's life is barely addressed — she's mostly there to be concerned about Charlie's problems.) Here Today aspires to be a romantic comedy about two people who aren't actually lovers, despite sharing an emotional intimacy that makes others wonder whether they are a couple.
This is the first theatrical feature Crystal has directed since 1995's Forget Paris — he made the HBO television drama 61* in 2001 — and like Charlie, he's a beloved comic institution, able to enlist a slew of high-profile cameos for his return behind the camera. (Sharon Stone, Itzhak Perlman and Kevin Kline appear briefly as themselves.) But even the film's depiction of the cut-throat comedic landscape lacks sharpness. The late-night variety show Charlie produces is supposed to be hilarious but isn't, and the character's observations about the secret to what makes something funny aren't particularly insightful.
Of course, it's hard not to be moved by the story of a scared older man embracing his mortality and reconciling with his family. But varied recent films including The Father, Dick Johnson Is Dead and Relic have proved more thought-provoking, poignant and inventive in their examination of dementia than this well-meaning exploration. There's no doubting Crystal's sincerity, but Here Today offers only platitudes and wan uplift — weak bulwarks against the unshakeable terror that cruel medical condition brings to the lives of those it touches.
Production company: Astute Films
International sales: Rocket Science, info@rocket-science.net
Producers: Fred Bernstein, Billy Crystal, Dominique Telson, Alan Zweibel, Tiffany Haddish
Screenplay: Billy Crystal & Alan Zweibel, inspired by the short story The Prize by Alan Zweibel
Production design: Andrew Jackness
Editing: Kent Beyda
Cinematography: Vanja Cernjul
Music: Charlie Rosen
Main cast: Billy Crystal, Tiffany Haddish, Penn Badgley, Laura Benanti, Louisa Krause, Anna Deavere Smith, Matthew Broussard, Alex Brightman