Dir: Kevin Asch. US. 2009. 87 mins.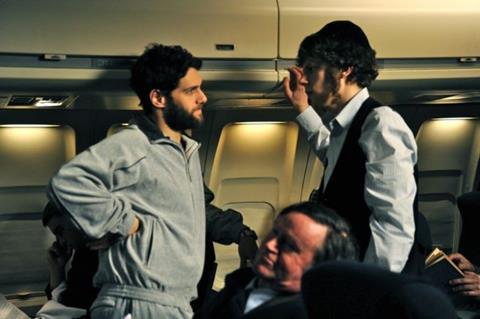 Inspired by actual events, director Kevin Asch's drama Holy Rollers relates how a young Hasidic Jew becomes immersed in the world of New York drug trafficking. Jesse Eisenberg gives an emotive, sympathetic performance as a man caught between two worlds, but eventually genre conventionality undoes this potentially novel crime story.
Holy Rollers boasts a colourful concept – drug-dealing Hasidic Jews – which might make it attractive to buyers, but in truth the film is less a violent gangster picture than a contemplative character study.
In 1998 Brooklyn, 20-year-old Sam (Eisenberg) is a devout Jew who works in his father's fabric store, but when his neighbour Yosef (Justin Bartha) suggests he make some extra money by shuttling ecstasy from Amsterdam to New York, he discovers that he likes the danger inherent in this illicit trade.
Taking a page from Goodfellas and other films about a young man's introduction into the seductive world of crime, Antonio Macia's screenplay follows the rise-and-fall template of such stories fairly routinely. As a result, even though Eisenberg is solid as this sheltered, precocious kid who feels reborn as a drug dealer, Holy Rollers never fully integrates the specific Jewish subculture into its plot.
The conflict Sam feels between his religious heritage and his immoral endeavours should be eating away at the very soul of the character, but that inner turmoil is instead replaced by generic story beats, which inevitably build to a finale wherein Sam's seemingly perfect new life collapses.
To sign up for Screen's weekly Reviews Newsletter with all the week's new releases, international openings and full festival reviews delivered free to your mailbox every Friday, please click HERE
Production companies
DeerJen
DA Entertainment
Safehouse Pictures
Worldwide sales
Cinetic Media
+ 1 212 204 7979
Producers
Danny Abeckesar
Tory Tunnell
Per Melita
Jen Gatien
Screenplay
Antonio Macia
Cinematography
Ben Kutchins
Production design
Tommaso Ortino
Editor
Suzanne Spangler
Music
MJ Mynarski
Main cast:
Jesse Eisenberg
Justin Bartha
Ari Graynor
Danny Abeckesar
Q-Tip