Dev Patel heads a strong cast in Anthony Maras' solid dramatisation of the 2008 India terrorist attacks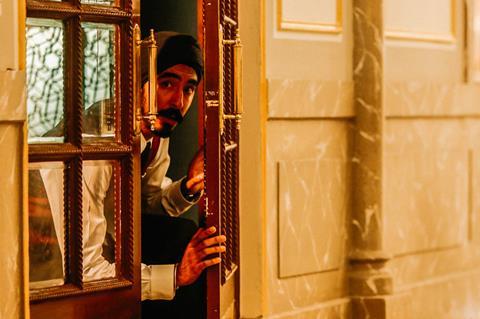 Dir/scr. Anthony Maras. Australia. 2018. 125mins
Both a ripped-from-the-headlines recreation and an emotive vehicle for its high-profile cast, Hotel Mumbai takes an equally tense and touching approach to India's devastating 2008 terrorist attacks — a highly coordinated four-day onslaught that left 164 people dead and hundreds more injured. Primarily focusing on events at and surrounding the luxurious Taj Mahal Palace Hotel, writer/director Anthony Maras largely sticks to the dramatisation playbook, but does so in an effective, affecting and empathetic fashion.
Works best as a film of quiet compassion and sober heroism rather than bold, action-packed acts
Indeed, his first feature proves as reliable as the performances at its centre, with solid turns from Dev Patel, Armie Hammer and Jason Isaacs certain to help boost the Australian-produced effort following its Toronto premiere. Early 2019 theatrical runs are slated in both the US and Australia.
Based on the Emmy-nominated, also Australian-made 2009 TV documentary Surviving Mumbai, Hotel Mumbai also arrives with the gift of timing, marking a decade since the chaos that it chronicles. That's not completely by design; the feature was filmed in Adelaide in 2016, then held up in post and subsequently entangled in the collapse of The Weinstein Company. Thankfully, just as the film's antipodean production base capably doubles for the sub-continent hotel's interiors, the movie's delay hasn't tempered the end result.
Patel, in his second consecutive Australian-shot role after earning an Oscar nomination for Lion, leads the ensemble as Sikh concierge Arjun. Long before bombs start exploding around Mumbai, it's already an eventful day for the doting husband and father who unwittingly reports to the kitchen sans shoes. Initially told to go home, he begs stern yet kind-hearted head chef Hemant Oberoi (Anupam Kher) to let him stay; his wife is expecting, and he needs all the work that he can get. That said, Arjun's luck doesn't extend to a high-tipping post attending to Russian businessman Vasili's (Isaacs) private party.
Co-writing with John Collee (Tanna, Master and Commander: The Far Side of the World), Maras juggles the true tale's various moving parts, jumping between characters before slowly bringing everyone together. In addition to the gruff Vasili, the wealthy Zahra (Nazanin Boniadi) checks into one of the hotel's opulent suites with her American spouse David (Hammer), newborn baby and Australian nanny Sally (Tilda Cobham-Hervey) in tow. At a nearby cafe, Aussie backpackers Eddie (Angus McLaren) and Bree (Natasha Liu Bordizzo) witness early gunfire as attacks escalate across the city. Also sighted are the young Jihadists, both as they prepare for and unleash their deadly campaign, including shooting their way through the hotel.
Within the upmarket main location, management maintains a "guest is god" mentality, though the selfless actions of the establishment's staff ultimately challenge this idea. What eventuates is an account not merely of endurance, resilience and survival, but of selfless courage. Hotel Mumbai works best as a film of quiet compassion and sober heroism rather than bold, action-packed acts, and this is underscored by its performances. While the well-known names hit their marks — Patel most memorably, and with the meatiest part — compelling support comes from Kher, Boniadi and Cobham-Hervey, each vulnerable yet subtly steely in their own ways.
Still, veering into overt territory is part of the terrain — and, unsurprisingly, the feature's more blatant touches are its least convincing. Racially motivated tensions among those fighting for their lives are handled in movie-of-the-week fashion, and the resounding score by Volker Bertelmann (another Academy Award-nominee for Lion) tugs at the heartstrings a little too emphatically.
Nonetheless, Maras, a two-time Australian award-winner for his fiction shorts, knows how to wring the requisite tension out of the film's tersest and most vivid moments. With cinematographer Nick Remy Matthews (director of 2014 feature One Eyed Girl, also starring Cobham-Hervey), he also knows how to make a visual impact both with and without violence. If the Taj Mahal Palace Hotel is all gleaming surfaces corrupted by bullets, blood and bodies, the streets of Mumbai, mostly seen at night, are dark, busy but no less fraught. Both are framed with an exacting eye for space — sometimes stressing how near danger lurks, sometimes imparting a welcome sense of safety — though viewers are rarely given the comfort of the latter in this stirring effort.
Production companies: Hamilton Entertainment, Thunder Road Films, Electric Pictures, Xeitgeist Entertainment Group, Cyan Films
International sales: Arclight Films, info@arclightfilms.com
Producers: Basil Iwanyk, Gary Hamilton, Mike Gabrawy, Julie Ryan, Andrew Ogilvie, Jomon Thomas
Screenplay: Anthony Maras, John Collee
Production design: Steven Jones-Evans
Editing: Peter McNulty, Anthony Maras
Cinematography: Nick Remy Matthews
Music: Volker Bertelmann
Main cast: Armie Hammer, Dev Patel, Nazanin Boniadi, Tilda Cobham-Hervey, Anupam Kher, Jason Isaacs