An ageing gigolo gets his comeuppance in the latest from comic Eugenio Derbez, with Salma Hayek, Kirsten Bell, Rob Lowe and Michael Cera in support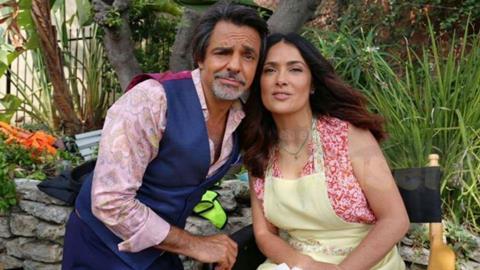 Dir: Ken Marino. US. 2017. 115mins
Starting off as a strained farce before segueing into a sappy family film, How To Be A Latin Lover has its likeable, goofy moments, although it is consistently undercut by a main character who is very difficult to love. Eugenio Derbez plays a selfish gold-digger who gets a dose of reality when his rich, older wife kicks him out of her bed after 25 years, but very little hilarity ensues. Nice turns from Salma Hayek and newcomer Raphael Alejandro prove a faint distraction from a predictable, uninspired story of one more cad who learns how to be a passable human being.
Salma Hayek's comic exasperation provides an intermittent stream of gentle laughs.
Opening April 28 in the States and May 5 in Mexico, this Pantelion release hopes to repeat the success of 2013's low-budget comedy Instructions Not Included ($100m worldwide), which also paired Derbez with a child co-star. Latin Lover sports a plethora of hip comic actors such as Kristen Bell, Rob Lowe, Michael Cera and Rob Corddry in small supporting roles, which may help the movie serve as a lightweight alternative before action blockbusters start dominating the multiplex again.
Maximo (Derbez) has devoted his life to seducing rich, lonely women, becoming their stay-at-home husbands who never have to work again. But after decades married to a wealthy widow, he is dumped when she falls for a younger man, forcing this ageing lothario to find a way to support himself without any marketable skills. In desperation, he moves in with his estranged baby sister Sara (Hayek) and her son Hugo (Alejandro), a very bright and sensitive 10 year-old who's nervous around girls.
The feature debut of Ken Marino, who has been part of the cast of cult TV comedies like Childrens Hospital and Party Down, Latin Lover is a knowingly broad laugher that specialises in the same kind of improvised, absurdist humour that's a hallmark of Marino's other work.
With writers Jon Zack and Chris Spain, he initially focuses on sending up the clichés of the cocksure Latin lady-killer, mocking Maximo's pathetic existence once his wife leaves him with nothing. Derbez plays the character as a total heel, emphasising Maximo's utter self-centeredness and disdain for working-class life. But as Maximo plots his next conquest, a wealthy grandmother played by Raquel Welch, he comes to realise just how sad it is for a pudgy, greying guy in his 40s to pretend he's still a suave heartthrob.
There are mild guffaws to be had at Maximo's plight, but Latin Lover overestimates how hilarious this one-note character is, and Derbez makes him such an arrogant imbecile that it's not much fun having him around — even when he's getting his comeuppance.
Things don't improve much once he starts hanging out with Sara, to whom he has always felt superior, and her awkward son who is captivated by his sexual confidence. Latin Lover changes course to be a drippy fish-out-of-water comedy in which Maximo reluctantly (but then wholeheartedly) embraces his estranged family, learning important values along the way. It's all very standard stuff, with only Hayek's comic exasperation at this nitwit providing an intermittent stream of gentle laughs.
The one pleasant surprise is Alejandro, who has appeared on the TV series Once Upon A Time. As the shy, bookish Hugo, he provides Maximo with an adorable cohort who will help humanise a jerk. Nonetheless, the young actor projects genuine sweetness, and he and Derbez develop a cute rapport that helps mitigate the sheer obviousness of where the story is going. Alejandro also acquits himself well around Mckenna Grace, playing a classmate he has a crush on.
By comparison, the adults in the supporting cast struggle to make their lame roles funny. It's particularly painful to watch Lowe as a fellow idiot gold-digger and Bell as a creepily affable yogurt-store employee who befriends Maximo. Marino seems to have encouraged his actors to go for the bizarre and surreal, hoping that the sheer strangeness will translate into solid jokes. Instead, we're trapped in a realm of weird behaviour and odd non sequiturs that rarely flirt with actual comedy.
Production companies: Pantelion, 3Pas Studios, Lionsgate, Televisa Cine
US distribution/international sales: Pantelion Films, www.pantelionfilms.com
Producers: Eugenio Derbez, Ben Odell
Executive producer: Mike Upton
Screenplay: Jon Zack & Chris Spain
Cinematography: John Bailey
Production design: Marcia Hinds
Editor: John Daigle
Music: Craig Wedren
Website: www.howtobealatinlover.movie
Main Cast: Eugenio Derbez, Salma Hayek, Linda Lavin, Raquel Welch, Renee Taylor, Mckenna Grace, Raphael Alejandro, Kristen Bell, Rob Lowe