Dir: Taika Waititi. New Zealand. 2016. 102mins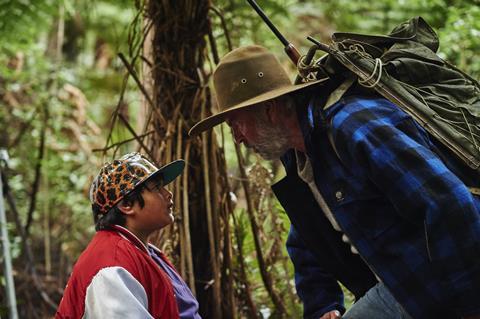 Warmly funny and deeply delightful, Hunt For The Wilderpeople is a tale of two misfits told with such generosity of spirit and consistent good humour that it's a pleasant surprise to discover how sneakily touching it is as well. Working from author Barry Crump's book Wild Pork And Watercress, writer-director Taika Waititi has put together his most complete film, an odd-couple adventure tale shared by a rap-loving teen and the gruff loner who has reluctantly adopted him. Blending action, laughs and sentiment, this droll comedy is a modest but rich charmer.
Expect good reviews and nice buzz coming out of Park City.
Premiering at the Sundance Film Festival, Wilderpeople will hope to capitalise on the success of Waititi's last feature, the vampire mockumentary What We Do In The Shadows. The film stars Sam Neill, which will help lend a little marquee sizzle, but the biggest attraction may very well be Waititi, whose track record of low-key comedies (including 2007's Eagle Vs Shark) has earned him a loyal cult following. Expect good reviews and nice buzz coming out of Park City.
Newcomer Julian Dennison plays Ricky, a 13-year-old who has been bouncing around foster homes his whole life until he's taken in by the kindly Bella (Rima Te Wiata) and her grumpy husband Hec (Neill). Ricky thinks he's finally found a stable family environment, but after Bella dies suddenly, he isn't sure if he wants to live with Hec, running away to the surrounding New Zealand bush before Hec tracks him down. Unfortunately, because Ricky burned down part of Hec's property before he left — and since both men are deep in the bush and unreachable — authorities mobilise a manhunt to track them down, suspecting that perhaps Hec has kidnapped the boy.
Waititi, who will soon be making the transition from independent comedies to blockbuster filmmaking when he takes the reins of the next Thor movie, sharpens his trademark deadpan style to a fine point with Wilderpeople, populating the story with funny characters who get laughs from underplaying their punch lines.
As the sarcastic, vulnerable Ricky, Dennison is a marvel of blasé reactions, talking about his love of the so-called thug life with such laidback ease that just about everything that comes from his inexpressive mouth is hysterical. But the young man also nicely walks the line between pathos and sentimentality, showing that Ricky just wants to feel needed by someone, slowly building a connection with Hec as they both try to evade the police.
Neill could have portrayed Hec as just one-note cantankerous, but there's a kindliness in his eyes that suggests that he, too, has a fear of being abandoned. Like Ricky, Hec has always felt like an outsider, and we soon see how Bella's death has affected both men in much the same way. The veteran actor brings an effortless command to the role, and Hec's emerging fondness for the teenager is as predictable as it is enjoyable to behold.
Indeed, Wilderpeople doesn't spend a lot of time playing up the personality clashes between Hec and Ricky, instead letting them settle into a contentious but good-natured ribbing of one another. The reasons for the urgency behind the manhunt would involve ruining some choice jokes, but let it be said that Waititi believably transitions from comedy to a more suspenseful tone as the net draws tighter around our heroes.
Although the film largely focuses on laughs, Waititi deftly weaves in an emotional undercurrent so that there's a sense of real stakes. For both men, being caught has genuine consequences — Hec has been to prison before, and Ricky fears he'll continue to be shuffled through disinterested foster families — and we feel their anxiety. Remarkably, though, at the same time that Wilderpeople becomes a moving father-and-son story, we're laughing at the filmmaker's spot-on references to everything from The Lord Of The Rings to McCabe & Mrs. Miller. This is a lovely small film that does nothing momentous but exudes such a happy glow.
Production companies: Defender Films, Piki Films, The New Zealand Film Commission, NZ On Air
US sales: CAA, FilmSales@caa.com
International sales: Protagonist Pictures, info@protagonistpictures.com
Producers: Carthew Neal, Leanne Saunders, Taika Waititi, Matt Noonan
Executive producers: James Wallace, Charlie McClellan
Screenplay: Taika Waititi, based on the book Wild Pork And Watercress written by Barry Crump
Cinematography: Lachlan Milne
Production design: Neville Stevenson
Editors: Luke Haigh, Tom Eagles, Yana Gorskaya
Music: Lukasz Buda, Samuel Scott, Conrad Wedde
Website: www.wilderpeople.com
Main Cast: Julian Dennison, Sam Neill, Rima Te Wiata, Rachel House, Oscar Kightley, Rhys Darby, Stan Walker, Cohen Holloway, Mike Minogue, Troy Kingi, Tioreore Ngatai-Melbourne