Gerald Butler and Gary Oldman unite to save the world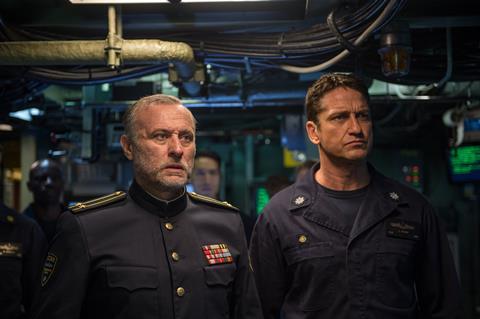 Dir: Donovan Marsh. US. 2018. 121mins.
Hunter Killer delivers its rah-rah, macho heroics with such simpleminded sincerity that it's almost charming. A modern-day Cold War thriller in which one gutsy American submarine captain has to defy the odds (and sometimes his superiors) to rescue the kidnapped Russian president, the film boasts the tough-guy dialogue, over-the-top set pieces and square-jawed characterisations that will please the ageing '80s-action-movie fan in your life. For the rest, Hunter Killer is a ludicrous, clichéd mediocrity that valiantly refuses to acknowledge its own silliness.
Featuring hints of The Hunt For Red October, Crimson Tide and countless other submarine/military thrillers
The film opens October 19 in the UK and a week later in the US, hoping to benefit from the star power of Gerard Butler and Gary Oldman. The modestly-budgeted Hunter Killer doesn't have the high profile or hip cachet of Halloween or The Girl In The Spider's Web, but it could prove to be a solid theatrical performer during a time in the marketplace without any competing action-thrillers.
Butler plays Joe Glass, a lone wolf who has just been assigned his own submarine command, the USS Arkansas. His past shrouded in mystery, Glass is thrown into a high-stakes situation after a US and a Russian sub are both shot down in the Arctic Ocean. Glass and his crew investigate, only to discover that a rogue Russian contingent is behind the attacks and has taken the country's President Zakarin (Alexander Diachenko) hostage, planning to start World War III by ramping up tensions between the two nations.
Based on the novel Firing Point by George Wallace and Don Keith, Hunter Killer follows along as the USS Arkansas tracks down the soldiers who have captured Zakarin. (Meanwhile, a lethal Navy SEAL team, led by Toby Stephens, is launching its own search by land.) With hints of The Hunt For Red October, Crimson Tide and countless other submarine/military thrillers, the film presents itself as a realistic depiction of a potentially catastrophic international incident that requires different American agencies to work together in a tight time frame to save the day. But whether it's the meagre effects shots or the characters' dopey quips, Hunter Killer feels entirely manufactured out of genre conventions, growing progressively more dim-witted the longer it goes on.
Nevertheless, director Donovan Marsh (Avenged) remains resolute in his quest to play this straight — especially the hero's grizzled confidence in the face of so many impossible obstacles. Butler portrays Glass as a prototypically stoic straight-to-video action hero — no-nonsense, righteous, a bit of a drip — and the actor's impassioned earnestness almost distracts from how threadbare the character is.
But Glass is in good company in Hunter Killer, which features a panoply of types we've seen in other movies of this ilk. Oldman plays the cranky US Admiral Charles Donnegan, Chairman Of The Joint Chiefs Of Staff, who is constantly pushing for war and demanding answers when it looks like Glass' mission will fail. (Invariably, once Donnegan throws a fit, it soon turns out that Glass and his men have worked their way out of another fix.) And the late Michael Nyqvist brings dignity to the hammy role of noble Russian sub commander Andropov, who comes to respect Glass' all-American gusto. (He's also part of one of Hunter Killer's more laughable dramatic moments: Referencing their shared love of the deep blue sea, Glass solemnly tells Andropov, "We're not enemies, we're brothers.")
On and on the clichés roll, and yet Hunter Killer's meat-and-potatoes execution does have its superficial pleasures. Marsh slavishly recalls the familiar thrills of submarine films of yore with their claustrophobic urgency and chess-match manoeuvres — even though no one would accuse this movie of either skilful or original storytelling.
Quite the contrary, Hunter Killer conjures up whiffs of entertainment value from its shameless but spirited derivativeness. The film resides in a fantasyland populated entirely with other decades-old action movies about brave Americans facing off with nefarious Russians as nuclear war hangs in the balance. But at a time when the two countries' relationship is newly fraught, Hunter Killer's cloak-and-dagger nostalgia isn't quite as politically archaic as one might wish — a sober fact that Marsh's rock-'em-sock-'em escapism can't come close to erasing.
Production companies: Original Film, Relativity Media, Millennium Media, G-Base
International sales: Millennium, info@millennium-media.net
Producers: Neal H. Moritz, Toby Jaffe, Gerard Butler, Alan Siegel, Tucker Tooley, Mark Gill, John Thompson, Matt O'Toole, Les Weldon
Screenplay: Arne L. Schmidt and Jamie Moss, based upon the novel Firing Point written by George Wallace and Don Keith
Production design: Jon Henson
Editing: Michael J. Duthie
Cinematography: Tom Marais
Music: Trevor Morris
Main cast: Gerard Butler, Gary Oldman, Common, Michael Nyqvist, Linda Cardellini, David Gyasi, Gabriel Chavarria, Caroline Goodall, Toby Stephens