Rosamund Pike, Peter Dinklage star in J Blakeson's amoral thriller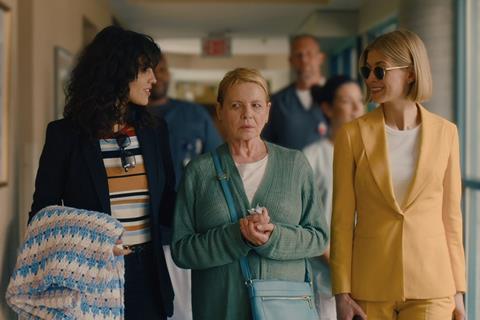 Dir/scr: J Blakeson. UK. 2020. 118mins.
Criminals come in different forms in I Care A Lot, a nasty thriller that grows preposterous and didactic despite some nervy narrative choices and a bracingly amoral turn from Rosamund Pike. Writer/director J Blakeson introduces us to a conniving legal guardian who bilks her elderly clients out of their assets — until her latest target proves to have some well-connected (and very dangerous) friends. The escalating cat-and-mouse game between Pike's schemer and Peter Dinklage's Russian mobster has its pulpy pleasures, but the script's arch cleverness and heavy-handed message about the corruption of the American dream make it hard to care as much as we should about who ends up on top.
The film's self-conscious swagger feels affected from the start
Eleven years after his feature debut The Disappearance Of Alice Creed premiered in Toronto, Blakeson returns to the festival, boosted by Pike and Dinklage's star power. The little-known but horrifying reality of predatory guardians gives I Care A Lot topicality, but more likely audiences will tune in for the battle of wits between the film's two combatants.
Pike plays Marla, a legal guardian who takes over the assets and decision-making abilities of elderly clients who have no one else in their life. Ideally, the system is set up to protect the vulnerable, but Marla exploits it for her own benefit, running a scam in which she and her partner Fran (Eiza Gonzalez) prey on rich older people, convincing a judge that their client is mentally unfit. Soon, Marla is shipping her wards off to retirement homes and selling off all their possessions, pocketing the proceeds for herself. And it's all completely legal.
Now Marla has her eye on Jennifer (Dianne Wiest), a wealthy woman with no family — in other words, the perfect mark. But after emptying Jennifer's accounts, she attracts the attention of Roman (Dinklage), a gangster who claims that Jennifer is her mother. He wants Marla to release her from the retirement home, but Marla, who doesn't scare easy, refuses.
Blakeson's screenplay sports a few ambitious ideas, but the most intriguing is its decision to play with our loyalties. After an opening sequence that illustrates Marla's monstrousness — defrauding the defenceless and essentially locking them up against their will — it seems like a relief when Roman shows up to rescue poor Jennifer. But I Care A Lot complicates our feelings about the two characters by positioning Marla as a resourceful woman who's had to battle sexism to find success, while Roman is a drug trafficker who has done terrible things himself. Although their backgrounds couldn't be more different, these two actually have much in common when it comes to living outside the law.
Unfortunately, the film's self-conscious swagger feels affected from the start. I Care A Lot labours to sell us on its hip, sardonic vibe — including little cutesy bits of business like having Dinklage's fearsome mobster be a big fan of pastries. Likewise, the occasional on-the-nose dialogue about how, in America, everyone's got a hustle would probably be more effective if it wasn't so blatant and self-congratulatory. And while the escalating stakes goose the film along its two-hour running time — Doug Emmett's cinematography emphasises the sleek, soulless nature of these characters and their milieu — plot contrivances frustrate throughout. (These diamond-sharp adversaries are very cunning, unless the script requires them to make foolish choices in order to set up the next plot twist.)
Dinklage can't elevate his one-dimensional role, but what holds our attention is Pike, who operates in a similar vein to her Oscar-nominated turn in Gone Girl. In both films, the more diabolical her characters become, the more we're fascinated by how unknowable they are. Marla is a sly riff on the stereotypical "ice queen" villainess, and Pike never softens this schemer so that she becomes more "likeable." In truth, Marla proves as ruthless as her male counterpart. Although Roman's enforcers put her life in jeopardy, she remains unflappable, manoeuvring around these killers with the same calm confidence that she utilised to outsmart the legal system. A heartless materialist, Marla commands our respect as she demonstrates the depth of her well-honed survival instincts.
Sadly, as the film builds to its final showdown, I Care A Lot becomes increasingly preachy about greed and capitalism, reducing the characters to mouthpieces for Blakeson's not terribly interesting themes. Roman can't clip Marla's wings, but the filmmaker's pseudo-profundity eventually does.
Production companies: Black Bear Pictures, Crimple Beck
International sales: STX International, filmmarkets@stxentertainment.com
US sales: CAA Media Finance, filmsales@caa.com
Producers: Teddy Schwarzman, Ben Stillman, Michael Heimler, J Blakeson
Production design: Michael Grasley
Editing: Mark Eckersley
Cinematography: Doug Emmett
Music: Marc Canham
Main cast: Rosamund Pike, Peter Dinklage, Eiza Gonzalez, Chris Messina, Isiah Whitlock Jr., Dianne Wiest