A severed hand tries to find its way home in Jeremy Clapin's singular animated feature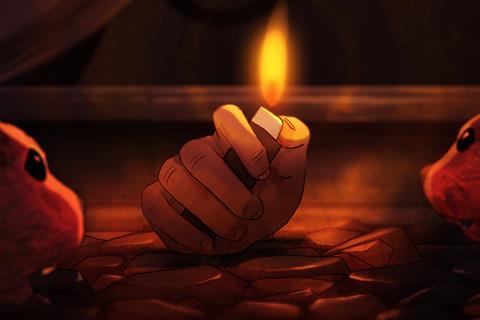 Dir: Jeremy Clapin. France. 2019. 81mins.
A sinuous, thought-provoking medley of creative leaps that coalesce into an unpredictable narrative gem, I Lost My Body (J'ai perdu mon corps) is sit up and take notice animation. Premiering in Cannes Critics Week before a Competition slot in Annecy, Jeremy Clapin's first feature — in which a severed hand with a mind of its own sets off on an odyssey though treacherous urban landscapes — seems primed to break out beyond hardcore fans of animation much as equally singular My Life as a Courgette and The Red Tortoise did before it.
The hand's POV is often harrowing, sometimes meditative and always completely convincing.
Pre-images, the first thing we hear is an amplified buzzing fly that could also be the buzzing blade of an electric saw. A young man, Naoufel (voiced by Hakim Faris) his glasses splattered with blood, is splayed on a workshop floor as a fly examines the situation. The man's hand has been sliced off at the wrist.
Once the viewer accepts that a severed hand can escape from a laboratory refrigerator and see where it's going, the immersive adventure can head in unexpected directions. Animation — here a judicious blend of 2D and 3D — is the perfect medium for a lonely but determined hand to negotiate the steps down into the Paris Metro, do battle with rats and pigeons, navigate through traffic or escape from a garbage truck. The hand's POV is often harrowing, sometimes meditative and always completely convincing.
The film's at first jarring but completely successful gambit is to bounce around in time so we can get to know Naoufel as a boy and also as a young man before the accident. A creative and inquisitive only child, his mother is a classical musician and his parents obviously dote on their son. Cue tactile memories involving hands — grains of sand draining between fingers, the grip on bicycle handlebars, spinning a globe to contemplate the whole wide world.
Naoufel receives a portable cassette tape recorder as a birthday gift and loves recording sounds — his mother playing the cello but also the sounds of nature. His other favorite toy is an astronaut figure and he announces his career plans involve being both a musician AND an astronaut.
Clapin's potent imagery is guided by the screenplay he co-wrote with Guillaume Laurent, whose book 'Happy Hand' inspired this film. Laurent works regularly with Jean-Pierre Jeunet and the heart-tugging melancholy that characterised Amelie is even more pronounced here. Naoufel's life has been fraught with obstacles and misfortune — he has excellent reasons to feel defeated and sad, but never loses his spark of ingenuity. (It's interesting to note that self-taught Laurent did ill-paid manual labor for years before hitting the artistic and commercial jackpot with Amelie.)
Naoufel's childhood comes to an abrupt end through unfortunate circumstances and he is shipped off to live with indifferent relatives in a low-income Paris suburb. A few years later, he's a barely competent competent pizza delivery man. Arriving 40 minutes late at a residential high-rise, he ends up in an unusual dialogue exchange with the intended customer carried on exclusively via the intercom. They don't meet face-to-face but armed with the knowledge that her first name is Gabrielle (voiced by Victoire Du Bois) and she works in a library, Naoufel sets out to find her.
We're transported back and forth in time as the hand continues the kind of unlikely journey animals sometimes accomplish to return to their owners against impressive odds. The draftsmanship and visual perspectives are superb.
If a calendar and a TV commercial can be trusted as clues, the Naoufel-and-Gabrielle protion of the story takes place in 1994. Much of the film's undeniable poetry stems from being anchored in a pre-digital realm.The musical score and especially the sound design are equal partners with the visuals in achieving this haunting film's cumulative resonance.
Production company: Studio Xilam Animation
International sales: Charades, sales@charades.eu
Producer: Marc Du Pontavice
Screenplay, Jeremy Clapin and Guillaume Laurent, inspired by Laurent's book 'Happy Hand'
Production design: Fursy Teyssier, Jeoffrey Magellan
Editor: Benjamin Massoubrell
Music: Dan Levy
Sound: Manuel Drouglazet, Anne-Sophie Coste, Jérôme Wiciak
Main voice cast: Hakim Faris, Victoire Du Bois, Patrick d'Assumçao