Dir. Adam Salky. US. 2014. 85mins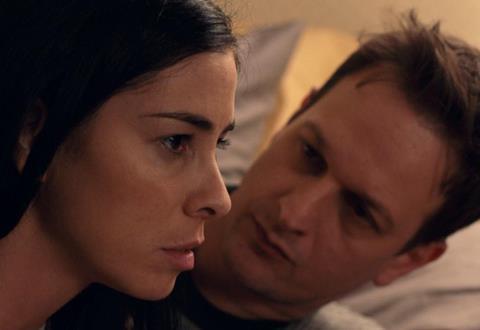 A wife and mother with a seemingly great life slowly succumbs to her addictions in I Smile Back, a drama that doesn't dig deep enough into its protagonist's turmoil. Occasionally affecting in its small moments, the follow-up feature from Dare director Adam Salky suffers from an indie-ish blandness, a barebones performance from comedienne Sarah Silverman not enough to shake the impression that this character's problems are underdeveloped and, consequently, not overly sympathetic.
Dare director Adam Salky suffers from an indie-ish blandness.
Premiering at Sundance and screening in Toronto, I Smile Back will open in the US on October 23. Mediocre reviews won't help build audience interest, although fans of Silverman, a stand-up as well as a comedic actress, might be intrigued to see her in a change-of-pace role. Still, this likely will be a better VOD performer than a theatrical player.
Most people would envy Laney (Silverman): She's got a successful, loving husband (Josh Charles) and two adorable kids. But Laney is hiding secrets, including a cocaine habit and an affair with a close friend's husband (Thomas Sadoski). When her drinking and drugging become apparent even to her husband, she checks into a treatment centre, hoping to get clean and turn her life around.
Working from Amy Koppelman's 2008 book (which Paige Dylan adapted alongside Koppelman), Salky offers some clues into why Laney exhibits such self-destructive behaviour — such as a father who abandoned her — but it seems intentional that they aren't sufficient explanations, hinting that there might be something deeper, perhaps psychological, going on. But despite Silverman portraying Laney with a nagging restlessness, she doesn't suggest what those deeper emotional scars are. As a result, Laney is an enigma that's not particularly fascinating — she's a riddle you're not tantalized to solve.
Which isn't to say that Silverman can't be touching, demonstrating a raw stillness as her character goes through rehab and then struggles to stay sober after she gets out. But the actress, who has recently appeared in A Million Ways To Die In The West and was one of the main voice actors in Wreck-It Ralph, gets great help from her adroit co-stars. Charles is strong as a supportive husband who's wondering when his patience should end, while Sadoski does fine work as a married man who can't deny the attraction he feels for Laney. Both actors capably play characters in love with this woman, even if they can't quite understand her.
While it's hard not to feel for someone with depression and dependency issues, I Smile Back doesn't do itself many favours by focusing on a character from a privileged background. Laney has problems, but because their root causes aren't pointedly spelled out (or left provocatively mysterious), it becomes too easy to dismiss her misery. Salky drapes the movie in an earnest, melancholy mood, but the air of tasteful reserve can come a little close to coddling. And since the screenplay doesn't show enough curiosity about what makes Laney tick, it's difficult to know if Laney's difficulties are actually mostly of her own making.
Even so, there are grace notes here and there throughout I Smile Back that keep one interested, if not entirely captivated. The filmmakers illustrate how Laney's anguish is multiplied by having children, her fear being that her own shadowy problems have been passed on to them biologically. And at times, I Smile Back adopts what seems to be the proper perspective: Laney can recognize that she ought to be happy, and yet she cannot will herself out of her despondency. But that self-awareness only occasionally surfaces, and the superficial portrait of addiction comes across as too tame to really do justice to the demons tearing this woman (and a family) apart.
Director: Adam Salky
Production companies: Search Engine, Koppelman/​Levien, ​Oscar Crosby Productions, Film House Germany
International sales: Visit Films, info@visitfilms.com
US distributor: Broad Green Pictures, www.broadgreen.com
Producers: Brian Koppelman, David Levien, Mike Harrop, Richard Arlook
Screenplay: Paige Dylan & Amy Koppelman, based on the book by Amy Koppelman
Cinematography: Eric Lin
Editor: Tamara Meem
Production design: Brandon Tonner-Connolly
Music: Zack Ryan
Main cast: Sarah Silverman, Josh Charles, Thomas Sadoski, Mia Barron, Terry Kinney, Chris Sarandon