Barry Jenkins follows up 'Moonlight' with this adaptation of James Baldwin's novel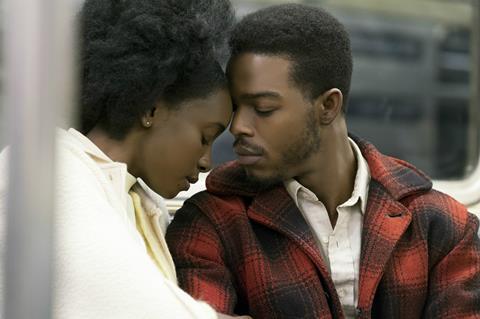 Dir: Barry Jenkins. US. 2018. 118mins
With each new film, Barry Jenkins expands his canvas but never loses focus on the sensual, intimate reveries that are the foundation of his gorgeous dramas. If Beale Street Could Talk is a snapshot of imperilled young lovers, but the writer-director uses a familiar setup for a profoundly moving exploration of romance, family and racism. If Beale Street isn't quite as seamless as the Oscar-winning Moonlight, this adaptation of the James Baldwin novel still proves to be a stirring, absorbing experience that articulates something ineffable about everyday life.
Behind all the separate plot strands is the question of how people learn to accept their difficult circumstances
After premiering at the Toronto Film Festival, Beale Street will arrive in US theatres on November 30 and the UK in January. This Annapurna production doesn't have much star power, but fans of Moonlight will certainly be in line for Jenkins' follow-up.
Relative newcomer KiKi Layne plays Tish, a 19 year-old living in Harlem in the early 1970s who is hopelessly in love with boyfriend Fonny (Stephan James), a 22 year-old sculptor she has known since her childhood. They're excited about getting married until he is arrested, charged with raping a Puerto Rican woman. Tish knows he didn't do it, but she has another bombshell for him while he's behind bars awaiting trial: she is pregnant.
With Medicine For Melancholy and Moonlight, Jenkins examined the unique challenges facing African-Americans in a country where they are often not made to feel welcome — and yet those films celebrated how an emotional connection with another person can help heal those wounds. Beale Street is his first period piece, but those two themes remain at the forefront, Jenkins constructing his adaptation so that flashbacks intertwine with Tish's present-day struggle to prove Fonny's innocence.
Sometimes, Beale Street's scope can overwhelm: individual flashback sequences are devoted to family members or encounters with old friends, which risks turning the film into a mosaic. But those willing to let Jenkins establish his different narrative elements — including rapturous digressions in which we see impressionistic slivers of Tish and Fonny's relationship — will soon come to understand the filmmaker's grand design, which is to simultaneously craft a specific love story and a sweeping commentary on African-American life.
He is assisted in his ambitions by his collaborators, several of whom have been with him since Medicine For Melancholy. Editors Joi McMillon and Nat Sanders interlay the separate story threads, binding them together intuitively so that we view the couple's romance through the context of race and class. Cinematographer James Laxton gives us a 1970 Harlem that's both lived-in and dreamlike, emphasising the intensity of the characters' feelings. And Nicholas Britell's supple score evokes a range of moods, never more potently than when it is accentuating Tish and Fonny's moments of unadulterated bliss.
Admittedly, Beale Street privileges a fluid, time-shifting structure over its individual characters. If that means that Tish and Fonny, as well as their parents and siblings, are mostly abstractions, then the openness of the performances helps bridge that gap. James conveys gentleness and wounded pride, while Layne evokes the youthful exuberance of first love, albeit with the steeliness that their dire situation requires. (Amongst the large cast, Bryan Tyree Henry is especially good in a brief role as Fonny's close friend, who seems to understand things about him that even Tish does not.)
Jenkins balances between legal drama, love story and family saga, but behind all these separate plot strands is the question of how people learn to accept their difficult circumstances. Tish's voiceover is filled with poetic but weary observations about the systematic racism that oppresses black men and women — often in situations more banal than Fonny's wrongful arrest. Barry Jenkins' movies seem to be communicating what it means to be alive amidst such constant hardships. Beale Street sometimes falters, but the power of the director's hard-earned optimism remains.
Production companies: Annapurna Pictures Plan B Entertainment, PASTEL
International sales: Annapurna Pictures, kimf@annapurnapics.com
Producers: Adele Romanski, Sara Murphy, Barry Jenkins, Dede Gardner, Jeremy Kleiner, Megan Ellison
Screenplay: Barry Jenkins, based on the book by James Baldwin
Production design: Mark Friedberg
Editing: Joi McMillon, Nat Sanders
Cinematography: James Laxton
Music: Nicholas Britell
Main cast: KiKi Layne, Stephan James, Colman Domingo, Teyonah Parris, Michael Beach, Aunjanue Ellis, Dave Franco, Diego Luna, Pedro Pascal, Emily Rios, Ed Skrein, Finn Wittrock, Bryan Tyree Henry, Regina King