A young single mother tries to make ends meet during the Covid-19 pandemic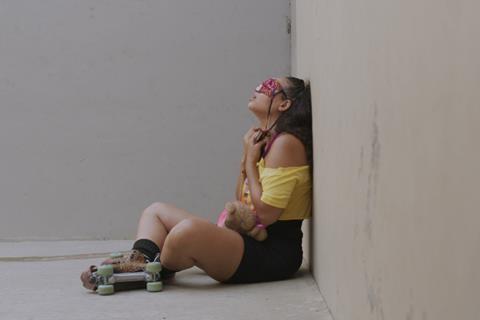 Dirs: Kelley Kali, Angelique Molina. US. 2021. 92mins
In keeping with its brusque, almost defiant title, I'm Fine (Thanks For Asking) tells a potentially harrowing story in a straightforward style that makes no room for mawkishness. Directors Kelley Kali and Angelique Molina follow a widowed, recently houseless mother over the course of one day as she tries to raise enough money to pay for permanent housing for herself and her young daughter. Filmed during the pandemic, which adds extra poignancy to this examination of the economic burdens Covid has unleashed on society's most vulnerable, the picture glides along like the rollerskating protagonist — and with the same amount of casual confidence.
I'm Fine isn't dour about its protagonist's dilemma — nor is it disingenuously upbeat
I'm Fine screens as part of SXSW, boosted by the presence of comic Deon Cole, who provides a cameo as well as serving as one of the producers. The simple but compelling plot ought to hook indie-minded viewers, and strong reviews will only help build awareness.
Kali plays Danny, an out-of-work hairdresser living in the Southern California Valley with her eight-year-old daughter Wes (Wesley Moss), who thinks that they're spending their nights in a tent because they're on a fun camping trip. Little does the girl know that, after the death of Danny's husband Sam, they were forced to move out of their apartment. Dropping Wes off at a friend's house, Danny roller-skates around town to do house calls for clients who pay her to braid their hair — she's hoping to make enough by the end of the day to put a deposit down for a new apartment.
The film is guided by Danny's stubbornly resourceful spirit; just as she tries to paint a happy picture for Wes, she skates across this suburban community determined that everything will end up okay. I'm Fine isn't blind to the foolish mistakes this young mother will make, but the directors nicely balance the character's failings with the impossible circumstance in which she finds herself.
Beyond losing her husband, Danny is faced with a global pandemic, when job losses resulted in hundreds of thousands of people being unable to make their rent payments. Braiding customers' hair and, later in the day, schlepping orders for a food-delivery app, Danny finds herself in the same situation as many who are underemployed, just trying to eke out a living.
And yet, I'm Fine isn't dour about its protagonist's dilemma — nor is it disingenuously upbeat. Kali's performance is full of attitude and quiet desperation, as if Danny stops rollerskating her anxieties will finally catch up with her. Whether she's trying to sweet-talk the new landlord into letting her have an extra day to make the payment or reconnecting with an old friend (Brooklynn Marie), Danny rarely lowers her guard, but the viewer always senses the pressure this mother feels not to let her daughter down.
As directors, Kali (who previously co-directed The Adventures Of Thomasina Sawyer) and Molina (making her feature debut) give this slender, episodic story a steady forward momentum, only once indulging in an effective fantasy sequence that reflects Danny's fear of drowning in her woes. The ensemble cast has such a laidback rapport, the dialogue so breezy and conversational that it boasts an improvisational flair. Because most of the characters wear masks — a constant reminder of the Covid reality — I'm Fine slowly becomes a modest chronicling of how people have persevered during this difficult time.
Becky Baihui Chen's unobtrusive cinematography captures this hot summer day, occasionally inserting a poetic shot of Danny skating to and fro, a woman on a mission. Danny will discover that sometimes she can use her beauty to curry favour with certain men — while other times, she realises to her disappointment that some longtime friends misinterpret her behaviour, leading to upsetting results. Kali depicts a woman trying to create a better life for her little girl while struggling not to make a mess of her own. Danny doesn't want our pity, and the film obliges her, letting the character be her complicated, messy, intriguing self.
Production company: Kaliwood
International sales: Film Sales Corp andrew.herwitz@filmsalescorp.com
Producers: Capella Fahoome, Deon Cole, Roma Kong, Angelique Molina, Kelley Kali
Screenplay: Kelley Kali, Angelique Molina, Roma Kong
Production design: Naomi Gonzalez Kahn
Editing: Angelica Lopez, Katie McClellan
Cinematography: Becky Baihui Chen
Music: Erick Del Aguila
Main cast: Kelley Kali, Wesley Moss, Deon Cole