A wrongfully accused man is chased by cops and mercenaries in this paranoid political thriller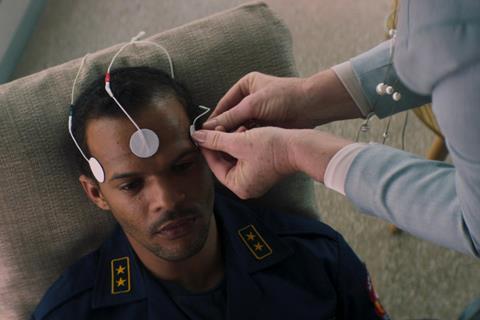 Dir/scr: Travis Taute. South Africa. 2021. 124 mins.
A firefighter suffering from PTSD, Theo (Jarrid Geduld) had sunk into alcoholism long before it was decided that he should be compulsorily retired from his job. But while he blames himself for the deaths of his colleagues in an accident, he knows that he's not guilty of the crimes that see him a wanted man, hunted by every cop in Cape Town, not to mention a pack of highly trained mercenaries. A paranoid political thriller premise is beefed up with punchy action and suitably incendiary special effects. However the overlong running time and a few too many inert scenes deplete the film's propulsive energy at times — this is a picture which would benefit considerably from a tighter edit.
Geduld comfortably hits his stride once the action revs up.
Indemnity is the feature debut from writer and director Travis Taute (co-writer of Nosipho Dumisa's award-winning Number 37, and of the Netflix series Blood & Water). And if nothing else, the film introduces him as an assured hand when it comes to crafting arresting action scenes. While the Manchurian Candidate-style plot might be a little too derivative, the film should connect with audiences domestically and could find a home on a streaming platform. XYZ picked up North American sales rights prior to Fantasia.
The film opens with a hellish blaze in a shanty town shack; Theo dives back into the flames to attempt the rescue of a baby, despite the warning of an "open gas line". His heroism comes at a cost, the extent of which we piece together through the shattered fragments of flashbacks which haunt his dreams. The man we rejoin a few months later is a broken husk, tortured by guilt and numbed by the whisky he sucks from an ever-present bottle. His wife, Angela (Nicole Fortuin), an investigative reporter, is at her wits' ends; their son Wesley (Qaeed Patel) is collateral damage in the increasingly heated crossfire between his parents. A mysterious phone call tips off Angela that her husband might be in danger — his name is on the kind of secret list which promises nothing but trouble. And sure enough, trouble arrives. Theo wakes the following morning next to his wife's still-warm corpse, with the police already knocking at his door.
Although Geduld fails to fully convince in the scenes of emotional conflict with his wife (admittedly the fault here lies as much with the laboured screenplay as it does with the performances), he comfortably hits his stride once the action revs up. Adept at hand-to-hand combat, he's particularly impressive when the film takes a more ambitious approach. Geduld, who performed his own stunts where possible, dangles from buildings and dodges the spewing jets of fire which gush from walls at climactic moments.
The picture looks terrific — Zenn Van Zyl's deft camera is unfazed by the challenges of filming action sequences in claustrophobically tight spaces like lifts and police vans. But the score and the sound design are heavy-handed, signposting the plot with thunderous rumbles for moments of tension and what sounds like the massed voices of the heavenly host serenading Theo's moment of personal redemption. This is not the kind of filmmaking which generally subscribes to the 'less is more' edict, but in terms of both running time and music use, it's a message that would be worth taking on board.
Production company/international sales: Gambit Films, info@gambitfma.co.za
Producers: Bradley Joshua, Benjamin Overmeyer
Cinematography: Zenn Van Zyl
Editor: Simon Beesley
Music: Kyle Shepherd
Main cast: Jarrid Geduld, Nicole Fortuin, Andre Jacobs, Gail Mabalane, Louw Venter