A poetic, moving account of the psychological effects of war on the Yazidi people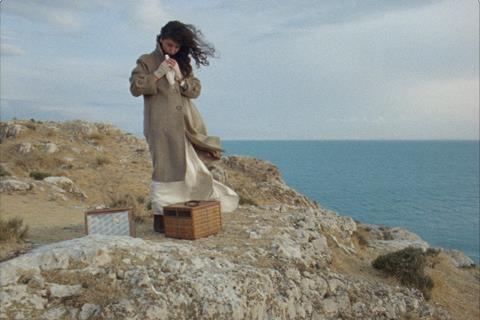 Dir: Pierre-Yves Vandeweerd. France/Belgium. 2022. 87 mins.
The titular inner lines of Pierre-Yves Vandeweerd's essay film about the Yazidi genocide of 2014 are described onscreen as both "escape routes" and "interior paths". Some of the Yazidi escaped Daesh (Islamic State) through Mount Ararat, into Turkey and Armenia. Inner Lines includes their testimony, but it is not only the story of those who survived, being also concerned with the lost souls who bones might still be buried somewhere across the vast landscapes Vandeweerd films. Inner Lines is a sensory assemblage of the Yazidi's psychological pain, their deep loss and the legacy of their collective trauma.
The film is an incredibly moving account of historical persecution
The film comprises a myriad of imagery, both observational and symbolic. There are the faces of survivors, abandoned camps and crumbling structures. Travelling around Mount Ararat, the film's focus is always in flux and the exact locations unspecified. There are ghost train sequences, raging fires and eerily lit skies. The constantly shifting imagery, set to an equally variable sound design of whispered dialogue, atmospheric field recordings, occasional bursts of music and even an air raid siren, conveys something of the sense of disorientation and displacement felt by the subjects the film represents. Vandeweerd's poetic approach distinguishes Inner Lines from other documentaries of its ilk. That said, the film's deliberately abrasive montage, skilfully edited into its own act of conflict by Pierre Schlesser, may prove too disorienting for it to have a wide appeal.
Vandeweerd, a Belgian filmmaker whose work is primarily concerned with the psychological effects of war, has, in his most recent films, The Eternals (2017), For The Lost (2014), and Lost Land (2011), switched from a previously digital output to film on 16mm and Super8. Inner Lines is also shot on 16mm and the smaller gauge offers a tighter frame, in conflict with the enormity of the mountain and the vast plains it tries to contain.
The film opens with flicker; black and white photographs of men's faces momentarily come to light only to disappear, all in complete silence. The onscreen text reads like poetry, a line at a time, referring to a "white centre", "white snow" and "white light". The white of the text refers to both the top of Mount Ararat, a steady, constant beacon of hope, and as a symbol for the freedom these men have had taken from them. When tDaesh came to Yazidi villages in Iraqi Kurdistan, most of the men were kille with women and young girls raped or sold into slavery and some younger children burned alive. Those who could, fled to the mountains, many survivors setting up in camps in Turkey and Armenia or taking the road of exile further into Europe.
Carrier pigeons and doves feature heavily throughout the film, the birds representing and reiterating the significance of sharing untold stories and healing clipped wings. There is little voiceover narration in the film – only the testimony from the Yazidi, which is translated into onscreen text. Vandeweerd layers his primary and secondary historical sources, using excerpts from texts and folk songs, too. A 'Letter From a Prisoner' gives a first person account and a featured song, 'Hevar Hevar', a Yazidi melody composed and performed by Savto Tamoyan, gives a more passionate, lyrical account of the atrocity. It is especially powerful given that the film is mostly free from music and that Vandeweerd, Schlesser and Jean-Luc Fichefet have crafted such a minimalist sound design.
The film covers a lot of ground – both physically and historically: Vandeweerd offers wider context by including the Ottoman Empire, the Turkish War of Independence, and the brief Nagano-Karabakh war in 2020. The film is an incredibly moving account of historical persecution, but Inner Lines packs a lot of information – factual, visual, emotional – into its brief 87-minutes.
Production companies: Cobra Films, Les Films d'Ici Méditerranée
International sales: Les Films d'Ici Méditerranée, sophie.cabon@lesfilmsdici.fr

Producers: Serge Lalou, Daniel De Valck, Françoise Hoste
Cinematography: Pierre-Yves Vandeweerd
Editing: Pierre Schlesser