Keanu Reeves returns for a third outing as the taciturn assassin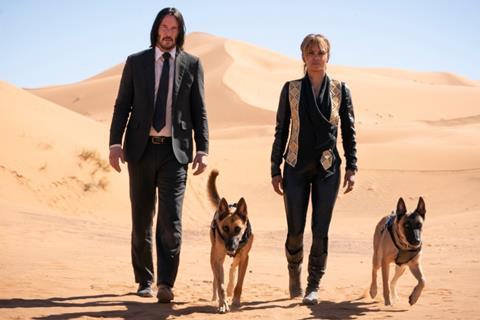 Dir: Chad Stahelski. US. 2019. 131mins
Knives, library books, motorcycles, belts, horses, swords, acrobatic attack dogs, lots and lots of guns; just about anything can be a weapon in John Wick: Chapter 3 – Parabellum, whose euphoric, almost comically protracted action sequences outpace the film's general ludicrousness. Feel free to ignore the nonsensical plot and tortured musings on honour, revenge, loyalty and destiny. All that matters is how director Chad Stahelski concocts his usual litany of flinty fight scenes, and how Keanu Reeves invests the material with his wonderfully spacey stoicism.
This series is least satisfying when characters are speaking and most electric when they're letting their fists and feet do the talking
Set to hit UK theatres on May 15 and US screens two days later, Parabellum looks to top the $172 million that 2017's John Wick: Chapter 2 grossed worldwide. These relatively low-budget martial-arts/shoot-'em-up extravaganzas have positioned themselves as being extreme action flicks in an age of family-friendly superhero movies, and the betting is that a gung-ho crowd will support this third instalment — even with high-profile titles such as Aladdin and Godzilla: King Of The Monsters soon to arrive.
Following the events of Chapter 2, which ended with John Wick (Reeves) becoming a wanted man in the underworld of assassins, the new film finds him on the run, recruiting an old associate, Sofia (Halle Berry), to help him seek out a wise elder of the High Table, who might be able to restore his name and save his life. But along the way, hitmen around the globe will try to kill him to earn a rich bounty.
After the surprise sleeper success of the 2014 original, which established the rules of Wick's assassin brotherhood, Chapter 2 and Parabellum have expanded this franchise's universe, introducing us to more characters as well as more wrinkles in the hitman hierarchy. On the whole, this world-building has only been moderately interesting, mostly taking away from the balletic action sequences (featuring largely practical stunts) that are these films' raison d'être. Parabellum's four credited writers (including original John Wick scribe Derek Kolstad) strain to justify Wick's comings and goings and, as a rule, this series is least satisfying when characters are speaking and most electric when they're letting their fists and feet do the talking.
That said, there are some fun new additions to the franchise, including Berry as an assassin who's just as efficient and pitiless as Wick. There's also Asia Kate Dillon, underplaying beautifully as The Adjudicator, the calmest claims investigator ever, whose job it is to determine who in the syndicate allowed Wick to escape the last film unpunished. And although Mark Dacascos overdoes his vengeful assassin Zero's geeky admiration for Wick's legendary prowess, the character's fawning adds a dose of humour to his epic confrontation with Wick at movie's end.
Working again with cinematographer Dan Laustsen, production designer Kevin Kavanaugh and fight choreographer/stunt coordinator Jonathan Eusebio, Stahelski doesn't just create action scenes but, rather, artistic set pieces that combine eye-popping visual flair with brutal, up-close fights. Continuing in the tradition of earlier instalments, Parabellum eschews copious effects shots for extended sequences that avoid a lot of cutting so that we can see the progression of the fights as they develop seemingly organically.
Of course, even this illusion of realism requires plenty of preparation (and the occasional digital enhancement), but there's an undeniable kick to watching this choreographed carnage play out in nearly real time. As with Chapter 2, Parabellum opens with a nod to Buster Keaton, and the clear connection that Stahelski wants to draw between Wick's athletic kills and the silent master's graceful comedy, while pretentious, isn't entirely unmerited.
Of course, Keaton had the good sense to keep his plots simple, and Parabellum goes in the opposite direction, piling on the underworld intrigue and globetrotting grandeur for a story that overestimates how profound its way-of-the-warrior solemnity actually is. But give credit to Reeves, who walks the line between absurdity and steely cool, always recognising that these movies' over-the-top violence is far more thrilling if he acts utterly blasé about his lethal skills. Wick isn't a particularly deep character, but Reeves imbues him with a samurai-like serenity that's both goofy and quite compelling. "Art is pain," Wick is informed by one of Parabellum's cryptic characters. In this giddily bloody sequel, Wick's victims' pain is also our immense pleasure.
Production company: Thunder Road Films
International sales: Lionsgate, internationalsales@lionsgate.com
Producers: Basil Iwanyk, Erica Lee
Screenplay: Derek Kolstad and Shay Hatten and Chris Collins & Marc Abrams, story by Derek Kolstad, based on characters created by Derek Kolstad
Production design: Kevin Kavanaugh
Editing: Evan Schiff
Cinematography: Dan Laustsen
Music: Tyler Bates and Joel J. Richard
Main cast: Keanu Reeves, Halle Berry, Laurence Fishburne, Mark Dacascos, Asia Kate Dillon, Lance Reddick, Anjelica Huston, Ian McShane