An impoverished gay man dreams of a life away from the slums of Guatemala City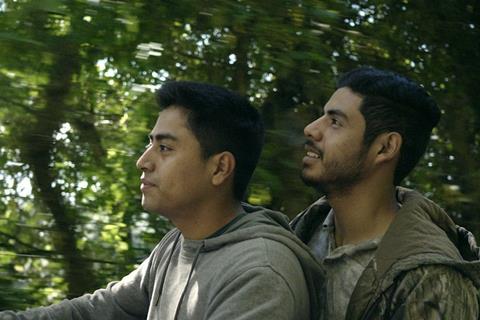 Dir: Li Cheng. US. 2018. 88mins
Jose and his ageing mother have managed to carve out a tenuous existence in the shanty shacks of Guatemala but their future seems out of reach, together or apart. He may be a devoted son, but he's also a young gay man finding love for the first time with all the possibilities that holds; ultra-religious, she senses his difficulties and tries to manoeuvre a way around them as her livelihood disappears. Li Cheng's touching debut was made after years of research into the gay networks of South America, and the effort shows in a quiet, reflective film.
Jose is deceptively simple but punches above its slight weight
Like Chloe Zhao, Li is a Chinese-born director who has moved to the US and is finding his voice through close observation of marginalised communities overseas. His affecting debut is set in Guatemala and quietly tells the story of handsome young Jose, a poverty-stricken gay man trying to find a life in a community driven by religion and macho values. In ways reminiscent of Chinese-language features made in the '90s, this silent, deliberate feature is finding a festival life after its Venice premiere; although a lack of narrative resolution may stymie further progress. Made with non-professional actors and sexually frank in an honest, fresh fashion, Jose should become a beloved item for LGBTQ audiences everywhere and a calling card for Li.
Notable for the crispness of the lensing, Jose is deceptively simple but punches above its slight weight. Tones of yellow – from the artificial street lights of a half-dawn to a sun-lit Mayan temple – dominate a piece which relies for the most part on ambient sound. We are invited to observe Jose (Enrique Salanic) and his meek, bespectacled mother (Ana Cecilia Mota) as he helps her load up her sandwiches on a truck to sell in the market where she faces eviction. A preacher speaks to the huddled vendors on the truck, and the solemnity and prominence of suited, male, authoritarian religious figures is something Li will return to throughout the film.
Jose and his mother consider themselves lucky that he has a job, lowly though it may be – he hails traffic to the sidewalk to offer fresh food from a restaurant. His colleagues are romantically entwined, but Jose is glued to his phone, so impoverished he has to wifi-hop to secure his hook-ups in a dingy hotel where rooms are rented by the hour.
There, eventually, he finds a spark of what might become love with Luis (Manolo Herrera), a construction worker from the town of Izabal. What stars off as sex gradually flowers into a relationship, and Jose literally runs to their meetings. An interlude where Luis borrows a motorbike and the pair take off to the jungle is magical.
Luis, who will leave the city once his work runs out, could offer Jose a future, even if it's meagre. In fact, Jose is shown to have more than one option – but what would happen to his mother? Bound to earth and their problems by the electricity cables which cross-cross the skyline to hem them in, Jose's players unwittingly try to swim against what seems to be an age-old tide.
The natural performances from an indigenous cast work in Jose's favour, giving the film a solid sense of reality, although the film's lack of drama may leave some audiences wanting more from Li's story.
Production company: YQ Studio
International sales: Rediance, info@rediancefilms.com
Producers: George F. Roberson, Li Cheng
Screenplay: Li Cheng, George F. Roberson
Cinematography: Paolo Giron
Editing: Lenz Claure
Music: Yao Chen
Main cast: Enrique Salanic, Manolo Herrera, Ana Cecilia Mota, Esteban lopez Ramirez