A Syrian refugee is gunned down at the border but wakes up with mysterious powers in Kornel Mundruczo's follow-up to White God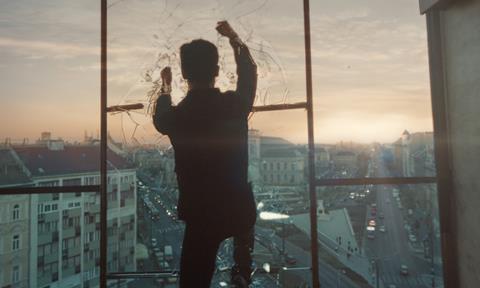 Dir. Kornél Mundruczó. Hungary/Germany. 2017. 126mins
An unwanted Syrian refugee becomes an angel — maybe — in Jupiter's Moon, an ambitious, thematically overstuffed drama that's both a crackling action-thriller and a ponderous political commentary. In his follow-up to White God, Hungarian filmmaker Kornél Mundruczó digs passionately into the zeitgeist, riffing on Europe's immigration crisis and life in a seemingly godless universe. But the director's higher aspirations end up being less inspired than his bravura set pieces, which feature plenty of genre gusto that's blessedly free of weighty ideas.
Often filmed with shaky handheld camera in one continuous shot, Jupiter's Moon's action set pieces are cunning and visceral
Playing in Competition, Jupiter's Moon is an odd mongrel — a sort of combination of Children Of Men and an X-Men movie that won't stop lecturing the audience about the points it wants to make. That intriguing juxtaposition will lure discriminating art-house crowds, but mixed reviews may dampen enthusiasm.
Zsombor Jéger plays Aryan, a young Syrian man who sneaks into Hungary after a perilous journey, only to be gunned down by László (György Cserhalmi), a callous director of a local refugee camp. But instead of dying, Aryan inexplicably stays alive — and now has the power to levitate. Seeking help from a crooked doctor, Stern (Merab Ninidze), Aryan wants to track down his father, who was separated from him during their entry into Hungary. But Stern has other ideas, convincing him to team up on a series of scams where they'll trick wealthy, ailing patients into believing that the kid is a miracle worker.
As with White God, Jupiter's Moon wields a clever sci-fi premise in service to topical observations about man's inhumanity to man. Much of the fun of Mundruczó's new film derives from its refusal to explain precisely why Aryan has developed this strange power. Some characters think he might be an angel, but even the terrified Aryan can't figure out what has happened.
Working with White God cinematographer Marcell Rév and some nifty, relatively low-budget effects, Mundruczó crafts several jolting suspense sequences. The adrenaline rush starts at the film's opening: Aryan must traverse land and sea to reach Hungary's shore, dodging bullets and dead bodies before breaking into a full sprint as he tries to avoid law enforcement. Often filmed with shaky handheld camera in one continuous shot, Jupiter's Moon's action set pieces are cunning and visceral, Jed Kurzel's ominous, rumbling score only adding to the tension.
Stern's greedy plan to capitalise on Aryan's freakish ability provides several humorous moments, although the audience is keenly aware that the characters must stay a step ahead of the relentlessly pursuing László. Jupiter's Moon boasts a sweaty, jittery intensity, and Ninidze cannily plays Stern as a likable, quick-thinking heel who pretends he has Aryan's best intentions at heart when, really, he just wants to get rich off the boy.
Unfortunately, Jupiter's Moon loses altitude once Mundruczó and screenwriter Kata Wéber start portentously laying out their themes. The movie's title is a belaboured metaphor for feeling alienated, and likewise the filmmakers draw tortured parallels between their pulp-y scenario and larger questions about faith, redemption, charity and cultural conflict. On that last point, Jupiter's Moon can be awfully condescending, treating Aryan as some sort of Christ-like figure endowed with noble attributes the rest of us heathens could learn from. He's less an angel than a bland saint, but at least Jéger's empathetic, urgent performance adds a little grit to his character's halo.
Production companies: The Match Factory, Proton Cinema, KNM, ZDF/Arte, Chimney, Hungarian National Film Fund, Eurimages, Film und Medien Stiftung NRW, Mitteldeutsche Medienförderung, Medienboard Berlin-Brandenburg
International sales: The Match Factory, info@matchfactory.de
Producers: Viktória Petrányi, Viola Fügen, Michael Weber, Michel Merkt
Executive producers: Eszter Gyárfás, Júlia Berkes, Judit Sós
Screenplay: Kata Wéber
Cinematography: Marcell Rév
Production design: Márton Ágh
Editor: Dávid Jancsó
Music: Jed Kurzel
Main Cast: Merab Ninidze, Zsombor Jéger, György Cserhalmi, Móni Balsai