Beloved franchise rears up for one final roar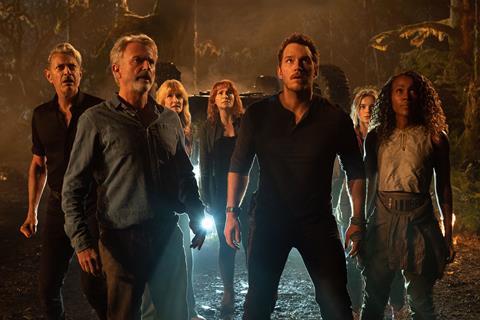 Dir: Colin Trevorrow. US. 2022. 146 mins.
The third time is almost the charm with Jurassic World Dominion, the most engaging film of a recent trilogy of blockbusters that has commercially (if not creatively) revitalised the once-popular franchise. Perhaps wisely, this grand finale leans heavily on the audience's nostalgic associations with the series, bringing back Jurassic Park's Laura Dern, Jeff Goldblum and Sam Neill for one last harrowing confrontation with carnivorous dinosaurs. The result is a picture with gripping sequences and clever byplay, even if there's a sense that it's merely repeating past strengths, only not quite as ingeniously.
Once the key figures are established, though, the film surges to life
Opening June 10 in the UK and US, this Universal release hopes to build on the success of 2015's Jurassic World and 2018's Jurassic World: Fallen Kingdom, which collectively brought in approximately $3 billion worldwide in a pre-pandemic world. Chris Pratt and Bryce Dallas Howard ostensibly remain Dominion's main attraction, although the return of Jurassic Park's beloved trio could further entice viewers. And, of course, those gigantic lizards are a huge draw as well.
Set a few years after Fallen Kingdom, the new film takes place as humans adjust to coexisting with dinosaurs. Lovebirds Owen (Pratt) and Claire (Howard) are now raising Maisie (Isabella Sermon), a young clone in danger of being kidnapped by those who would experiment on her. After she is captured by Biosyn, a nefarious biotech company that is collecting dinosaurs (and other living things) in order to study their genetic makeup, Owen and Claire set out to rescue her, a mission which will put them on a collision course with scientists Sattler (Dern), Malcolm (Goldblum) and Grant (Neill). They're drawn to Biosyn Valley to get to the bottom of CEO Lewis Dodgson's (Campbell Scott) schemes.
Colin Trevorrow, who directed Jurassic World, returns to the series, doing his best to juggle this massive ensemble, which also includes Kayla (DeWanda Wise), a no-nonsense pilot who assists Owen and Claire, and Ramsay (Mamoudou Athie), a Biosyn executive with misgivings about his company's mission. In its early stretches, Dominion is badly weighed down by the logistics of introducing (or reintroducing) all the participants and then putting them in motion so that, eventually, they all make their way to Biosyn Valley, a remote enclave in the Dolomite Mountains of Colorado, where dinosaurs roam free.
Once the key figures are established, though, the film surges to life. Starting with a propulsive, cross-cutting series of chase sequences in Malta, Dominion's second half proves to be a fairly rollicking affair as our heroes frantically try to stay a step ahead of the ravenous dinosaurs constantly nipping at their heels. In terms of the film's action scenes, Trevorrow positions Dominion somewhere between an Indiana Jones adventure and a James Bond/Jason Bourne thriller, with composer Michael Giacchino consciously recalling John Williams' sweeping, string-laden scores. It's only in the picture's extended third act, which takes place in Biosyn Valley, that Trevorrow fully pivots to crafting an old-fashioned monster movie, complete with some cheeky references to Steven Spielberg's original Jurassic Park.
It's not simply a fondness for the original cast that gives Dominion the nod over the previous two instalments: starting with Jurassic World, the new trilogy has been hamstrung by Owen and Claire's lacklustre chemistry. Pratt and Howard convey a little more warmth in this sequel, but they remain only moderately compelling, dwarfed both literally and metaphorically by the towering dinos. Goldblum's rakish charm as Malcolm continues to amuse, and while Dern and Neill's flirty banter feels forced, their estranged characters' obvious affection is palpable.
Unfortunately, although the film offers plenty of suspenseful moments and a few mild jump scares — creepy giant locusts end up being Dominion's surprise menace — Trevorrow fails to capitalise on the story's most potent hook. A few scenes maximise the grandeur and surrealism of seeing dinosaurs inhabiting our everyday world, but the picture's expansive canvas eventually shrinks, leaving us with one more Jurassic finale in which humans and lizards duke it out in a relatively self-contained space. Cinematographer John Schwartzman captures some hauntingly beautiful images, but they tend to echo similarly striking shots in previous instalments.
But of the sizeable cast, it's new faces who have the most impact. Athie brings a soulfulness to Ramsay, who discovers the wickedness at the heart of Biosyn's supposedly benign agenda to help humanity. (Scott is clearly having fun playing the predictably megalomaniacal CEO.) And Wise delivers Dominion's best quips while showing off action-hero moves that make her far livelier than this ageing franchise, whose dinosaur act coasts on audience goodwill too often.
Production companies: Amblin Entertainment, Perfect World Pictures
Worldwide distribution: Universal Pictures
Producers: Frank Marshall, Patrick Crowley
Screenplay: Emily Carmichael & Colin Trevorrow, story by Derek Connolly & Colin Trevorrow, based on characters created by Michael Crichton
Production design: Kevin Jenkins
Editing: Mark Sanger
Cinematography: John Schwartzman
Music: Michael Giacchino
Main cast: Chris Pratt, Bryce Dallas Howard, Laura Dern, Jeff Goldblum, Sam Neill, DeWanda Wise, Mamoudou Athie, Isabella Sermon, Campbell Scott, BD Wong, Omar Sy, Justice Smith, Daniella Pineda