Jack Lowden steps up to produce and co-star, but 'Kindred' belongs to young actor Tamara Lawrance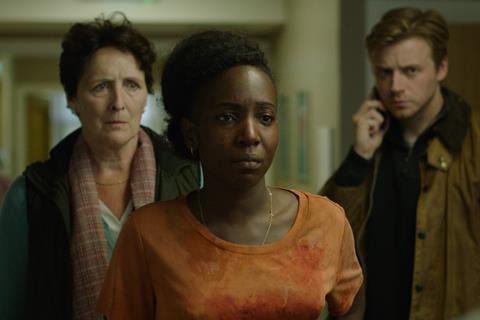 Dir. Joe Marcantonio. UK/Ireland 2020. 100 mins.
The potential of pregnancy as a time of heightened emotions and vulnerability has been well explored in the horror zone from Rosemary's Baby in 1968 on through to Hush two decades later. Kindred, formerly titled Corvidae, is a rather more sedate British addition to the sub-genre, a drama that simmers away on repression but never comes to a fully satisfying boil. Produced by and co-starrring Jack Lowden, this follows the line of 2015's The Ones Below, but is particularly distinguished by a dazzling performance from Tamara Lawrance (The Long Song) in the lead role.
A fantastic young actress continues to make an impression, and a first-time director who is savvy enough to give her free reign
When the pace slackens off, as it often does, Kindred is watchable just for this young actress's face as she grapples with the full gamut of emotions thrown at her by Joe Marcantonio and Jason McColgan's heightened script. Lawrance will go far, and she may take the film with her (it opens in the US on November 6 in cinemas and on VOD through IFC Midnight). Supporting performances from Lowden, Chloe Pirrie and the redoubtable Fiona Shaw add to the appeal of a classily-framed country-house-set piece shot by Carlos Catalan.
The previous title Corvidae refers to birds of ill omen; ravens make several cameo appearances. When we first meet Charlotte (Lawrance), she is living in a slightly queasy bliss with her boyfriend Ben (The English Game's Ed Holcroft). Turns out that upset stomach is an early warning system for an unplanned pregnancy, diagnosed by the sinister local doctor who immediately tells Ben's mother Margaret (Shaw). Charlotte's ambivalence towards the baby isn't helped by the fact that the couple's plans to move to Australia together now seem to be on hold.
Ben has kept his mother at arm's length, up in her big falling-down manor which has been held by the Clayton family for nine generations. There's a weird step-brother living there too, Thomas (Lowden), who busies himself serving 'lunch' at all hours of the day. Blissfully, for a film like this, nobody makes any reference to Charlotte's race or socio-economic background (past having an obligatory crazy mother) for the film: but they all want her baby. The only friend she has in this un-named location – Irish-accented mother, Scottish brother, English son – is local horse breeder named Jane (Pirrie).
Ben is a not terribly convincing animal doctor – doesn't seem to know how to hold his vet's bag, to begin with – so it's no real surprise when a horse kicks him in the head, possibly frustrated by his ineptitude. Soon, Charlotte is left alone with the odd mother-son combination in the crumbling old house, sleeping a suspiciously large amount and becoming more and more disorientated. Looks like they're putting tablets in her tea too. Thomas seems to be more sympathetic than his limping, frothing-at-the-mouth mother, but can anybody here be trusted?
This is pretty formulaic, by-the-book plotting: surely Kindred has more up its sleeve as those 100 minutes come slowly to an end? It seems as if the black ravens may actually turn out to be red herrings, though, as the film stops short of delivering any significant new element to a familiar plot. What we are left with, though, is a fantastic young actress continuing to make an impression, and a first-time director in Joe Marcantonio who is savvy enough to give her free reign in an expansive role he has co-written. It's a fairly safe bet that the next time you see Tamara Lawrance, she'll either be stepping up in scale or to an awards podium, or maybe even both.
Production company: Reiver Pictures
International sales: Beta
Screenplay: Joe Marcantonio, Jason McColgan
Producers: Jack Lowden, Dominic Norris
Cinematography: Carlos Catalan
Production design: Derek Wallace
Editing: Fiona DeSouza
Main cast: Tamara Lawrance, Jack Lowden, Fiona Shaw, Ed Holcroft, Chloe Pirrie, Anton Lesser