Dir: Nick Cannon. 2015. USA. Jamaica. 100 mins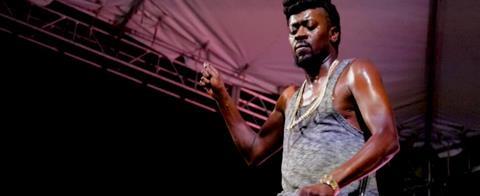 Multi-hyphenate artist Nick Cannon adds another skill to his resume with his directorial debut. This lively Jamaica-set romance serves both as a showcase for the thriving dancehall scene, and as a kind of display cabinet for Cannon's impressive six-pack. In addition to directing, Cannon wrote the picture and stars as Tarzan Brixton, a Brooklyn-born ex-con who decides to celebrate his release from prison by starting up a drug wholesale business based in Jamaica. Busta Rhymes is larger than life in the supporting role of Tarzan's cousin Allestar, aka All Star Toasta, which allows him to demonstrate broad comic skills and an assortment of ill-advised T-shirts.
Cannon flings the camera into the heart of the dance floor, putting the audience at waist height among all the gyrating bodies.
Existing fans of Busta Rhymes and Nick Cannon, plus dancehall aficionados, will be the main audience for this film. For all its crackling energy and good humour, it lacks the technical polish and narrative accessibility to break out beyond a public which already has a degree of familiarity with the milieu and the music. Theatrical prospects are healthiest in the US and the Caribbean, where it could possibly enjoy The Harder The Come-style cult success.
Tarzan's release from prison after five years reunites him with his beloved mother (Whoopi Goldberg). She is ailing, and after having to pay for his legal fees, she can't afford proper healthcare. Tarzan's plan – to import high grade drugs from Jamaica – soon brings him to the island, which glows with a popping tropical colour palette. There he meets Maya (Kimberly Patterson), the daughter of the local bishop and an exceptional proponent of the dancehall moves that Tarzan soon realises that he needs to learn.
In short order, Tarzan falls foul of Dada (Colin 'Collie Buddz' Harper), the son of a local billionaire businessman and the self-appointed gangster king of the island. Dada also has his own dance troupe, the Dada Posse, who rule the floors of the dancehall every night. With tutoring from Maya, Tarzan sets out to challenge Dada's supremacy, fronting his team of dancers, the All Star Blazers. But then Dada's half-sister, Kaydeen (Kreesha Turner), decides to put Tarzan on her to-do list.
Cannon flings the camera into the heart of the dance floor, putting the audience at waist height among all the gyrating bodies. The dynamic effect is somewhat marred by a tendency to underlight scenes, plus the excitable editing that makes it quite difficult to follow the dancing. Still, the sexually charged athleticism of dancehall scene is electrifying.
Elsewhere, Cannon resorts to a fair few hoary old cliches. The sex scene in which Maya and Tarzan consummate their love is a little heavy on wafting net curtains and shots of glistening sweat. That said, there is a natural and very palpable chemistry between Cannon and newcomer Patterson, who applied to the film as a makeup artist but was discovered as a performer.
The technical package is a little rough around the edges. The sound mix means that some dialogue is hard to follow. The Jamaican accents are all subtitled, which helps immensely, however Cannon's own lines frequently get lost in the mix. There is a weakness for music video editing. And a scene featuring Peter Stormare, as the billionaire father of Dada and Kaydeen, is so bizarre and incomprehensible, you can only conclude that everyone working on it overdid it on Jamaica's finest homegrown product.
Production company: Ncredible Entertainment
International sales: ICM partners
Producers: Roger Ubina
Screenplay: Nick Cannon
Cinematography: Luis Perez
Editor: Erik C. Andersen, Harvey White
Production design: Khalil Deane
Original score: DJ Buddha, Salaam Remi
Main cast: Nick Cannon, Whoopi Goldberg, Busta Rhymes, Peter Stormare, Kimberly Patterson, Lou Gossett Jr., Kreesha Turner, Ky Mani Marley, Collie Buddz, Killer Bean, Beenie Man