Will Smith triumphs in this story about the father of tennis sensations Venus and Serena Williams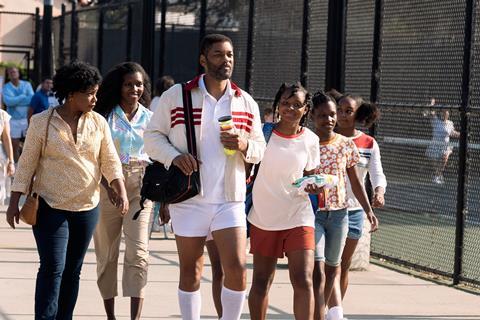 Dir: Reinaldo Marcus Green. US. 2021. 145 mins.
Did Richard Williams drive his daughters Venus and Serena to be tennis champions for them or for himself? One of King Richard's strongest elements is how this inspirational sports biopic leaves that question dangling, offering a thoughtful examination of the ways that parents project their dreams onto their children — sometimes to their detriment. Guided by strong, complicated performances from Will Smith and Aunjanue Ellis, who play Richard and his long-suffering wife Brandy, director Reinaldo Marcus Green's drama works best when it pushes against genre conventions, focusing more on race, class and the difficulties of family rather than in the typical concerns about winning the big match.
It's a credit to Smith's nuanced portrayal that it invites the audience to find his character bullheaded and bullying
This Telluride premiere opens in the UK on November 12 and the US a week later. Warner Bros. hopes to garner awards for Smith, who has been Oscar-nominated twice for playing real-life figures in Ali and The Pursuit Of Happyness. Positive reviews matched with uplifting subject matter — not to mention the stardom of Venus and Serena Williams, who are both multi-Grand Slam winners — should make this a solid commercial performer.
Green (Monsters And Men) takes us to Compton, a poorer neighbourhood in Southern California in the early 1990s, where demanding father Richard (Smith) teaches his young daughters Venus (Saniyya Sidney) and Serena (Demi Singleton) to be elite tennis players. Because of the Williams' modest means — and, frankly, because they're black — Richard can't convince pricey instructors to take Venus and Serena under their wing. But once accomplished coach Paul Cohen (Tony Goldwyn) sees the sisters' talent, he offers to help — the catch is that Paul will only coach one sister for free. Richard chooses older daughter Venus, much to Serena's disappointment.
King Richard observes the racial and economic factors holding back the Williams sisters. In every scene involving tennis, Richard and his daughters are about the only non-white faces, and Green subtly illustrates how that sense of alienation affects the family. The sting is magnified for Richard, who grew up having to contend with the Ku Klux Klan — the stigma of being poor and black has haunted him his whole life, which is why he pushes his daughters so hard to succeed.
In its early stretches, the film is suitably engaging as Richard tries to find a coach for his daughters, refusing to take no for an answer. There are shades of the defiant optimism Smith brought to The Pursuit Of Happyness, in which he played homeless single father Chris Gardner — both men are salesmen of a sort. But there's always a concern that Green will slavishly adhere to sports-drama cliches, presenting the tennis players as prototypical underdogs who eventually overcome the odds. Likewise, as empathetic as Smith is as the unpolished, sometimes impolitic Richard, his brash brand of tough love can feel like a musty trope.
Thankfully, King Richard takes this story other places, no more compellingly than when it begins to question Richard's motives. In a more conventional film, Richard's stubbornness would be seen as a virtue — he refuses to compromise his principles — but once Venus becomes a sensation on the juniors circuit, he inexplicably announces she'll no longer compete until he's decided she's ready to go pro. That runs counter to the sage advice he's given by Paul and a later coach, Rick Macci (Jon Bernthal), who insist he's throwing away his daughter's potential by not allowing Venus to develop her skills.
It's a credit to Smith's nuanced portrayal that it invites the audience to find his character bullheaded and bullying, demonstrating how Richard was often more concerned about calling the shots than he was in considering his daughters' desires. These moments are when Ellis shines, too. Like Richard, Brandy is a former athlete, and she's just as invested in Venus and Serena's success. Thus her ability to talk sense into Richard proves invaluable. In an especially affecting scene, Brandy expresses long-simmering anger toward her husband, and Ellis is remarkable at conveying equal amounts of rage and tenderness.
Some may quibble that King Richard is a story about the father, as opposed to the two remarkable athletes he raised, but Green wisely shifts the focus toward the end, letting Venus take centre court. It's a necessary pivot as well for Richard, a man coming to understand that his daughters have to succeed for themselves, not to avenge his old wounds. Fittingly then, although Smith will probably get most of the plaudits, the warm, layered performances from Sidney and Singleton might sneak up on viewers — just like the Williams sisters did in the tennis world they'd soon conquer.
Production companies: Star Thrower Entertainment, Westbrook, Keepin' It Reel
Worldwide distribution: Warner Bros.
Producers: Tim White, Trevor White, Will Smith
Screenplay: Zach Baylin
Production design: Wynn Thomas, William Arnold
Editing: Pamela Martin
Cinematography: Robert Elswit
Music: Kris Bowers
Main cast: Will Smith, Aunjanue Ellis, Saniyya Sidney, Demi Singleton, Tony Goldwyn, Jon Bernthal