The acquittal of a former Guatemalan general unleashes a vengeful spirit upon his household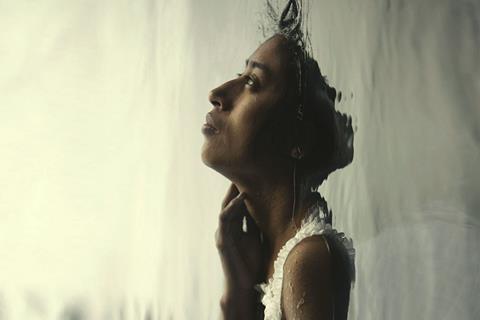 Dir/scr: Jayro Bustamante. Guatemala, France. 2019. 97mins
It has been four years since Guatemalan director Jayro Bustamante held up the Golden Bear at the Berlin Film Festival for resonant rural women's drama and spirit parable Ixcanul. He's made up for the wait in 2019. After the uncompromising drama Tremors, which premiered in Berlin's Panorama section earlier this year, comes Venice Days selection La Llorona. Reuniting Bustamante with his Ixcanul star Maria Mercedes Coroy, this taut, accomplished film recounts a dark episode in Guatemala's history as a suspense-laden ghost story based on a myth deeply rooted in indigenous Latin American culture.
La Llorona excels in the way its material surface feeds into its deeper themes
One might have expected to see Bustamante's finely gauged retribution tale in a more prestigious official selection slot, especially as Venice is not exactly overloaded with Central American movies this year. But La Llorona should make its own way after further festival berths in Toronto (Contemporary World Cinema) and San Sebastian (Horizontes Latinos). Swooped on by sales agent Film Factory at last year's San Sebastian festival, where La Llorona secured a prestigious EFADs-CACI co-production award, this is an impassioned yet also elegantly made arthouse-genre crossover film that has the potential to travel into niche theatrical markets after its festival run.
Like Tremors, La Llorona begins with a family in crisis. This time, though, they're seemingly right behind the man at the centre of the storm – retired and infirm army commander Enrique Monteverde (Julio Diaz), husband to severe matriarch Carmen (Margarita Kenefic) and father to more liberal doctor Natalia (Sabrina de la Hoz), whose doubts about what daddy did in the military begin to surface early on. Like the Guatemalan dictator Efraín Rios Montt – who, in the early 1980s presided over a reign of army terror ostensibly aimed to oust Marxist rebels that escalated into the genocidal massacre of thousands of the country's indigenous Maya population – the fictional Monteverde is first convicted of genocide by a Guatemalan court, then released when the sentence is quashed on appeal.
There's no need to know anything about recent Guatemalan history to enjoy what for most of its running time is a claustrophobic horror-tinged drama set in the gated villa that the privileged Monteverde family share. The salient facts are filled in via courtroom scenes and TV news reports; all we really need to understand is that, as in Rwanda or the former Yugoslavia, horrors were committed in the name of what the still-defiant general calls "national identity". Bustamante uses the desperate spirit who gives the film its title – a Central American folk figure who drowned her children and is condemned to wander the netherworld between heaven and earth, weeping as she searches for them – as a metaphor for what happens to communities and consciences when there is no redress or accountability for such state-sanctioned crimes.
Water is the chief medium of the haunting: taps that turn on suddenly, plagues of toads, flooded bathrooms, and the alarming attempts of Sara, Natalia's daughter, to hold her breath underwater for longer and longer periods. A rich sound design, on the restrained side of eerie, builds mothers' laments into the film's sonic fabric.
Its supernatural allegory is seamlessly stitched into a tale that never feels didactic. With her long black hair, pure white dress and mournful gaze, Coroy's Alma is both a recognizably suspense genre figure, with something in common with those dark-eyed J-Horror waifs, but she's also a young, vulnerable Mayan girl, who comes into a household now besieged by angry crowds seeking justice when all the other servants apart from long-serving Valeriana (María Telón) have left. Alma acts as a catalyst as much as a spirit of revenge, especially for the women of this house that is assailed night and day by the clamour of the protest outside. Kenefic is excellent as the general's wife, seemingly loyal to her husband, as true to the establishment as the bone china she drinks tea from, who will gradually reveal deep wells of bitterness.
Pensively shot, occasionally just a little too langorous in its pacing, La Llorona excels, like Ixcanul, in the way its material surface feeds into its deeper themes. An elderly Mayan woman delivers dignified, chilling testimony about her rape and abuse at the hands of the military from behind an embroidered veil, like that of a Spanish duena, that hangs from a vibrantly coloured traditional headscarf – the Catholic conquest and the untamed Mayan tradition in uneasy proximity. And the family's antique-stuffed bourgeois mansion is no more of a refuge than the garden where Natalia tries to shut out the incessant chanting protesters with yoga and meditation, while her mother lies next to her with cucumber slices soothing her inflamed eyes, near a pool where protesters' handbills plastered with the faces and names of desaparecidos float like silent accusations.
Production company: La Casa de Producción
International sales: Film Factory Entertainment, info@filmfactory.es
Producers: Jayro Bustamante, Gustavo Matheu
Production design: Sebastián Munoz
Editing: Jayro Bustamante, Gustavo Matheu
Cinematography: Nicolás Wong Diaz
Music: Pascual Reyes
Main cast: Maria Mercedes Coroy, Sabrina De La Hoz, Margarita Kénefic, Julio Diaz, Maria Telón, Juan Pablo Olyslager, Ayla-Elea Hurtado