Dir: Mark Pellington. US. 2011. 122mins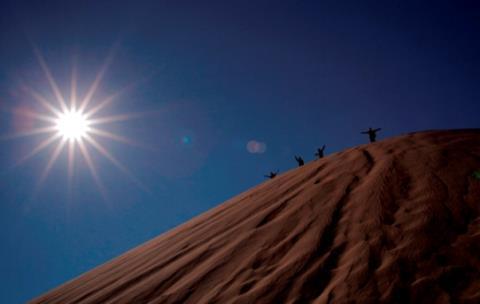 In I Melt With You, the male getaway lost weekend genre now has its epic. But this one also suffers from epic-style dysfunction.
The acting style is mostly solemn posturing and panting from the four principals.
Despite its cast, I Melt With You, with all its explosive tactility, doesn't offer much that you won't get from watching anything by Danny Boyle, who seems one of its stylistic roadmaps. Since its stars are marketable, the testosterone blowout could get a shot at the US and international audience.
Given director Mark Pellington's past as a maker of music videos, we can bet that the trailer will be stronger than the movie. Video potential will depend on the fan base of the cast.
Things start out ballsy, as a writer (Thomas Jane), a physician (Rob Lowe), a financial whiz facing investigation (Jeremy Piven) and their college chum Christian McKay race to a cliff-side villa on the Pacific for an annual reunion.
True to form, there are fast cars, loud music, cigars, booze, and piles and piles of drugs. After feasts, swims, hikes and an all-night binge with locals, it's revealed that they agreed to commit suicide if life's great promises weren't fulfilled.
The script, by Glenn Porter, is like the characters – sweaty and urgent – as the college mates veer from celebration to confession to recrimination, in what seems an homage to John Cassavetes. Then the male bodies start piling up. The last man alive from the quartet, found by a persistent local cop (Carla Gugino), is painting his hallucinations on the walls, like Kurtz in Apocalypse Now.
Pellington's leitmotif in I Melt With You is a fluttering of the camera and radically cut perspectives (a la Danny Boyle) whenever the action heats up from its overheated pace. Pellington also billboards proto-Godardian slogans (like "I Melt Mith You") that might accompany a group hug of frat boys. You get the feeling that "I Love You, Man" might also have been there, if it weren't already taken.
The acting style is mostly solemn posturing and panting from the four principals. In case you haven't understood from them that life is an unrewarding struggle, that lost weekend dictum is repeated for two long hours.
The same message is written in long intense close-ups, thanks to cinematographer Eric Schmidt, a veteran of Pellington's earlier films and music videos. Schmidt's over-virtuosic soaring around the cliffs might just lead you to think what a character will eventually do from one of them.
With all of Pellington's borrowings from Danny Boyle, he has surpassed the British director in one respect. There are more drugs in I Melt With You than in Trainspotting – nothing if not an achievement.
Production companies: Iron Hoss Film, Stealth Media Group, Media House Capital, Image Entertainment
International Sales: Submarine
Producers: Mark Pellington, Norman Reiss, Rob Cowan
Executive producers: Aaron L. Gilbert, Glenn Porter, Thomas Jane, Neil LaBute, Heidi Levitt
Screenplay: Glenn Porter
Cinematography: Eric Schmidt
Editor: Don Broida
Music: Tomandandy
Main Cast: Thomas Jane, Jeremy Piven, Rob Lowe, Christian McKay, Carla Gugino